How I learned to stop worrying and love Johnny Manziel
Ah, to be young, gifted and rich. Johnny Manziel isn't the first young quarterback to live it up, and he's not a fake -- so what's the big deal?
• 10 min read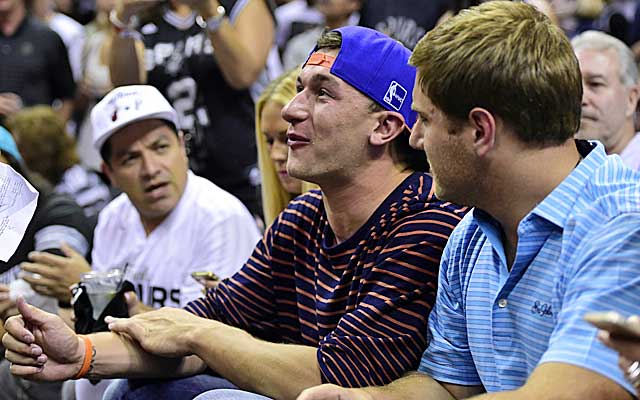 La Canfora: Cleveland's QB savior? It may be Brian Hoyer | Latest NFL news
I love me some Johnny Football.
This dude made my weekend.
Just when I thought I might be stuck for a column idea in the midst of the doldrums of the NFL spring, waking up Saturday morning, in full disclosure, a little hung-over myself, JFF saved the day. He goes and jumps on a friggin' inflatable swan (allegedly), all swagged out down in Austin, Texas, rockin' a champagne bottle in one hand in the middle of some kind of shallow pool.
And I actually got paid to write that sentence! Then the cat ends up making headline news again when the San Diego Padres draft him in the 28th round, when he hasn't played baseball since high school. And then their team president tweets out that at pick No. 837 #JohnnyBaseball was the "best athlete" still on the board (he's a shortstop, allegedly). Jackpot!
I half expected him to show up at Belmont, in full silks, on the back of one of those thoroughbreds, perhaps with the bottle in his hand instead of a whip. I mean, at this point, would you really have been totally shocked by that scene? If you thought a harmless trip to Vegas could spur a few weeks of mindless sports radio and Internet debate about what this kid should or shouldn't be doing, Johnny Football goes and ups the ante with a display worthy of a hip-hop video.
Immediately, my headache started dissipating a little bit, I wasn't quite as cloudy. I had focus, damnit, and a column I was born to write. Thank you Johnny Manziel, for while your antics will undoubtedly rekindle a drumbeat of critics spouting stupidity, hypocrisy and, perhaps most of all, jealousy, you certainly brought a smile to my face again, and gave us an image we won't soon forget.
No one can say you aren't enjoying being you. It's what I dare say a good number of young men, if in your position, would be doing, and it's not exactly like it's out of character, either. This is who this cat is, and he ain't changing for you or me or anyone else any time soon, and that's what the Cleveland Browns were buying into -- for better or worse -- when they traded around the first round and snagged him with pick No. 22 a month ago (seems like it's been at least half a year, doesn't it?).
And I am hardly alone in embracing my inner Johnny Football. I had the opportunity to speak to a few football lifers over the weekend and some of them were chuckling about Johnny Football's exploits, and reveling themselves. If you don't think there are plenty of scouts, execs, and coaches who would gladly take Manziel on their team right now -- even after the swan dive -- you're nuts. If you think the Browns were the only team angling to take him in the second half of the first round, you're misinformed, as several other clubs were trying to move back into first round to try to land him.
"What a s---show," one scout told me, upon getting a chance to see the latest photographic evidence. "I wish he was our quarterback."
Manziel has quickly become the guy that many of us would like to be and the guy all the hot women want. If he happens to be in a club, heads and eyes are turning. He isn't pretending to be something he's not. He's not going to carry around a faux burden of responsibility.
He isn't too cool for school, like Derek Jeter or Michael Jordan, with everything on the hush-hush, always deep behind the velvet rope in the VIP area of the VIP area of the club, with people having to sign a waiver to get within hand-shaking distance. Nah, Johnny Football is a true man of the people. He's right there in it, man, and he ain't afraid of looking goofy by clinging to a swan. There's a certain honesty inherent in that, I think.
The man clearly appreciates how to pack a lot of partying into a small weekend window, and, lest we forget, it's June for the love of God -- can't we save all the handwringing until at least August? As much as some want to talk about what a quarterback should look like and how a quarterback needs to conduct himself and what it means to be a leader and all of that jibber jabber, let's not pretend that being a guy who throws footballs for a living is somehow mutually exclusive of having a fine appreciation for how to have a good time.
Don't let all the scoffing at and mocking of Johnny Football fool you. You don't think Brett Favre (when in his 20s) and Terry Bradshaw and Joe Namath and Kenny Stabler and plenty of other highly successful quarterbacks were the life of the party, putting together an after-hours playbook that JFF is taking a page out of? Please.
"The only difference is this is 2014," the scout continued. "Everyone takes a picture of everything. But this kind of stuff has been going on forever, and if you show up Sundays it doesn't matter."
Since when did quarterbacks have to become some sort of Petri-dish combination of choir boy, buttoned-up CEO and bland, branding vessel? Is that fun for anyone? Is that authentic? So when a tight end, like Rob Gronkowski, is the embodiment of the biggest frat dude in America, it's mostly celebrated, but the fact that a guy who throws the football, rather than catches it, parties hard (and has yet to injure himself in the process as best we can tell), it becomes a national scandal? Really?
And, anyone who thinks that some of the men who own football teams or coach football teams or manage football teams or cover football for a living aren't capable of some Manziel-esque feats clearly hasn't been to the combine. Stuff happens. This double-standard can only extend so far.
This is the entertainment business, my friends, at the end of the day, and this kid is must-see TV. I couldn't be more pumped to have him in the AFC, helping to breathe some life into a long-dormant franchise filled with crazy-loyal superfans, and I can assure you that he has plenty of other people at CBS excited, too.
And rightfully so. He has plenty of personality, he is living a very large life and, at least when I was growing up, that's kind of what you expected out of sports heroes. Sure, some of you will say I'm only Team JFF because he inspired a column, or is good for ratings, but it's much deeper than that.
He's not a phony. He's not pretending. He's letting us all in on the joke, and the idea of living vicariously through Johnny Football isn't unappealing to me. Shoot, he's inspired me to write consecutive columns on current Browns quarterbacks; that alone is an accomplishment.
He has just enough of a rebel in him to make him edgy, but I don't think he's really dangerous. He poked and prodded at authority in college, pretty much flipping the bird to the disgusting cartel that is the NCAA with the autograph signing affair, all the while making millions for his university and his conference and the whole damn "amateur sports" governing body.
And then, rather than hang his head after lasting until pick No. 22, he literally comes into the NFL rubbing his fingers together in the universal gesture for filthy lucre, now finally able to get in on the take legally. Works for me. I understand being that bold or brash isn't for everyone, but I get the feeling Manziel is perfectly OK with that tradeoff.
The outsized dude in the club is just one part of the equation. It's not who he is on the job.
"People have a lot of preconceived notions about the guy because they see what they see on TV or in magazines or on the Internet or whatever," Browns quarterback Brian Hoyer told me last week. "And you come in the building and he's just another guy on the team and he's really tried hard to make it that way and he's done a good job of doing it with what he says to us and how he caries himself. He's done a good job of picking up the system and working hard."
The idea that the choices any 21-year-old, newly minted millionaire (who would otherwise be going into his senior year at Texas A&M), makes are supposed to somehow translate to what we expect of our children doesn't fly either (this kid doesn't turn 22 until December, when the regular season will be nearly complete). A college kid with a big arm and the ability to make ridiculously athletic plays from the quarterback position shouldn't be held up as a standard for anything. He's just a kid learning on the fly and figuring things out and, eventually, likely learning from his mistakes. Just like any of us.
If Johnny were my kid -- and as a 40-year-old that's possible, at least in terms of age but not DNA -- we'd be having a few talks. I'd express some concern. I'd stress a few things (the need for a top-notch security detail, my insistence he always use a car service, my intolerance for hard drugs, the need to have condoms always readily available). But I wouldn't be trying to squash his spirit in the process or pretend that it isn't disingenuous to have the world at your doorstep and then lecture him about the need to stay home with a nose constantly in the game plan.
This all passes by in a blur, no one is guaranteed a long career (especially in the NFL). This is the last time the burden of expectations will not be hanging directly over him, not even yet in his first training camp, the football world still conflicted over just what he will be able to do at the next level, his star power sharp and blinding, guys like Jay-Z and Diddy eager to toast Dom Perignon with him (wait, that's not what the uber-rich drink these days, is it? Cristal maybe? Either way, you get the picture).
If he can't revel in this now, he never can. I've known more than one former first-round pick who couldn't tell you where the nearest club was, who were truly pious, who thought a big night out was dinner with a few friends at The Bonefish Grill, and who never made it as starting quarterbacks. Myriad factors go into this, there is no one path for everyone, and of all the predictors for success at the NFL level, the number of nights out on the town in June is considerably low on the list. You won't convince me it really matters.
Manziel has plenty of time to grow up, and I suspect he will. Bones quickly become brittle and the body ages much faster than the mind in the game he chose to play, and you can only burn that candle at both ends for so long. But if not now -- before the man has ever been pummeled by an NFL linebacker -- then when? Let him live it up, gradually get it out of his system, and mature at his own pace. Trust me, none of this will be so cute when he's, say, 26, especially if he isn't winning football games. And in your thirties this kind of stuff can take on a tragicomedy bent. But for the time being let Johnny Football be Johnny Football.
If these are the most severe of his infractions -- in a league where domestic abuse and violent crimes are not uncommon -- then give him a little space to do his thing and let's see how this reality show plays out on game days ... not OTA weekends. He's already going to have to give up a fair amount of his mind to the Browns, and certainly all of his body. If he's not willing to give over his soul so readily just yet, well, I applaud him for that. So thanks for the column, JFF. And maybe one day we'll share a swan.
Here's an up-to-date look at the 2018 Pro Bowl roster

New England is 3-0 wearing white in Super Bowls under Bill Belichick

Bettors are favoring the Eagles to keep Super Bowl LII close, but the Patriots remain clear...
No one wants to give the Eagles any respect

The three-time Grammy winner will sing before Super Bowl LII on Feb. 4

Here's a look at the NFL's entire postseason schedule for 2018