Jets camp observations: Low expectations serving as motivation
A QB battle. A major rebuild on defense. Rex Ryan coaching for his job. Yep, the Jets have issues -- as usual. But after visiting camp, Pat Kirwan says Gang Green is on the right path.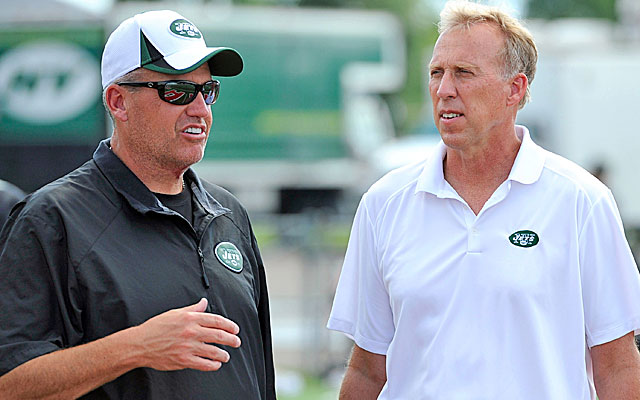 If you go by all the things said about the New York Jets it would be easy to conclude that they have little chance of winning more than five or six games.
I spent a day with the team and was up-close at a full-padded practice and also sat down with a number of players, as well as the head coach and GM.

And I have to admit: I underestimated the potential of this team.
If the Jets can make the right decision at QB and get Santonio Holmes back on the field, they will surprise a lot of opponents. Rex Ryan's players are practicing and acting like their backs are to the wall and don't want to see their coach fired at the end of the season. All I can say at this point is watch out.
Here are some things that jumped out at me from practice.
• The quarterback competition: There's no story bigger than the battle between Mark Sanchez and Geno Smith. At this point it doesn't appear to be dividing the team, but as the days go by it could become a problem. It appeared Mark Sanchez was pressing a bit as the day went on, and when you consider he has never been in a similar position as a pro, it is understandable but not acceptable. Smith was relaxed and threw the ball well in drills, but took a step backward in the team period. The good news is Smith really spins the ball, wants to sit in the pocket, and looks ready if the team was exclusively in the shotgun short pass game. Smith struggles to read coverage in the level 2 and level 3 passing game. I believe this is an open competition and must be decided before the third preseason game because the eventual starter is going to need a lot of reps to get ready for the season.
• Rex Ryan situation: I sat down with Rex for a good half hour and you would never know he's supposedly on the hot seat. Ryan's sense of humor was in rare form, and he is excited to be back heavily involved with the defense. I talked to a lot of players and I am convinced he has not lost the team. What will the Jet management do with Rex if he goes 8-8 or 9-7? Fire him like the Bears did Lovie Smith last year? Ryan has a 38-32 record and that could balloon to 46-40.
• Rebuild on defense: How many teams clean house on defense when they are ranked No. 8 in the NFL? The Jets will replace their nose tackle, a defensive end, an outside linebacker, an inside linebacker, and both safeties. On top of that they probably will have a new cornerback and outside linebacker. Imagine a defense with eight of 11 new players. After watching practice, the Jets could be better than last year, even with all the new players.
• The plan at running back: Shonn Greene had 276 carries last year and is no longer on the team. Recently acquired Chris Ivory is not ready for practice but will win the job and should get most, if not all of the Greene attempts. It was pointed out to me by Ryan and Idzik that Ivory has an unusually high number of explosive runs considering the limited work he got with the Saints.
• Rookie report: Two rookies will start on defense -- Dee Milliner at corner and Sheldon Richardson at DE. Richardson was very impressive in the live practice and could wind up with rookie defensive player of the year. On the offensive line, rookie Brian Winters has the best chance to crack the starting lineup. Tackle Oday Aboushi is not as far along as Winters but he will make the team as a swing tackle. He will not challenge Austin Howard for the starting job, however. At least four rookies will play important roles for the Jets this season.
• Position battles: Rex Ryan told me this was the season with the most competition he had on the roster in a long time, and there are a number of jobs up for grabs. Quarterbacks Mark Sanchez and Geno Smith are going throw for throw in every practice. Rookie OG Brian Winters is pressing veterans Willie Colon and Stephen Peterman for a starting job. I think the veterans hold off the rookies for the short term. Bilal Powell is not going to hand the running back spot to Chris Ivory, and until Ivory gets back on the field, Powell is making a statement he deserves the job. Rookie fullback Tommy Bohanon is giving Lex Hilliard a run for the money. Antonio Garay is a good veteran nose tackle that may make it tough for Kenrick Ellis at some point. Finally, at free safety, Antonio Allen and Josh Bush are battling for the lead.
• The importance of the West Coast fullback: Offensive coordinator Marty Mornhinweg is running a pure West Coast offense and that usually means the fullback needs receiving skills. I could see this team keeping two fullbacks, which is rare, but maybe the right idea considering the weak group of tight ends. Speaking of tight ends, Kellen Winslow needs to make this team if they want to threaten defenses. The sooner the franchise decides Winslow is a keeper, the sooner it can back him off this summer and save him for the regular season. In this offense he could catch 50 passes.
• Prediction: Last year the Jets were 6-10 and lost three games by a touchdown or less. This year there is controversy around the QB position which isn't good for the short term but may work out for the long term. There is a five-game stretch before the bye that includes Atlanta, Pittsburgh, New England, Cincinnati and New Orleans which could break the spirit of any team. This camp visit has convinced me this team is better than I thought before I got here, but it may not show up in the win column. A repeat of last year's record is possible and the right move would be to keep the coaching staff and try again in 2014, but we all know how this league works.
Things I saw or heard at practice:
1. Jet offensive coordinator, Marty Mornhinweg said 'we could have one of the better offensive lines in the NFL and we have some depth as well.'
2. Nick Mangold said making adjustments with the offensive line will be easier now that veterans Willie Colon and Stephen Peterman are on the roster. In fact he said the five starters are already discussing things a month ahead of schedule.
3. GM John Idzik said the QB competition is a true open competition, nothing has been decided at this point, and he and Rex will sit down at the appropriate time.
4. Rex Ryan is still heating up the pressure calls and may do even more now that he is more involved in the defense. Nick Mangold said the blitzes are already coming fast and furious.
5. Quinton Coples told me he is learning the pass coverage principles and he feels more comfortable with the zone calls instead of the man calls. He anticipates teams using spread sets to isolate him in coverage.
6. Greg McElroy looks pretty good in the new West Coast offense. He may not be in any QB conversation, but he really knows where to go with the ball and was sharp in the shallow cross passing game. In fact he was better than the two QBs competing for the starting job.
7. The defensive backs dominated the wide receivers in practice for the most part, but speedy Clyde Gates won more than he lost as a receiver.
8. Mark Sanchez simply doesn't spin the ball as well as Geno Smith. Smith can really throw the slant game and stands tall in the pocket and has a big over-the-top release.
9. Marty Mornhinweg feels Braylon Edwards brings a toughness to the receiver position. I was a little surprised by that comment.
10. QB coach David Lee is blending in some wildcat/pistol packages into the offense. It could be Jeremy Curley at QB.
11. Former rugby player Hayden Smith is competing for a tight spot for the second straight year, but struggled catching the ball in practice. The Jets may have to go outside the organization for a third tight end.
12. Calvin Pace blocked two Geno Smith passes in the team period of practice. Smith has to learn not to telegraph his release.
13. Safety Jaiquawn Jarrett made a very good play on a pass in the team red zone passing period, as well as making a couple of very big hits in practice.
14. Both Sanchez and Geno Smith had a lot of reps in the passing game outside the pocket.
15. The four-man rush on passing downs was LDE Calvin Pace, LDT Quinton Coples, RDT Mohammed Wilkerson RDE Antwan Barnes. They may be good enough that the club can limit their blitz calls.
16. Willie Colon made me laugh when he said 'I kind of had a history of holding and I gotta work on it.'
The Green Bay Packers quarterback seems to be a go for the Carolina Panthers game

Shazier's season might be over, but he still wants to help his team

The young head coach took the blame after a heartbreaking loss to the Eagles
Our computer model simulated every Week 15 NFL game 10,000 times with very surprising resu...

Britt is going from the worst team in football to a Super Bowl contender

With three weeks to go in the regular season, the MVP race is wide open