Jets coach Rex Ryan officially names Geno Smith starting QB for Week 1
Geno Smith has officially won the quarterback competition that most people already thought he won.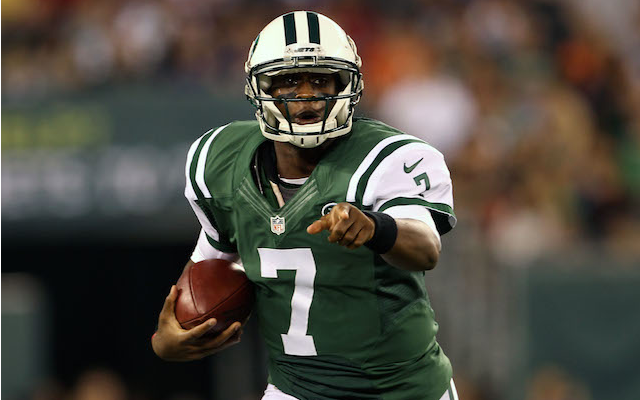 Following the Jets 35-24 loss to the Giants on Friday, coach Rex Ryan made an announcement that probably won't shock anyone who's followed the team's quarterback 'competition' this summer: Geno Smith will be the Jets Week 1 starter. 
"He'll be our starter," Ryan said. "He's done everything that we've asked him. This is no slight to Mike Vick because, believe me, I wanted to come out of this with two really good quarterbacks that we think we can win games with, and in my heart, I feel that we have two that we can win with. I'm really happy with the way Mike played as well, but we're going to go with Geno. I feel very comfortable with that."
Does 'go with Geno' mean Smith will be starting the entire season or does it mean Smith will be on a short week-to-week leash? 
"Oh man. It's week-to-week. We don't name starters all the dang time. We don't have to do the song-and-dance," Ryan said. "We're happy with both the quarterbacks, period. We think we can win with both quarterbacks."
Ryan picked a good time to make the starting quarterback announcement, Smith played his best game of the preseason, going 9 of 14 for 137 yards and a touchdown against the Giants. 
"I'm really, really pleased with how Geno played in the [preseason], especially [against the Giants,]," Ryan said.
Although Ryan officially named Smith the starter on Friday, it seems both quarterback were well aware of the fact beforehand.  
"All along, I've had the notion that I'd be out there Week 1," Smith said. "The handwriting was pretty much on the wall. It's a big deal, but nothing will change. It's the same mindset for me."
Vick knew he wasn't going to be the starter. 
"I knew the entire time that Geno was going to be the starter," Vick said. "But Geno went out and proved that he's capable of running this team and putting this team in a position to win."
Vick had pretty much conceded since Day 1 that Smith would be the team's starting quarterback, although he'll definitely be keeping his throwing arm warm. The backup quarterback said on Friday that he doesn't expect the Jets to have much patience with Smith. 
"Geno has taken that step in the right direction. I think he's ready to lead this team," Vick said. "But there's been a lot of quarterbacks that started as rookies and started young. There's really no other way but to go out and win. Regardless of the year the player is in, you got to go out and get it done.... There's really no patience, just being honest... We got to win and we got to win now."
The Jets open the regular season at home against Oakland, but then after that, they play Green Bay, Denver and New England in three of the following six games. 
It might be time for Johnny Football to head to the Great White North

Rodgers has been out with a broken collarbone since Week 6

Mariota and left tackle Taylor Lewan both escaped serious injuries
This might go down as the most expensive snowstorm of Adam Vinatieri's life

The Cowboys unveiled a new look on Sunday and their fans seemed to love it

Conquerors of adversity in 2017, the Eagles are still on the fast track to claiming the NFC's...