Just Because: Bob Golic, circa 1988, demonstrates martial arts
Bob Golic was willing to try anything, be it ballet or martial arts, to help him become a better football player.
• 2 min read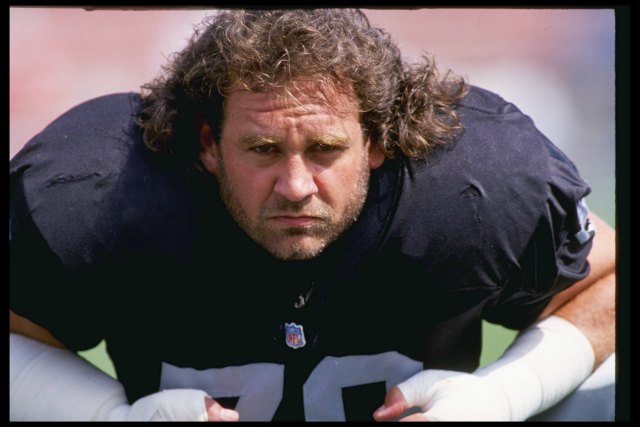 As I recently sat back and watched an astoundingly-hilarious episode of Saved By the Bell: The College Years, as I am wont to do from time to time, my mind got to wandering during yet another unsuccessful attempt by Zach Morris to woo the pedestal-placed and somewhat-pedestrian Leslie Burke (who was and is vastly inferior to Bayside High's Kelly Kapowski).
What would, I asked myself, Bob Golic look like if he was practicing kung fu with martial arts expert Don Niam? As Screech blabbered on my television, distracting A.C. Slater as he attempted to earn a buck from bussing the tables at the student union, I checked out YouTube to see what I could find.
Behold: I struck gold in the pot at the end of the California University rainbow as I found this Cleveland morning show clip that featured Golic -- who played in the NFL from 1979-92 with the Patriots, Browns and L.A. Raiders -- and Niam, the standout star of the great bad-movie Undefeatable.
Not sure exactly when this video was made, but if I had to guess based on a couple of clues Golic drops in the interview, I'd say 1988.
Note: Hair-spray and a cassette tape of Belinda Carlisle's "Heaven is a Place on Earth" are not included.
A couple of things:
1) I'd be remiss not to mention Golic's glorious mullet. Nothing more needs to be written about it, because the flowing waterfall of Golic's fantastical follicles tells us all we need to know.
2) Golic, a three-time Pro Bowler, is ahead of his time when he talks about not wanting to get hit too much in the head while playing in Cleveland. Not only for the sake of his hellacious hair, but for the skull that holds it up. That's why Diam was working with the Browns in the arts of martial during that offseason, and thus, that's what makes this clip entirely relative (if not to you, the modern-day viewer, at least to the Bernie-Kosar led squad that went 10-6 with a playoff appearance in 1988). So, three cheers for martial arts training. I'm sure this guy approved.
3) Yeah, it got a little awkward in the studio that day. OK, it got fairly awkward. But take a 12-minute break and drink it in, because it's actually quite delicious.
And while I've got you here, enjoy this clip from 1975 of Golic wrestling in high school.
Further proof that Golic would have destroyed Slater on the wrestling mat, after all.
Follow Josh Katzowitz on Google+
Everything you need to know about the Packers-Panthers game on Sunday afternoon

The Lions will be wearing their Color Rush uniforms for the first time on Thursday

The Lions look to maintain playoff positioning while the Bears attempt to play spoiler
The Panthers have hired an outside law firm to conduct the investigation

Here's every official injury designation for each NFL team for Week 15

Bennett was one of the few players who escaped punishment after Sunday's melee in Jacksonv...