LeBron James wants to play in one NFL game 'before it's over'
LeBron James tweeted on Friday night that before his athletic career is over, he'd like to play in one NFL game.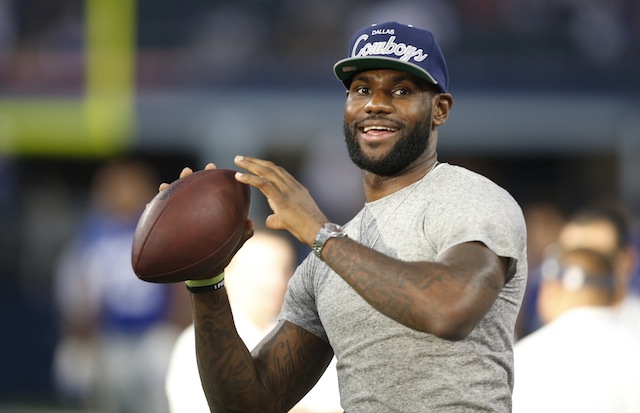 NBA star LeBron James hasn't played organized football since his junior year in high school, but that doesn't mean his dream of playing the sport has died. During a Twitter Q&A with his over 10 million followers on Friday night, LeBron was asked if he would 'ever consider playing in one pro football game? In any league?' 
LeBron's response: 
"@TylerC_2: @KingJames would you ever consider playing in one pro football game? In any league?"(I wanna play one NFL game before it's over)

— LeBron James (@KingJames) October 19, 2013
Apparently the LeBron's football dream isn't dead because he wants to play in one NFL games before it's over. Presumably, that would mean playing in a game while he's still athletic enough to do so. 
If LeBron wanted to to be competitive on the football field, this game would probably have to happen in the next five-to-seven years. If I'm an NFL owner reading that tweet, I'm thinking of a way to get LeBron on the field for one preseason game and I'd play that game at Bristol Motor Speedway and then I'd count my money as I watched 150,000 people pile in to watch LeBron in his one and only NFL appearance. 
Another option for LeBron would be playing for Jerry Jones at Cowboys Stadium. Not only is LeBron already friends with Jones, but he attended a Cowboys game earlier this season. Hulk Hogan could even do the pregame coin flip since LeBron seems to like him too. 
The idea of LeBron in the NFL isn't a new one. Dolphins wide receiver Mike Wallace weighed in on the subject in August, saying "He's the greatest athlete on the planet. I feel there's no greater talent than LeBron. You throw him a couple of passes and get him a couple of routes, and he'll be all right."
During the NBA Lockout in 2011, LeBron famously sent out this tweet: 
@ClaytonESPN When is the deadline for a team to sign a free agent?

— LeBron James (@KingJames) October 11, 2011
Of course, before LeBron even thinks about making the one-game jump to the NFL, he needs to worry about more pressing matters, like beating Panthers defensive end Greg Hardy in a game on one-on-one basketball.  
(LeBron James fake signed with the Cleveland Browns in this 2009 commerical)
Here's an up-to-date look at the 2018 Pro Bowl roster

New England is 3-0 wearing white in Super Bowls under Bill Belichick

Bettors are favoring the Eagles to keep Super Bowl LII close, but the Patriots remain clear...
No one wants to give the Eagles any respect

The three-time Grammy winner will sing before Super Bowl LII on Feb. 4

Here's a look at the NFL's entire postseason schedule for 2018