TEMPE, Ariz. -- Michael Sam, the NFL's first openly gay player, has been out of the league since October.
Based on what he showed at the NFL's first Veterans Combine here at the Arizona Cardinals practice facility Sunday, it might be permanent.
Despite Sam's insistence that he wants to continue with his quest to play in the NFL, and he has to applauded for chasing his dream after being let go by two teams last year, the reality is that he simply might not be good enough.
"It was bad," one scout said of Sam's workout here.
Sam was listed at 6-foot-2, 265 pounds, but that might be stretching it in terms of his height. He looked smallish compared to the other defensive linemen who worked out here. But worse was his performance.
He was timed in 5.07 seconds in the 40-yard dash, slow for an edge rusher. That time should be closer to 4.7. At his pro day last year, Sam ran 4.79. So one year and he's that much slower?
Or is it because he's now taking part in Dancing With the Stars?
He was asked about that, but shunned off the questioner.
"Next question," said Sam, who seemed a bit snippy during his session with the media.
Sam's position drills weren't impressive either. He had no burst and looked slow at times. It's hard to believe he was the SEC Defensive Player of the Year at Missouri in 2013. Then again, it shows college stats and awards mean nothing when it comes to playing with the big boys.
Here's the reality: Sam should go to Canada and try and show what he can do, or simply move on to other pursuits.
This might be harsh, but I will be shocked if he's on an NFL roster -- ever.
And it won't have anything to do with his sexual orientation. I talked with a handful of scouts here, all of whom insisted it didn't matter.
"Nobody cares," one scout said. "It's about him as a player."
Sam said he would continue to work to get back to the league.
"As long as I still have that will, as long as I'm still healthy, and can play this game, you will continue to see me fighting to get in this league," Sam said.
It's a fight that I don't see him winning.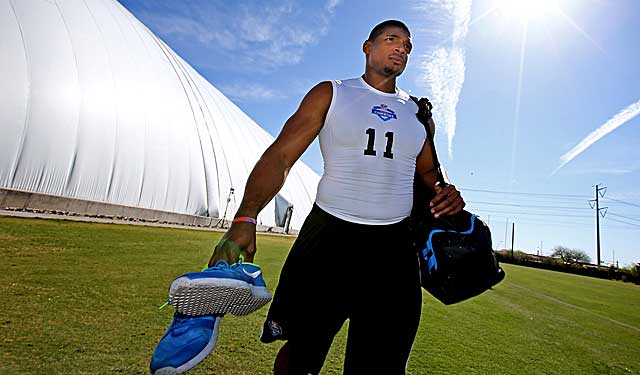 Borland retirement no signal of trouble with NFL
When 49ers linebacker Chris Borland retired at the age of 24 last week after only one season, it led to the knee-jerk narrative that football was in trouble.
Spend a day at an NFL-sanctioned combine, where 2,000 players applied and 105 or so got invited, and tell me that's the case.
Outside in the parking lot, a player who wasn't invited was hoping to get a chance to go inside. The security guard said he was there for two days -- with a regional combine held at the same spot the day before.
On the inside, more fortunate players chased their dreams. They paid $400 and their own expenses for that chance.
One player who did was guard Justin Wells. He was in camp with the Panthers in 2012 and 2013, but didn't make the active roster, a mangled finger ending his chances in 2013.
But he still clings to the idea that he can play, which is why he doled out the money and flew from the Baltimore area to show his stuff.
"I see this as another opportunity to try and get to the league," he said. "I would do anything to play in the league."
Anything?
"I'd give my left nut to do so," he said.
So I asked Wells and several others about Borland's decision to retire and the narrative that football is in danger as a sport.
"Look at the guys here, and look at all the guys who want to play in the league," Wells said. "That's one guy. For every one of him, there are 1,000 guys who want to play. It's a risk-reward thing. I think it's worth the risk and a lot of other guys obviously do too."
Wells was working at a Pier One Imports store riding a forklift, but will now go back and play Arena Football for the second consecutive year.
"That check might be $900 a week," Wells said. "That isn't NFL money."
Defensive tackle Da'John Harris, who has been in camp twice with Tennessee and was on the active roster for seven games in 2012, agreed with Wells that the game isn't dying.
"That's somebody's opinion, but there are still so many guys who want to play this game," Harris said. "It's in too many people's blood. Too many people have bled for this opportunity. Whenever there is a career out there and people are exhausting everything they can do, you can't say it's dying."
Harris, a former USC roommate of Titans defensive tackle Jurrell Casey, spent the past year working out, doing some acting as an extra in commercials and television work and also working as a bouncer.
"People get drunk and don't know how to control their alcohol," Harris said "That's where I come in."
All the while he continued to train in hopes of another chance, a dream chaser who isn't about to let it die.
"I'll keep chasing it," he said. "You can chase the dream and do other things too. But I don't have a wife or kids, so I will continue to chase it."
So will many others, which is why the idea football is dying following Borland's retirement is out of line. One look at the drive and determination here Sunday told that story.
And so did the $400 they had to pony up for a chance the poor kid in the parking lot didn't get.
More Musings
• Of the 105 participants here, scouts I talked with said as few as five or as many as 10 players could be signed to contracts. One scout said he was really disappointed with the talent. The entire process came off as an NFL-made-for-TV event. There is some talk this is a way for the league to help streamline scouting, make it more centralized. That's not a good thing. The league even solicited teams about possible invitees. The problem there is that teams should be reluctant to give out the names of guys who they like. Why share?
• The 40 times here were slow, but several scouts had quicker times on some players. Former NFL runner Felix Jones ran 4.79, but one scout I talked with had him at 4.6. Even so, that isn't fast. Michael Bush was timed at 4.91. Supposedly when he was told that time, he said something like his career was over. His workout wasn't great either.
• The biggest names here were former first-round picks Brady Quinn -- yes, who has worked with us at CBSSports.com -- defensive tackle Adam Carriker and defensive end Jamaal Anderson. They, like so many others, are clinging to the dream of again playing in the league. "I don't know why those guys are here," one scout said. "Didn't they make enough money?"
• Borland is voluntarily returning the pro-rated portion of his signing bonus, which is the right thing to do. Of course, if he hadn't the 49ers would have come after him. Why? Precedent. If he didn't give it back, or the team didn't ask for it back, it would have opened up a big problem for the league. Players could sign four-year deals, and then just quit with their bonus money. It had to go back to the 49ers.