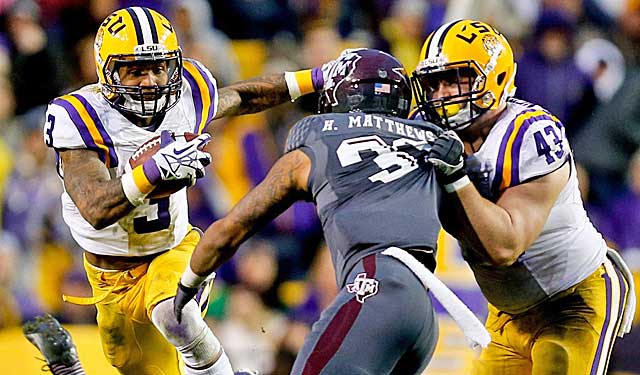 More NFL Draft: Latest mock drafts | Rang's Big Board | News & notes
Odell Beckham Jr. cannot even put a numerical value on how many times he has heard the story by now. Far too many to recall, that's for sure.
In fact, he has been hearing about it for almost 20 years by now, the better part of his life. Beckham, a former star wide receiver at LSU who many believe will be taken in the first round of the NFL Draft, interrupted his preparation for this week's scouting combine to share the story with me.
It goes like this: Beckham, whose father Odell Sr. was a football player at LSU and his mother, Heather Van Norman, ran track at the school, was 4 years old, playing football around the house while his mother had a group of friends over. Somehow the topic of what the little guy wanted to be when he grew up was broached.
"I just told my mom, straight to her face, that I'm just practicing for Sundays," Beckham said. "'I'm going to be in the NFL.' And she says to this day, it was such an honest answer, and I said it with such conviction, that everyone around me had no choice by to believe me. That's what my dream always was, and that's been my goal."
Beckham now, with no small assist from his gifted and dedicated parents, is on the cusp of making that a reality. The young man still speaks with conviction; ask him any question that he answers in the affirmative, and chances are his response will begin with the word "absolutely." In many ways, he has been groomed for this all of his life, born and raised literally at LSU while his parents were student-athletes, then going on to star at the Isidore Newman School in New Orleans -- a school made famous by the Manning boys -- where he joined Cooper Manning among the most decorated receivers to ever play there, and where Beckham excelled at five or six different positions.
Football literally is in his blood, and he has spent the past few weeks as one of a whopping 87 combine prospects preparing -- mentally and physically -- every day at Athlete's Performance, a world-class training company with facilities across the country. With such a deep group at his position, Beckham hasn't received much pre-combine fanfare. Beckham vows that he will be a first-round pick.
"Absolutely," he declared, confidently but not with braggadocio. "I feel I'm as good as any receiver in the nation." He just might be right, or certainly close to it.
Athletic prowess has always been around him.
Beckham's mother was training for the Olympic trials when she found out she was pregnant back in 1992, with her running up until the six-month mark, then walking steps at the stadium until eight months before turning to swimming-pool workouts until delivery time. The newborn went to classes with his mother and was ever-present around the Baton Rouge campus, with his father playing football for the Tigers at the same time.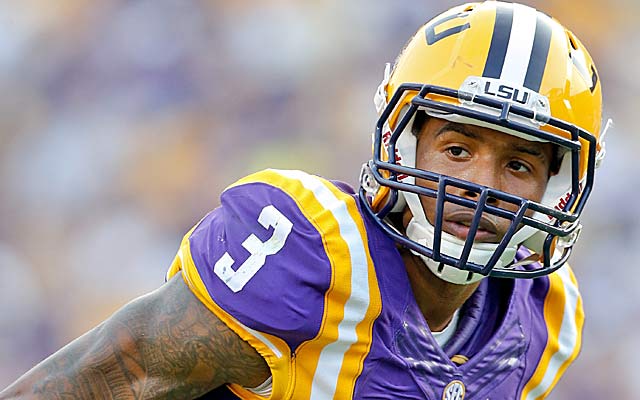 They would remain sounding boards for him throughout his playing career, always ready to give guidance, should he need it. He always wanted to play sports, and wasn't content just being good. He was striving for greatness.
"Just being able each and every day to ask whatever you wanted about the game was great," Beckham said. "With my dad playing football and my mom running track, it's so easy when they've been at that level and competed like that and know what it takes. And getting all the tricks and tips from them over the years, it definitely helped out a lot to have them there the whole time with me."
In high school, Beckham was almost always on the field. He played receiver. But he also played quarterback, running back, safety and cornerback, as well as occasional punting and kicking duties. But one of Beckham's good friends on the team wanted to play quarterback, and at a certain point Beckham figured it might be best to hone a particular position as well, so he said he would play receiver instead.
"In the long run, it really helped me," Beckham said. "I was out running routes every day and catching passes and it kind of transitioned me into college."
Beckham and Cooper Manning are the only receivers to post 1,000-yard receiving seasons at Newman, and being associated with that football royalty in any capacity means a lot to Beckham, a student of the game.
"Any time you get put on the same list as guys like Eli and Peyton Manning, it's an accomplishment within itself."
Like the Mannings, Beckham is a creature of repetition, a slave to the nuance and technique of the game. He was drawn to receiving because of the precise art of route running. He strives to be as close to perfect with his footwork, body control, leverage and cutting as can be. "I could literally just run routes all day," Beckham said. "That's what I pride myself on the most."
He would watch guys like Victor Cruz and DeSean Jackson at the NFL level, wanting to adopt tenets of their game, and Beckham continued to blossom himself. Scouts rave about his hands -- he is a natural and effortless catcher of the ball -- and his work ethic and character and football intellect draw teams to him, as well (many would not be surprised if he actually ended up alongside Jackson in Philadelphia, come May, in fact).
The depth of the LSU roster at receiver and defensive back allowed for meaningful competition at practice throughout his college career, battling guys like Tyrann Mathieu and others for the football. And his pedigree could not be better.
Sure, Beckham doesn't have super high-end explosive speed. And at only 6 feet tall, he isn't going to maul people at the line of scrimmage to gain separation, either. But there is plenty to like and, true to form, Beckham is banking on his 40-yard dash time and metrics at the upcoming poke-and-prod-fest in Indianapolis to be plenty eye-catching.
"I'm aiming for some pretty elite numbers," Beckham said. "I'm not very good with just being mediocre or OK. My goals are set pretty high, no matter what."
And, of course, his family is playing a role in that, too. With combine-training nearing completion, Beckham was ready to let his mother take a look at his 40-yard dash form and offer any pointers ahead of one of the biggest weeks of his life. She, of course, wouldn't have it any other way.
"I flew her out here this week just to touch base and see what she thinks about my form and how I'm getting off the line and all of that stuff," Beckham said. "It's definitely been fun for her to coach me up and to watch me prepare."
It only seems right it would happen this way. It was all foretold by her 4-year-old boy in the first place, who is now mere weeks away from achieving his goal.