PHOTO: Giants season summed up by one fan's really sad face
A New York Giants fan was able to sum the team's entire season in one face.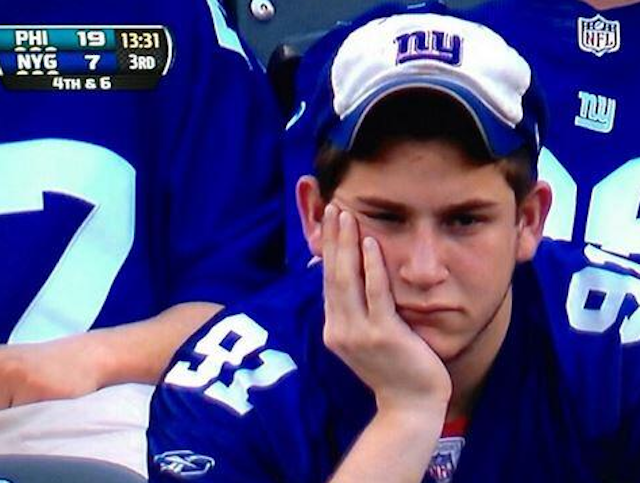 Some pictures say 1,000 words, other pictures only say 13 words. This picture falls in the second category and those 13 words are 'The Giants are making me sad, I wish I was a Jets fan.'
Or maybe he's not thinking that because who would want to cheer for the Jets. 
Other possible things he could be thinking:
"I wish I had waffles for breakfast."
"I wish our leading rusher at halftime had more than 20 yards."
"I wish my hat fit."
"I can't believe my cat ran away before the game."
This guy's day didn't get much better after this picture. After trailing 19-7, the Giants came back to take a 21-19 lead, only to lose 36-21. 
(Wink of the CBS Eye to BlkSportsOnline on Twitter)
It sure looks like the former top pick will be benched heading into the regular season for...

Someone asked him to start the press conference of course

Derrick Johnson wants to discuss players' First Amendment rights amidst the protests
High praise from one of the most athletically gifted quarterbacks ever to step on a football...

Nobody will mistake Joe Looney for his star teammates

Osweiler is being benched in favor of DeShone Kizer