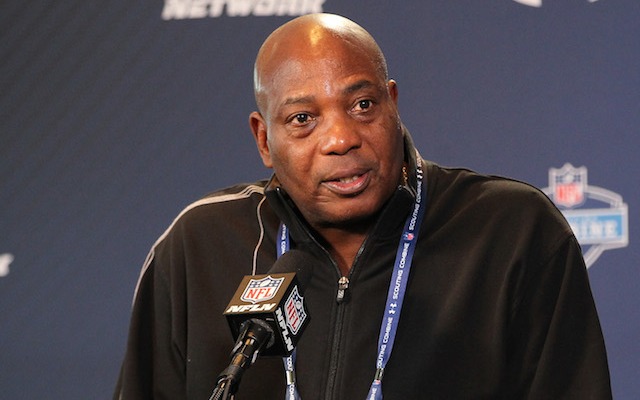 It appears Ray Rice was truthful to at least one of his bosses in Baltimore, but he wasn't truthful to Roger Goodell about what went down in the video that was released on Monday -- At least that's what the parties involved are saying. 
In an interview with the Baltimore Sun, Ravens general manager Ozzie Newsome was asked if Rice described what happened accurately. In the video released by TMZ  earlier this week, Rice is seen knocking out his then-fiancee with one punch. 
"You know. Ray had given a story to John [Harbaugh] and I. And what we saw on the video was what Ray said. Ray didn't lie to me," Newsome said. "He didn't lie to me." 
If Rice didn't lie, then the Ravens knew that the video was bad. So why didn't they cut him over the summer instead of waiting until the video was released on Monday?
Team president Dick Cass tried to answer that question and suggested that he was under the belief that Palmer had hit her head after being slapped by Rice. 
"There's a big difference between reading a report that says he knocked her unconscious or being told that someone had slapped someone and that she had hit her head," Cass said. "That is one version of the facts. That's what we understood to be the case. When you see the video, it just looks very different than what we understood the facts to be."
Cass' understanding of the facts seem to be aligned with Goodell's. The NFL Commissioner said on Wednesday that Rice's story just was 'not consistent.' Cass, Newsome and Goodell were all in the same room when Rice told his version of events, according to ProFootballTalk. 
"The description of what happened was not consistent with what the video tape was," Goodell said. "When you see that, that was clear. That's why we took the action we did. And that's why we obviously were very disturbed at the first video and what happened. And that was reason for us to take the discipline action we did, albeit not what we would have liked to have taken."
The first video was the one that showed Rice dragging Janay Palmer out of the elevator. The former Ravens running back was given a two-game suspension five months after that video emerged. 
As it stands now, Goodell and the Ravens front office are both in hot water for not doing enough to obtain the second video.
The Associated Press was told by a law enforcement official on Wednesday that a video was sent to NFL headquarters on April 9 and someone in the building confirmed it was received. Although it's not clear who saw the video or what happened to it afterward.
As for the Ravens, they allegedly knew that Rice's lawyer had access to the video, the team just chose not to ask for it. That goes slightly against what Ravens owner Steve Bisciotti said on Tuesday.
In a letter to team stakeholders, Bisciotti wrote that the team made a mistake because they stopped trying to get the video. According to ABC News, the team asked Revel Casino for the video and Revel security told them that Rice's lawyer had a copy of the video. After that, the Ravens never approached Rice's lawyer about seeing the video.