Ray Rice's wife: 'I deeply regret the role I played in the incident'
Ray Rice and his wife Janay held a press conference together for the first time since the Ravens running back was accused of assault back in February.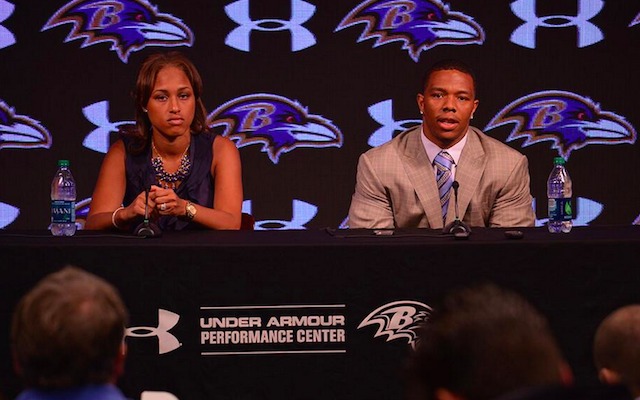 For the first time since being charged with assault in February, Ravens running back Ray Rice held a press conference. Rice was joined by his wife Janay on Friday, the woman whom he was accused of assaulting after the two had an altercation at a casino in Atlantic City, N.J.
It's not clear what exactly led to the incident, but Rice's wife still showed remorse for what happened. "I do deeply regret the role that I played in the incident that night," Janay Rice said.
Janay Rice didn't elaborate on the role she played, although a February court summons stated that she tried to hit her husband, who then knocked her unconscious. 
The couple has gone through counseling and Janay says that things are now better. 
"I can say that I am happy that we continue to work through it together, and we are continuing to strengthen our relationship and our marriage and working to being better parents for Ravyn and continuing to be role models," Janay Rice said. 
Ray Rice, who's been accepted into a pretrial intervention program that should allow him to avoid jail time, also spoke during the press conference. Neither Rice or his wife took any questions though. 
"One thing I will say is that sometimes in life, we will fail, but I don't call myself a failure," Rice said. "Failure is not getting knocked down, it's not getting up. One thing I do know that I've been working every day to be a better father, a better husband and just a better role model."
Rice then pointed out that he thought marriage counseling had been working. 
"One thing is that we've been blessed to work it out together," Rice said. "Not every relationship is perfect, but me and Janay together, what counseling has done for us, we want the world to see it definitely did help us out."
The Rice's were married in late March, just one day after Ray was officially indicted on a third-degree aggravated assault charge.
"I'm still the same guy you know," Rice said. "As me and Janay wish we can take back 30 seconds of our life, we are better parents, better lovers, and we're also better friends after this situation"
As for any punishment Rice might face, Ravens team president Dick Cass told the Baltimore Sun that Rice will be meeting with Roger Goodell in the near future. ESPN.com reports that Rice could be facing up to a three-game suspension. 
Everything you need to know heading into Week 15 is right here

Haden has been out since Week 10 with a fractured fibula

There's also the possibility Goodell steps aside early if his potential successor is progressing...
The league could return to its pre-2009 policy after a year in which pregame protests took...

Arians hasn't said he's retiring, but the team has discussed contingencies for a coaching...

O'Brien would be a coveted coaching candidate if he were to hit the open market