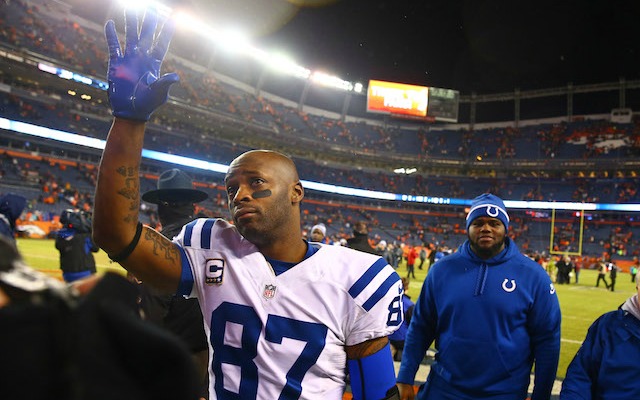 One of the most under-appreciated wide receivers in NFL history has decided to hang up his cleats. Former Colts receiver Reggie Wayne announced his retirement Friday night during an interview with CBS affiliate WTTV in Indianapolis.
Wayne, 37, had been hoping that he might return at some point in 2015, but when that didn't happen, he knew it was time.
"Yeah, I'm done," Wayne said. "It was fun, but it's time. It's just time. Whenever you can admit that you're done, you know you're done."
Wayne went to training camp with the Patriots in August but was cut before the season started. Wayne's brief stint in New England marked the first time in his NFL career that he wore a helmet that didn't have a horseshoe on it.
After being selected by the Colts with the 30th overall pick in the 2001 NFL Draft out of Miami, Wayne spent the next 14 seasons in Indianapolis, catching passes from talented quarterbacks like Peyton Manning and Andrew Luck -- and not-so-talented quarterbacks like Curtis Painter and Dan Orlovsky.
During his 14-year career with the Colts, Wayne went to six Pro Bowls and played in two Super Bowls, including Super Bowl XLI, when he caught two passes for 61 yards and a touchdown in a 29-17 victory over the Bears.
Wayne's 1,070 career receptions and 14,345 receiving yards rank seventh and eighth on the NFL's all-time list. Wayne put up those numbers despite the fact that he played with Marvin Harrison for eight years. Harrison is currently third on the all-time receptions list (1,102) and seventh in yards (14,580).
Wayne also caught 82 touchdown passes in his career, which ranks 23rd all-time. The former Colts receiver said that it never bothered him that he was choice 1B in Indy.
"Marv was the best to do it," Wayne said. "So to be right there underneath him and within reaching distance, that's when you know you did something right."
Wayne suffered a torn ACL in 2013 and appeared to lose some explosiveness when he returned from the injury in 2014. Wayne caught 64 passes that season, which was the fourth-lowest total of his 14-year career.
Before the ACL tear, Wayne had gone almost his entire career without suffering a serious injury. From 2002 to 2012, Wayne didn't miss a single game.
For Wayne, the final nail in the "retirement decision" coffin came in November when he attended a Colts game as a fan and actually got to enjoy himself.
"I finally turned into a fan, a real fan," Wayne said. "You know me, I've got my adult beverage. I'm eating some popcorn. I'm watching fans' reactions. I'm watching the Jumbotron. I'm literally enjoying the game without having to do all the thinking."
As for his legacy, Wayne's not too worried about that, he's going to let his numbers do the talking for him.
"When I look at it, what else did I have to prove?" Wayne said. "In my mind, I never got as much pub as a lot of other guys, and that's fine. I don't care. You know what? Numbers don't lie. People do, but numbers don't lie."
The wide receiver knows that his numbers are as good as anyone who has ever played.
"For me to be in that mix, man, that's not too bad," Wayne said. "I played against the elite of the elite, the best of the best. I was able to crack the top 10 of this and the top 10 of that, and be one of the best in franchise history."
Up next for Wayne could be a trip to Canton, and his candidacy will be strongly debated between now and 2021, when he's first eligible for induction.