Remember When: 32 years ago, Bengals triumph in Freezer Bowl
Last week's Green Bay-San Francisco playoff game was cold. But not as cold as the Freezer Bowl.
• 4 min read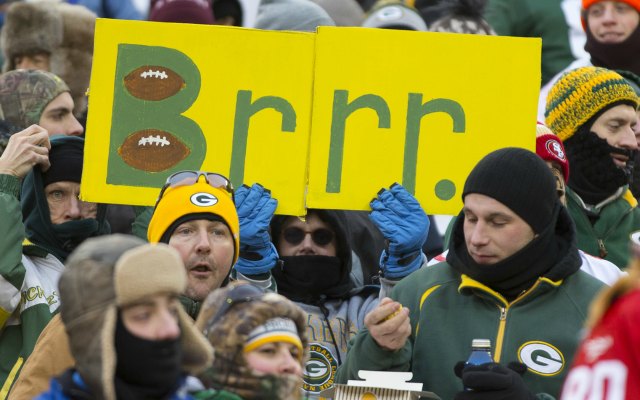 Yeah, it was cold last weekend in Green Bay for the Packers-49ers wild-card playoff game. At gametime, the temperature was 5 degrees with a minus-15 degree wind chill, and when the sun went down -- as it's wont to do -- it got even colder (as it's wont to do when the sun goes down).
But it wasn't the coldest game ever (though I bet it felt like it to those in attendance, especially when the Packers ended up losing). As NFL.com helpfully points out, the 1967 Ice Bowl started at minus-13 degrees with a wind chill of minus-48. That is the coldest-ever temperature recorded at the start of an NFL game.
Oh, you want a picture of fans who attended the Ice Bowl? Here you go, via Michael Beschloss.
Here crowd at Lambeau Field @packers v @dallascowboys December 1967 Ice Bowl, in minus 13 degrees cold: #AP pic.twitter.com/Fr2q0yIZfx

— Michael Beschloss (@BeschlossDC) January 5, 2014
As you can tell by those faces who seemed to be saying, "If they can't control the weather better than this, I'm NOT going to vote for Lyndon B. Johnson again," it was pretty chilly that day.
But it wasn't quite as chilly as the 1982 Freezer Bowl, depicting the Bengals vs. the Chargers on a rather frigid January day in Cincinnati. Yes, the gametime temperature was a balmy minus-9 degrees, but the wind-chill factor was a ridiculous minus-59 degrees that day.
As it so happens, that game took place 32 years ago today.
Forrest Gregg knew about cold. He actually played in the Ice Bowl. Then, as the Bengals coach, he was on the sidelines for the Freezer Bowl. As ESPN.com recounts, he told his men before the game that the contest would be as painful as going to the dentist but that the hurt wouldn't last for long.
Um, try telling that to Dan Fouts.
The former Chargers quarterback recounted last week to theMMQB.com's Peter King the following:
"When it gets cold, Fouts feels pain in both feet and both hands from the middle of the hand to the fingertips -- and has since Jan. 10, 1982 ... I spoke to Fouts Friday. "Nothing you can do about it," he said on the phone. "It's history. You just had to play in the game, and you had no idea this would come of it. The biggest problem, really, was there were no gloves for quarterbacks in those days. Kenny Anderson and I didn't have the luxury that day that the guys today have."
And the Bengals offensive linemen didn't wear sleeves that day, choosing instead to rub Vaseline on their arms to numb the pain.
"I thought they were crazy for not wearing sleeves, but they are professional football players," Gregg told ESPN for that 2008 story. "I was not going to tell them what to wear."
(For the record, San Francisco quarterack Colin Kaepernick didn't wear long-sleeves last weekend, so that was something.)
But just how cold was it?
Said Bengals fullback Pete Johnson about an hour after the game, via the Cincinnati Enquirer: "I'm just now finding parts of me hurt that I didn't know I hurt. The feeling's coming back."
The league had talked about the possibility of postponing the AFC title game, but it reportedly was never under serious consideration. Instead, the league recommended to the teams that they change their clothes at halftime and use dry, hot towels to cover their faces during the game. The Bengals accepted the latter but declined the former.  
And they triumphed, beating San Diego 27-7 to advance to Super Bowl XVI (where Cincinnati would lose to the 49ers).
But that Freezer Bowl game has never left the conscious of the fans who watched or the players that performed in it.
As the NY Times wrote the next day:
"I wouldn't send my dog out in that type of weather,'' said Kellen Winslow, San Diego's all-pro tight end. It was so cold that a fleet of heated city buses were kept outside Riverfront Stadium with a supply of blankets borrowed from local hospitals. Regularly, the police fanned out through the crowd of 46,302 - there were 13,277 no-shows - to see if anyone needed assistance.

Several spectators suffered heart attacks, according to Colonel Larry Whelan of the Cincinnati police.

It was so cold that the winning quarterback, Kenny Anderson, suffered frostbite of the right ear, and the losing quarterback, Dan Fouts, left the field with icicles dangling from his beard.
That is a cold day.
And just for fun, let's check out WCPO video of the team's reactions afteward (pay special attention to the :41 mark where Cris Collinsworth showcases what was apparently a pretty nice little southern drawl -- unfortunately, kicker Jim Breech is nowhere to be seen in the video).
Follow Josh Katzowitz on Google+
Jeremy Kerley wins the award for most creative excuse for failing a PED test

Here's every official injury designation for each NFL team for Week 15

Chicago's young QB has steadily improved his game and was superb against the Bengals a week...
This why more people should get married at football games

Larry Hartstein has his finger on the pulse of the Bears and has a strong pick for Bears-Lions...

Peyton Manning has taken his talents to Hollywood