Report: Bengals, LB Vontaze Burfict agree to four-year extension
Vontaze Burfict, who originally signed with the Bengals as an undrafted free agent, agreed to a four-year, $20 million extension with the team on Wednesday.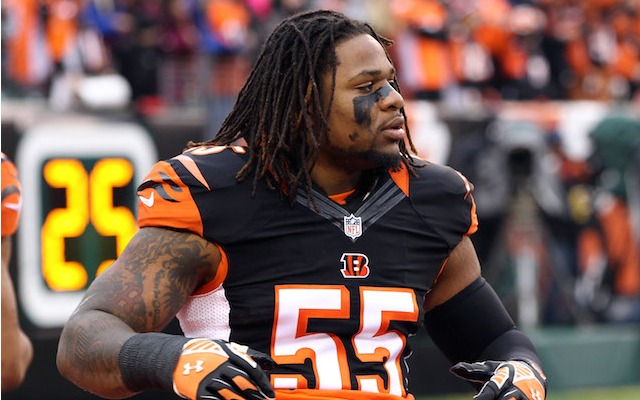 Vontaze Burfict is about to make the move to a higher tax bracket. After only pulling in $390,000 in his rookie year, Burfict will make $7.6 million in 2014 thanks to a four-year extension he agreed to with the Bengals on Wednesday. 
According to ESPN.com, the extension will pay Burfict $20 million over the next four seasons, including the aforementioned $7.6 million in 2014. 
Burfict originally signed with the Bengals as an undrafted free agent out of Arizona State in 2012. The linebacker signed a three-year, $1.441 million rookie deal after character concerns kept him from getting drafted. 
The 23-year-old has been a bargain for the Bengals, starting in 30 of the team's 32 games over the past two seasons while making a base salary of less than $500,000 in each season. 
Besides the money in his new deal, Burfict has at least two other big paychecks coming his way. Thanks to the NFL's performance based pay bonus, Burfict will get a $299,465 check for his 14 starts in 2012 and $315,847 for his 16 starts in 2013. Burfict will receive those checks on April 1, 2015 and April 1, 2016.  
The performance-based pay program works to compensate players whose level of playing time was much higher than what their salary would have paid.
This player probably won't be too popular in New England if the Patriots lose on Sunday

The connections between the Eagles and Vikings quarterbacks are endless

Josh Nagel went 4-1 on Super Bowl prop bets and shares his favorite props for Patriots-Jag...
The winner of Sunday's game will he headed for Super Bowl LII

It wasn't the matchup that we expected, but the Jaguars would argue that's everyone else's...

Here's a look at the NFL's entire postseason schedule for 2018