Report: Browns WR Josh Gordon to meet with NFL on Aug. 1
It looks like we finally might have a date for Josh Gordon to appeal his possible one-year suspension.
• 1 min read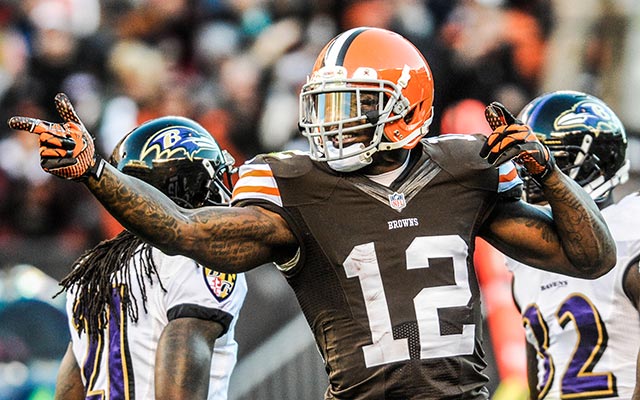 More NFL: Photos |   Videos & GIFs |  Stories | Training Camps | Johnny Manziel watch 
With a one-year suspension hanging over his head after repeated violations of NFL drug policy, Browns receiver Josh Gordon is still waiting to hear something official.
As are the Browns.
"There's certainly a level of frustration because we've known the news for so long," Browns coach Mike Pettine said last month. "It's just a holding pattern and I understand that the league has a process that they have to go through and there's other things that they're dealing with and we respect that. But at the same time it is difficult because it really will affect our preparation for the season ... We're prepared for all of the eventualities, but the waiting is difficult."
Now, it sounds like there's finally a hard date for Gordon to get his appeals hearing.
According to ESPN's Adam Schefter, Gordon will meet with NFL officials Aug. 1 in New York City to determine his fate.
Even if Gordon's suspension is reduced, don't look for him to be playing for Cleveland for a while. He was suspended two games last season, and though he still went on to lead the NFL with 1,646 receiving yards, the league will have to take into account his past transgressions. Which now also includes a DWI arrest earlier this month.
There's also concern that if Gordon does have to miss the entire 2014 season, his entire career could be in jeopardy.
As Cleveland.com wrote in early July: "Sources close to Gordon have told Cleveland.com they're concerned that if he's away from the team for a year and away from his support system, that he'll have a tough time making it back into the NFL. The sources point to Jaguars receiver Justin Blackmon, the former first-round pick, who was suspended indefinitely in November of 2013 for violating the substance abuse policy and isn't expected to be re-instated in 2014."
Either way, it appears that plenty of people are concerned about Gordon.
From our CBSSports.com archives: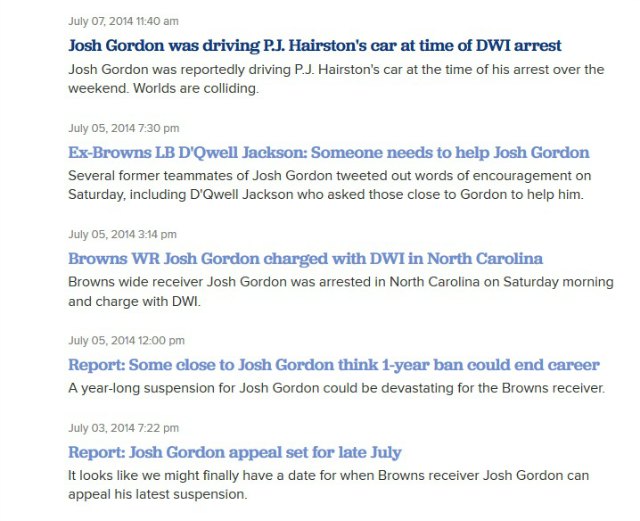 The former Buccaneers kicker did not have things start well for him in Chicago

Bears special teams showed up in a big way against Arizona

Beast Mode got loose with Oakland and looked pretty impressive in the early going
Beast Mode was one of several players to sit during the Raiders-Rams game

The cleaning staff in Houston missed a couple of things while cleaning up after Super Bowl...

Marvin Jones had some serious fun in the end zone after scoring against the Jets