Report: Panthers coach Ron Rivera looking to trademark Riverboat Ron
Panther coach Ron Rivera has reportedly filed paperwork to trademark his new 'Riverboat Ron' nickname.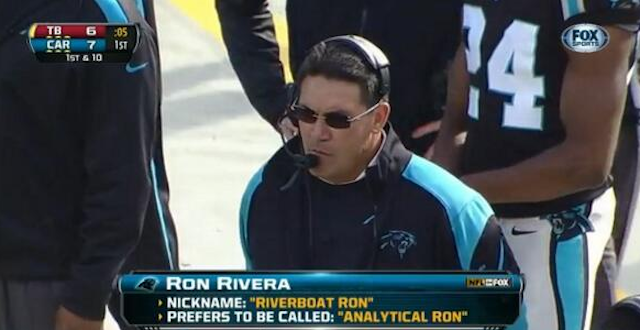 Panthers coach Ron Rivera might prefer to be called 'Analytical Ron,' but no football fan in America actually calls him that. Everyone else is referring to Rivera by his more famous nickname, "Riverboat Ron."
The nickname has taken on a life of its own and it's gotten so big that Rivera filed paperwork to trademark it last month, according to CharlotteMagazine.com. The paperwork was filed by Rivera's lawyer on Nov. 18, the same day the Panthers beat the Patriots on Monday Night Football. 
I'm convinced: Riverboat Ron and 1st Capt. Cam are legit. pic.twitter.com/GoLYZ9VPRl

— ryan wilson (@ryanwilson_07) November 11, 2013
"It's unbelievable," Rivera said of the nickname on Friday, via ESPN.com. "This thing has taken on a mind of its own. It's kind of gone all over the place, and it's one of those things that the moniker is what it is as far as trying to describe some of the decisions I've made."
Rivera seems to have developed his Riverboat mindset after the Panthers lost to the Bills in Week 2. In that game, Rivera decided to kick a field goal on fourth-and-1 with 1:42 left. The kick gave the Panthers a six-point lead, but left some time on the clock for the Bills, time the Bills used to score the game-winning touchdown. 
If the Panthers had gone for it on fourth down and converted, they could have run out the clock and won because Buffalo was out of timeouts. 
In the 11 weeks since that game, the Panthers have gone for it 11 times on fourth down and converted nine of those attempts. Two of those fourth down conversions came on the Panthers first offensive series against Minnesota in Week 6. The drive ended with a touchdown and Rivera's two fourth down gambles led to this tweet from Charlotte sportscaster Mike Solarte: 
New name: Riverboat Ron

— Mike Solarte (@MikeSolarte) October 13, 2013
Now Rivera is embracing the nickname and he says he's going to use the trademark for charity. 
"I kind of look at what I've done as just calculating it. But I will say this: My wife and I are going to try to figure out a way to use it to help benefit some of these charities out here that we work with," Rivera said. "We've got to just keep rolling with it, I guess."
Rivera's riverboat ways will be on national display on Sunday when the Panther play the Saints on Sunday night football. 
(Wink of the CBS Eye to GoldAndOrSmith)
It might be time for Johnny Football to head to the Great White North

Rodgers has been out with a broken collarbone since Week 6

Mariota and left tackle Taylor Lewan both escaped serious injuries
This might go down as the most expensive snowstorm of Adam Vinatieri's life

The Cowboys unveiled a new look on Sunday and their fans seemed to love it

Conquerors of adversity in 2017, the Eagles are still on the fast track to claiming the NFC's...