Rush Limbaugh on Ray Rice: NFL, fame, maybe worth a hit to the jaw?
Rush Limbaugh weighed in on the Ray Rice situation on Tuesday, asking, "How bad could the guy be if she went ahead and married him?"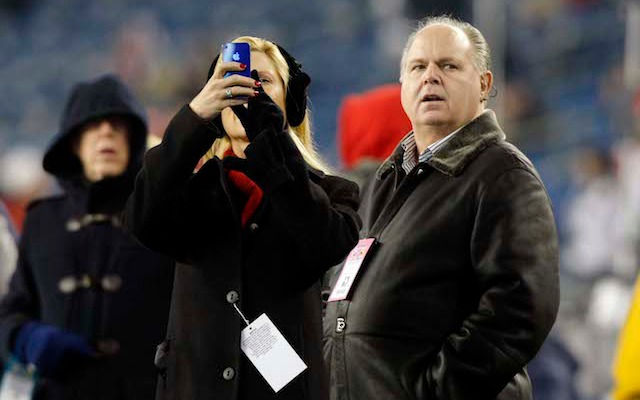 More NFL: Photos |  Videos & GIFs |  Training Camp updates | Manziel watch
Political commentator Rush Limbaugh once worked for ESPN, so he's no stranger to sharing his opinion on NFL-related issues. The conservative talk show host did just that on Tuesday, when he shared his view on the two-game suspension of Ravens running back Ray Rice. 
"She's his fiancee. He decks her. Well, how bad could it have been if she said yes to the proposal?" Limbaugh said. "How bad could the guy be if she went ahead and married him?"
During the segment, Limbaugh seemed to be trying to figure out why Janay Palmer went through with marrying Rice after the incident. Rice and Palmer were married in March, about a month and a half after video emerged of Rice dragging Palmer from an elevator at a casino in Atlantic City, NJ.
Before Rice was suspended, Janay reportedly asked NFL commissioner Roger Goodell to be lenient on her husband.  
"He engages in domestic abuse when they're engaged.. Then the event happens in the elevator and it's known and the lawyer's, 'OK, Ray, you've got to get married. To limit the damage, you've got to get married now because the act of her going through with the marriage after you deck her will limit the impact of this.' That has to be the thinking, right?"
"NFL player, big bucks, fame, maybe worth a hit to the jaw?" Limbaugh said. "I don't know. But I know what the lawyer was thinking."
Near the end of the segment, Limbaugh did add that he wasn't sure what to make of the situation because he couldn't "relate to any of this."
Limbaugh resigned from his ESPN job in October 2003 after making inflammatory comments about Donovan McNabb.
"Sorry to say this, I don't think he's been that good from the get-go," Limbaugh said. "I think what we've had here is a little social concern in the NFL. The media has been very desirous that a black quarterback do well. There is a little hope invested in McNabb, and he got a lot of credit for the performance of this team that he didn't deserve. The defense carried this team," Limbaugh said at the time. 
As for the Rice incident, ESPN commentator Stephen A. Smith also made controversial remarks. On Friday, Smith insinuated that women sometimes provoke abusive behavior from men. Smith apologized on Monday and has been told by ESPN that he will be kept off of the network for one week.  
You can hear Limbaugh's comments in their entirety below.
The Ravens quarterback won't be on the field when the team begins training camp

The Chargers might have just found a new backup quarterback

One NFL owner says he'd have 'no hesitation' signing Colin Kaepernick
The Cowboys receiver made a young boy's birthday wish come true

The new Packers tight end had to find a place to sleep after being locked out of his camp...

Lucky Whitehead says he had an awkward face-to-face meeting with Jason Garrett