Seahawks will wear white jerseys, blue pants in Super Bowl XLVIII
When the Seahawks take the field in Super Bowl XLVIII, they'll be wearing white jerseys with blue pants.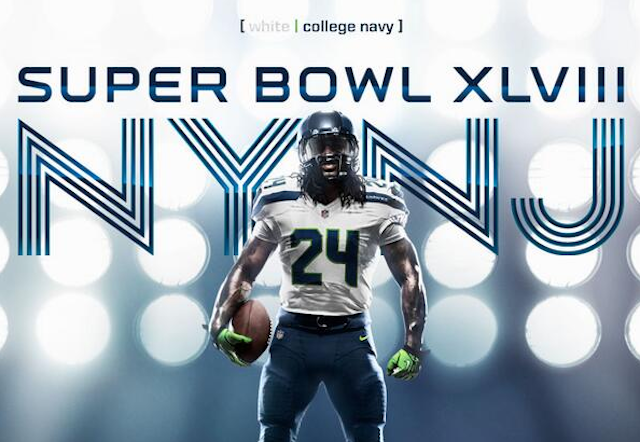 More SB coverage: XLVIII odds | Expert picks | Latest news
The first piece of the Super Bowl puzzle has finally been solved and that first piece was: What jerseys will each team be wearing on Feb. 2. The Broncos announced on Monday that they'd be wearing their orange home jerseys in Super Bowl XLVIII. 
The Seahawks followed up Denver's announcement with a jersey announcement of their own on Tuesday: Seattle will be wearing white jerseys over blue pants in the Super Bowl, marking the third time this season that the Seahawks have gone white over blue (techinically the color is college navy). 
The last time Seattle went with the white over blue combo came in a 23-0 win over the Giants in Week 15. That game was played at MetLife Stadium, the same stadium that will be hosting Super Bowl XLVIII.
The Seahawks also won in the white over blue combination in Week 10 when they beat the Falcons in Atlanta 33-10. That's two games wearing white over blue for Seattle and two 23-point wins. 
Seattle has lost wearing the white over blue combo before. In Week 8 of 2012, the Lions beat the Seahawks 28-24 in Detroit. 
The Seahawks uniforms underwent a complete overhaul before the 2012 season when Nike took over as the NFL's official jersey supplier. Seattle hasn't worn any combination of road uniforms more than four times since Nike took over. 
During the team's first and only Super Bowl appearance, the Seahawks wore all-blue in a 21-10 loss to Pittsburgh in Super Bowl XL. 
Brady lofted it between two defenders and Lewis snatched it with one hand

Lawrence says the NFL should protect pass-rushers like it protects quarterbacks
With their 2017 season basically over, it's time for Redskins fans to turn their attention...

The Eagles quarterback reaffirmed his faith and said he plans on coming back stronger than...

The Buccaneers are 4-9 and firmly out of the playoff mix, and now their best player is hur...