Suspended DB Brandon Browner misses chance at Super Bowl
Brandon Browner could have been with the Seahawks for the Super Bowl, but he's battling a suspension that would keep him out all next season.
• 8 min read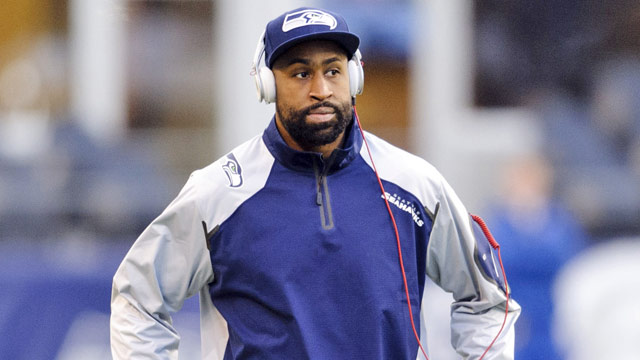 More SB coverage: XLVIII odds | Expert picks | Super Bowl news
NEW YORK -- His teammates are the toast of New York this week, entertaining a media throng at Super Bowl media day Tuesday, shuttling around the city with video cameras around their necks, showing up courtside at a Knicks game as they prepare to face the Denver Broncos on Sunday.
They are sharing this pinnacle of their professional careers together, basking in the spotlight while on the opposite side of the country one of their former starters is working out in solitude, preparing to watch the Seahawks play again from his house this Sunday, and steeling himself for what could be a lengthy legal battle with the NFL.
Not that long ago Brandon Browner was one of the players who came to mind when people talked about Seattle's heralded secondary, "The Legion of Boom." Since his controversial suspension for marijuana use, however, (a ban through the 2014 season that Browner is fighting and that is linked to missed drug tests from a period of time when Browner was not even in the league) Browner has been largely forgotten.
Browner last played on Nov. 10, and at this point doesn't know when he will be able to play again. He is trying to stay positive, texting his teammates before and after games to offer tips and encouragement, remaining in as close to playing shape as possible should he manage to be reinstated when free agency begins next month.
In his own way he is with the Seahawks in spirit. Back home in California, thousands of miles away from all the Super Bowl hype, it's still impossible to avoid the constant coverage of this game and think about what it would be like to be here now. At a time when the public conversation about medicinal marijuana use in the NFL is reaching a stage where even Commissioner Roger Goodell says he might consider the notion under certain circumstances, Browner is still awaiting word from the league on one pending appeal of his drug penalty and staying as upbeat as he can. 
"It's impossible to escape everything going on with the Super Bowl," Browner said by phone at a time his teammates were lining up in front of microphones to speak before an international media audience. "But you deal with it, and I've been dealing with it for so long now. This has been a part of my daily livelihood for a few months now, and I wake up and go to sleep with it on my mind. I use it as motivation to work hard and stay in shape, just in case this thing gets overturned, because I definitely don't want my career to end on this note.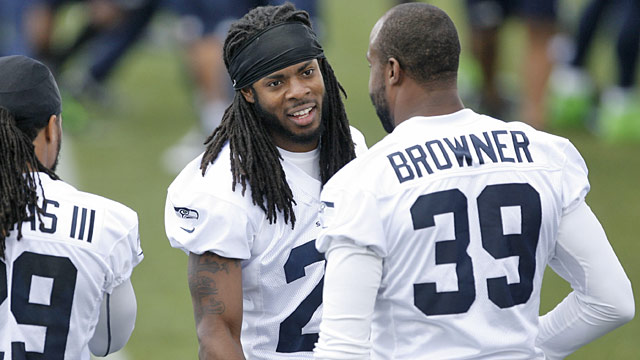 "I'm trying to be optimistic about the situation, because I definitely feel like the punishment was too stiff for the circumstances. I don't think I should be suspended for no year ... and I hope they can figure something out and I'm optimistic that I can get back. Like I said, it's just something that motivates me in life, period. You don't want to go out this way, when something you have worked so hard to achieve is taken away from you."
Browner, 29, was advanced deeper into the NFL's drug testing program when he missed a series of drug tests during a period of time when he was no longer in the league; Browner was an undrafted free agent who was briefly with the Broncos and then was out of the NFL entirely from 2006 until signing with the Seahawks in January 2011, with a stint in the Canadian Football League in between. Browner was advanced to "Stage 3" of the drug program, which calls for even more consistent testing and steeper penalties for positive or missed tests, for "failure to cooperate" in 2006 and 2007 -- when he was not participating in testing.
Dispute over testing is key contention
Browner and his agent, Peter Schaffer, have remained steadfast that no notifications of those scheduled tests were ever sent to Browner, he had no knowledge of the tests at all, and, in fact, even the Seahawks themselves had no idea Browner was in an advances stage of the testing program when they signed him. So, after a positive test in 2013 -- after years of regular testing without a result -- Browner was hit with a full-year suspension, which the NFL also upheld on initial appeal, rendering him unable to be with the teammates for this entire Super Bowl run.
"In the regular season guys get suspended, and you deal with it, and work on it, and it is what it is," Schaffer said. "But everybody talks about how difficult it is to get to a Super Bowl. And even if he got a four-game game suspension -- and we don't think he should have even gotten that considering all these penalties happened when he was out of the league and missed tests that he didn't even know he had to take and there is no proof the league even notified him he had to take those tests -- yes, you lose the money (from missed game checks) and free agency and all that stuff, we can all recoup that.
"If we have to go to a lawsuit, we'll go to a lawsuit, and if it's $20-million, or $30-million, whatever it is, someone can write a check. The thing I lose a great deal of sleep over is the fact a Super Bowl is something you can't buy. Barry Sanders, I represented his whole career, and he never went to a Super Bowl and he has all the money in the world and it can't buy a Super Bowl. [Redskins owner] Daniel Snyder has all the money in world; he can't buy a Super Bowl.
"I believe Brandon is talented enough, and enough of a leader, that whatever team he plays for next, he can help put the team in the same position the Seahawks are in to get to another Super Bowl. But that's not guaranteed, and you don't know how often these opportunities come along."
Schaffer said he has yet to hear back from the NFL about a pending appeal that was filed through the NFL's drug program, with chief league counsel Jeff Pash overseeing. When asked if there was a point at which Browner's legal team would wait for a verdict on that appeal before filing a lawsuit, Schaffer said: "We're getting very close to that."
Browner tries not to get too caught up in the details of his situation. And, as a pending free agent -- one who would have been one of the top players on the market in March, perhaps commanding a salary of $8 million a season -- he doesn't let his mind get too caught up on the potential financial ramifications, either.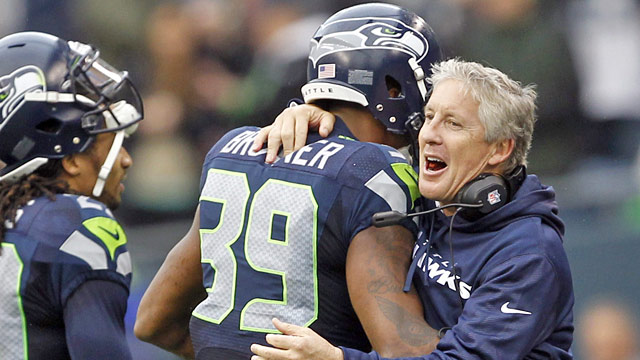 Instead, he serves as a resource for his fellow defensive backs, and cheerleader from afar. But watching the games isn't always easy. His friends and family have come around to support him, watching all the playoff games from his house, but as the games move along Browner usually finds himself more isolated.
"Most definitely I've tuned in to all the games, and my family has been pretty supportive and they're out here every Saturday and Sunday since I've been back in California," Browner said. "But it's tough actually. I actually try to go upstairs and try to watch the game by myself and really focus on what's going on and how I could help my teammates and what I can see. My family gets all excited and it starts getting loud, and I usually end up in my room watching."
Browner, who contributed nine interceptions in 2011-2012, including two returned for touchdowns, roots them on, and has marveled at how a secondary that also lost corner Walter Thurmond for a suspension late in the regular season, and has suffered injuries, too, continues to shine. He offers encouragement to unknown defensive backs like Byron Maxwell who have thrived in those absences.
"Our coaches up there in Seattle, they do such a great job man," Browner said, "and they make that philosophy seem so easy where everybody talks about the next man up. I love seeing the way the younger guys are stepping up."
Browner's brethren in the secondary remain supportive of him, though they are helpless to do anything about it. "I would definitely love for him to be here with us," star safety Earl Thomas said. "But it wasn't our decision. It wasn't up to us. And we'd definitely love for him to be with us."
Seattle standout safety Kam Chancellor said he missed Browner, and wishes he could be with him now, and has come to relish those texts they receive from him before and after each game.
"Unfortunately, he doesn't have an opportunity to be here experiencing this with us," Chancellor said. "And Brandon, I'm sure he's pissed off about the situation, but he's trying to help. We know he's rooting for us, and every week he sends us those texts, 'Man, you guys are ballin' out there!' And we tell him -- we're doing this for you."
Browner will be watching again Sunday, from home, as excited as ever, though obviously conflicted, a spectator from afar for what would have been, unquestionably, the biggest game of his career and one of the highlights of his life. He'll do so trying to focus on what is to come, and not what he is missing out on.
"Ultimately, the decision wasn't mine," Browner said, "and you can't let a decision someone else made mess up who I am as a person, and affect my personality and how I live life and go about my life."
On Sunday, players across the entire league are responding to Donald Trump's comments

The Jaguars are doing their best to embarrass the Ravens

Trump's remarks from Friday night are the top storyline in the NFL on Sunday
The Steelers say they won't be affected by 'divisive times'

Both Rodgers and Brady posted messages on social media calling for 'unity' and 'brotherhood'...

The Ravens and Jaguars head across to pond to play an early-morning game in Wembley Stadiu...