What's new in NFL in 2014: Coaches, hyped rookies, replay tweaks, tablets
Will the flag frenzy slow down? Which rookie QBs play? How will centralized replay and sideline tablets impact games? How will new coaches fare? We take a look.
• 5 min read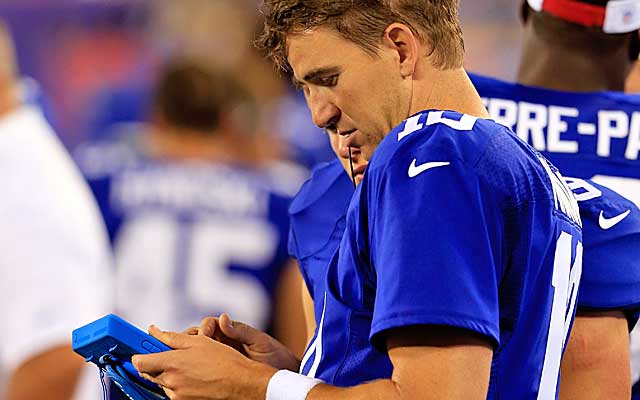 The NFL never stands still. In a quest for constant innovation, as commissioner Roger Goodell so often speaks about, the league is always looking for new ways to improve the game, maximize profits and grow the sport.
There are constantly new initiatives at hand and the league is looking for ways to expand its scope and continue to maintain a sporting dominance in our country, while reaching out to those around the globe. Change is inevitable. No one at the league office seems satisfied.
With that in mind, there are several new wrinkles this season, the most obvious of which quickly became a major talking point in the preseason. As in flags. Ugly, yellow flags littering practice fields and stadiums.
The clampdown on illegal contact penalties from defenders was everywhere this summer, marring the flow of play at times, creating lengthy games and frustrating coaches, players and fans. There's no better place to start this journey than right there.
How fast will the flags fly? No one I spoke to throughout the preseason believed the league could or would maintain the fury with which illegal contact and holding penalties were being called. The thinking goes that the officials have now learned to recalibrate how they call illegal contact, and the players have learned to police themselves a bit more and the coaches have raged against it to their teams to the point where we will find a more normal equilibrium once the real games start. Oh, please oh please, let's hope so. Because if this continues, it's going to drive us all bonkers.
Play it again, Dean: Centralized replay is finally here, and it'll be here to stay. Officiating chief Dean Blandino and his staff are well-equipped to help officials make replay decisions from their central location at the league office, and consider me among those who believe this new format actually will expedite the rate of replay decisions, and its accuracy. I can't think this won't be expanded over time, and, eventually, the whole "under-the-hood" format scrapped.
Put it on my tab(let): Teams will now have something like 15 tablets at their disposal during games to allow them to see actual stills of alignments in real time. Gone are the days of having to wait for those images to get printed after a series and then run down to the sidelines. Eventually, might there be a video component to this as well? We'll see if there are any glitches in the system and if so, teams will still have access to the old-school printouts.
Unsportmanlike speech: After some high-profile allegations of hazing/bullying and an incident with a player directing the N-word at an on-field official, the NFL will be more vigilant in enforcing the 15-yard unsportsmanlike penalty that such actions are eligible to draw.
Primetime: Um, I probably should have put this first on the list, but Thursday Night Football has moved to CBS, with America's leading network completely reshuffling its normal slate of shows to roll out the red carpet for the NFL. Trust me, the investment CBS has made in making these telecasts look and feel different than a normal regular-season game will be impossible to miss, the seven-game slate on CBS is the best we've ever seen on Thursday nights, and the joint efforts with NFL Network will result in an excellent product, I'm sure. The graphics and intros are pretty sick. CBS is heavily, heavily invested in making this destination television, and well, no one does that better.
Franchise free agents: The Rams and Raiders have no home once the season ends, and with Los Angeles looking more and more like a viable option in the short term, and the prospects of a team there gaining momentum within league circles, this will be an overarching topic all season with Raiders owner Mark Davis already opening flirtations with San Antonio and LA, and Rams owner Stan Kroenke owning a parcel of land in LA that could be a home for a stadium. And with the Chargers reaching a stage where their lease is not a significant burden and the Bills already for sale, I can't remember another season where so many teams lacking a long-term option have this much flexibility.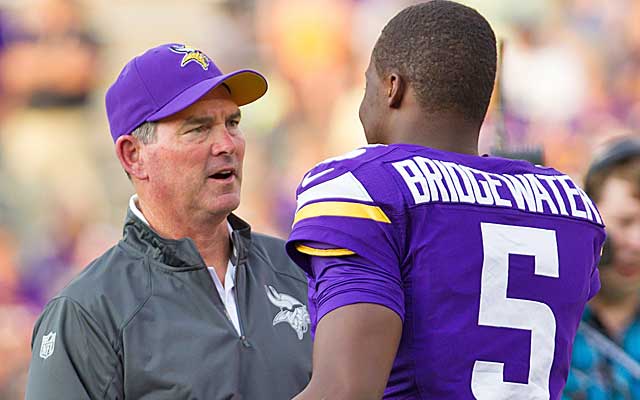 Welcome To Santa Clara: Candlestick Park is winding down, and the 49ers are about to play their first regular-season game in Levi's Stadium. It promises to offer all the fan-friendly amenities and on-line capabilities possible in the vein of the improved in-game experience that has become a top buzzword at 345 Park Avenue. Levi's gets two regular seasons to work out some of the kinks and then plays host to Super Bowl 50 -- a game that, um, just happens to be airing on CBS.
Newbies: There are a fair number of rookie head coaches amid the annual churn at that high-pressured position. Jay Gruden (Washington), Bill O'Brien (Houston), Mike Zimmer (Minnesota) and Mike Pettine (Cleveland) have ample experience as assistant coaches but now get to be the big fish. For Jim Caldwell (Detroit), Ken Whisenhunt (Tennessee) and Lovie Smith (Tampa) this is their second kick at the can.
What distraction? Michael Sam, the first openly gay player in the NFL, has been anything but a distraction, as those of us who have spent real time in NFL locker rooms predicted all along. It has been an issue only when someone has expressed an opinion about it from outside the game, and he has been just another rookie trying to make the team thus far for the Rams. Time will tell if he makes the 53-man roster, but either way he has been a trail-blazer and his teammates have sent a clear message that NFL players are far more forward-thinking and tolerant than antiquated stereotypes would indicate.
Take a seat, rookie: With the season on the verge of opening, and at a time when starting rookie quarterbacks from Week 1 has become increasingly common, this year has been quite different. It appears as if this entire rookie class of passers will be holding a clipboard when the season opens. Blake Bortles might be the lone exception, with the Jaguars seemingly opening up that competition late, but Johnny Manziel, Derek Carr, Teddy Bridgewater and the rest of the rookie quarterbacks will be opening the year on the sidelines.
CBS All Access allows viewers to stream every NFL on CBS game in their local market

CBS All Access allows viewers to stream every NFL on CBS game in their local market

Two NFC East divisional foes face off this weekend in a big battle for both teams
Owners and CEOs from several teams released statements in response to Trump's remarks in A...

Nick Kostos won big on Monday nights last season and gives his best 3-team NFL parlay for Week...

CBS All Access allows viewers to stream every NFL on CBS game in their local market