Thanks to his wife, Miko, things could get a little awkward the next time Brent Grimes walks into the Dolphins locker room.
A few hours after the Dolphins lost to the Colts on Sunday, Miko decided to get on Twitter and explain to everyone why the Dolphins lost. Basically, she blamed everything on Ryan Tannehill, and we're not just talking about Sunday's loss, Miko pretty much blamed Tannehill for all of the Dolphins' problems over the past seven months. 
First, Miko tweeted something about how the Dolphins made a huge mistake by signing Tannehill to a five-year extension in May. She didn't rip the signing at the time though because she was looking out for "Bae."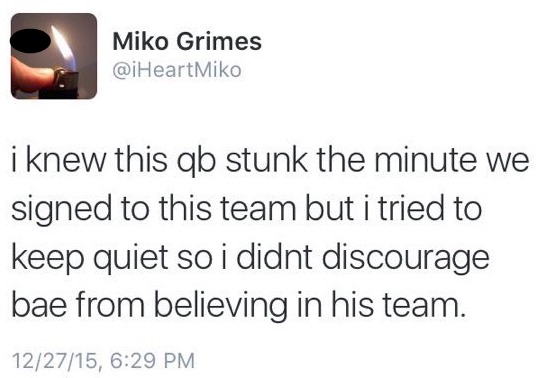 After that tweet, Miko blamed the Colts loss on Tannehill.
In the 18-12 loss, the Dolphins had the ball on Indy's 5-yard line with under a minute to play and had four plays to score a game-winning touchdown. Those four plays went: Incomplete pass, incomplete pass, incomplete pass, sack. 
Apparently, Miko saw all of that coming.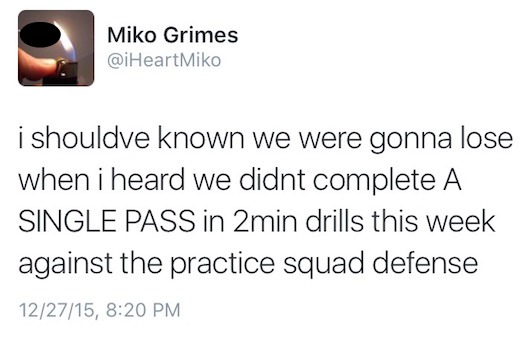 Miko also insinuated that it was Tannehill's fault that Dolphins coach Joe Philbin was fired earlier in the season.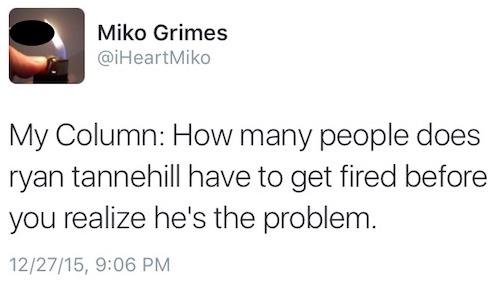 Miko also compared the Tannehill situation to another situation involving the Dolphins.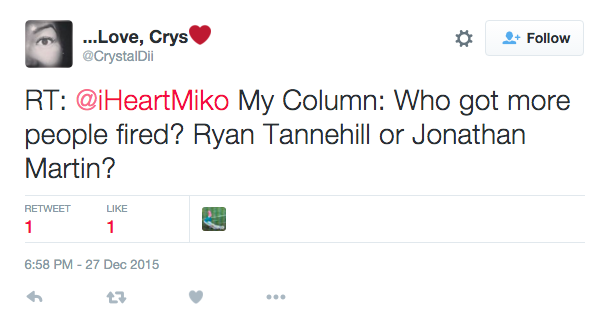 Miko is known for being outspoken.
Back in January, she went on a tirade, calling the NFL "greedy, shady and anti-women." Miko also tweeted that her husband should've been named defensive MVP of the Pro Bowl, an award that went to J.J. Watt. 
Back in September, Miko was arrested before the Dolphins played the Bills in Miami. However, the charges of disorderly conduct and battery on a police officer were later dropped. 
The difference between then and now is that this Twitter tirade might actually cause a rift in the Dolphins locker room since Miko verbally attacked another player. It's one thing to rip the NFL, but it's a completely different thing to rip players that Brent has to work with every day. 
After Week 17, the Dolphins will have to decide if they want to keep Brent (and Miko) around for next season. 
To read more about Miko's Twitter rant and to see a few tweets that we couldn't include here due to their vulgarity, you can check out slicemiami.com. Besides Tannehill, Miko also ripped the media during her wild Sunday night tirade.