2014 Olympics: Team USA roster projection revised
Now that we know NHL players are going to Sochi, here's what Team USA could look like.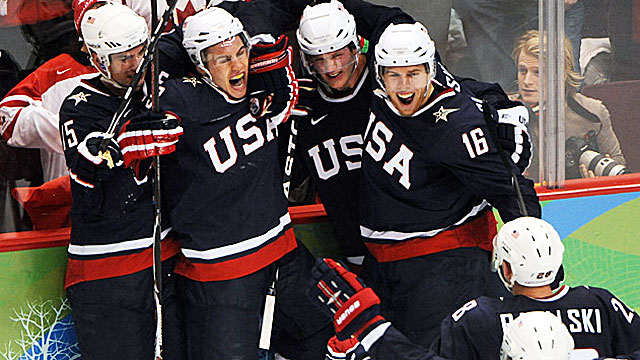 Finally, the NHL, NHLPA, International Ice Hockey Federation and International Olympic Committee have come to an agreement. NHL players are headed to Sochi for the 2014 Winter Olympics, just as we always thought they would.
Last February, under the assumption NHL players were going, we took a look at which players looked like candidates for Team USA. That was before a coach and general manager was in place.
USA Hockey recently named Dan Bylsma as its head coach of the 2014 US Olympic men's hockey team, while David Poile will serve as general manager. Both talked about their philosophies on selecting the team and what kind of style they hope to play.
According to Poile, the team is going to lean heavily on speed and skill, which the US has a fair amount of. Team USA's leadership also talked about the importance of keeping together a core of players from the last Olympics in which the US grabbed silver.
Poile mentioned that he will be leaning heavily on how a player is playing in the first half of the season, so there's a chance a lot can change between now and when the team is picked in January.
With that in mind, we made some adjustments to our US roster from February. Additionally, at the time our last roster was made, it was not known that each roster can include 25 players instead of 23 as in previous Olympics. So we've added an extra forward and defenseman to the projection.
These are listed in line format, but are not meant to reflect potential line combinations.
FORWARDS
| | | | |
| --- | --- | --- | --- |
| Line | Left Wing | Center | Right Wing |
| Line 1 | Zach Parise | Ryan Kesler | Patrick Kane |
| Line 2 | Max Pacioretty | Joe Pavelski | Phil Kessel |
| Line 3 | James van Riemsdyk | David Backes | Bobby Ryan |
| Line 4 | Ryan Callahan | Paul Stastny | Dustin Brown |
| Extra Forwards | Jason Pominville | Derek Stepan |   |
In the hunt: Alex Galchenyuk , Blake Wheeler , Brandon Dubinsky , T.J. Oshie
The Locks: Zach Parise, Patrick Kane, Phil Kessel, Bobby Ryan, Joe Pavelski, David Backes, Ryan Kesler, Dustin Brown.
All of the above listed as locks would be returnees from the 2010 silver-medal squad. On top of that, they remain among the best American forwards in the game.
The US is stacked at the right wing position, which includes some of their best offensive players. One of Kane, Kessel or Ryan may have to play on the other wing to balance out the top six, but there's obviously some scoring depth there.
At center, the US has a good mix of speed and two-way guys who could make an impact in a variety of ways. Any of the players listed at center could be called on to play special teams and each has potential to create offense.
The Likelies: Ryan Callahan, Max Pacioretty, Paul Stastny
Stastny and Callahan are returning players, but I wasn't as comfortable labeling them locks as I was with the others in the group. That said, I think both will be there and play significant roles defensively. Each has good speed and strong defensive instincts. Having both of those assets will be key in Sochi.
Pacioretty, who scored 33 goals for Montreal in 2011-12, seems like a really safe bet to make the club. The left wing position has some question marks for Team USA, but I think Pacioretty delivers size, offense and has enough defensive value to play in either a top-six or bottom-six role.
The Bubble: James van Riemsdyk, Jason Pominville, Derek Stepan, Blake Wheeler, Alex Galchenyuk, T.J. Oshie, Brandon Dubinsky
There's a good chance a guy like Stepan could jump up and earn a spot with a strong first half. He has the skills to play in either a top-six or bottom-six role, and while he can play center, he may be able to help address the deficiencies down the left side.
Among the NHL veterans, van Riemsdyk, Pominville, Wheeler and Oshie may really be duking it out for a roster spot. To me, van Riemsdyk, with his terrific speed and size, is the favorite among that group, but as many as two of them should make it. Meanwhile, Dubinsky's defensive capabilities could be attractive for a fourth-line player with energy.
Galchenyuk is the real wild card. He is still so young, but had a very promising season with Montreal and was outstanding in the World Championship and World Junior Championship last year. He might push the older players for a spot with his good offensive skill set. There just aren't many players like him in the player pool.
These are listed in pairing format, but are not meant to reflect projected pairings.
DEFENSE
Pairing 1

Ryan Suter

Jack Johnson

Pairing 2

Ryan McDonagh

Kevin Shattenkirk

Pairing 3

Brooks Orpik

Paul Martin

Extra Defensemen

Keith Yandle

 

Dustin Byfuglien
In the hunt: Justin Faulk ,  Erik Johnson , John Carlson , Matt Carle , Zach Bogosian
The Locks: Ryan Suter, Ryan McDonagh, Jack Johnson
The defense seems to be a lot harder to predict, but Suter, McDonagh and Johnson appear to be easy picks. Suter is a likely alternate captain and will be Team USA's No. 1 defenseman. McDonagh is blossoming into one of the league's best defenders and his combination of smarts and high-end speed could make him a huge part of Team USA's success. Johnson has answered the bell every time he's been asked to play internationally and has been great in many tournaments over the years. He also has Olympic experience and should be a key guy on the backend this time around as a physical, puck-moving presence.
The Likelies: Kevin Shattenkirk, Paul Martin
The US is going to have a wealth of guys who move the puck well, which is going to help a lot with the transition game on the bigger ice surface in Sochi.
Shattenkirk could be a potential top-four defenseman for Team USA with excellent two-way capabilities. Martin is going to be a guy Bylsma knows and trusts. He would've been on the Olympic team last time around had he not been hurt and is coming off a very strong season.
The Bubble: Brooks Orpik, Dustin Byfuglien, Keith Yandle, Erik Johnson, John Carlson, Justin Faulk, Matt Carle, Zach Bogosian
The bubble is large. These last few spots could end up being a real interesting battle.
Orpik has an edge as a shut-down defender who has both Olympic experience and Bylsma's trust, but would his game still translate to the big ice? It's tough to say.
Byfuglien and Yandle offer the US a pair of dynamic offensive defensemen who would be great on the power play. I don't think Team USA will take both, but to me, they're neck and neck and why they both made the depth chart for now.
Meanwhile, Erik Johnson has a lot to prove as a returnee from 2010 and could certainly be there in the end with his increasingly solid play in his own end and a lot of experience on big ice. Carlson and Faulk should both be getting very long looks. With the big responsibility they already have at the NHL level, one of these two look like really strong candidates to fill out Team USA's depth as one of the extra defensemen.
GOALIES
1. Jonathan Quick
2. Jimmy Howard
3. Cory Schneider
On the bubble: Ryan Miller , Craig Anderson , Tim Thomas  
The Lock: Jonathan Quick
This one is easy. Goalie is a position where the US has no shortage of quality choices. Quick is a year removed from a Stanley Cup and Conn Smythe and was sensational once again this past postseason. He looks like the odds-on favorite to start for Team USA.
The Likely: Jimmy Howard
Jimmy Howard has taken steps forward in each of his last three pro seasons and was great for Detroit in the playoffs. He's certainly earned his spot on this team. He also has World Championship and World Junior experience under his belt.
The Bubble: Cory Schneider, Craig Anderson, Ryan Miller, Tim Thomas
This is going to be a tough one. Schneider seems like the best option, but he will be splitting duties again next season, this time with Martin Brodeur. Though I'm sure he wants to be the No. 1 for Team USA, he knows how to handle himself as a backup, which matters.
Anderson could be an interesting option, coming off his remarkable season with Ottawa. He's a little older, which is why Schneider and Howard are probably more appealing options, but it's hard to argue with how good Anderson was this last season. If he can maintain that performance, he might sneak into a spot.
It would be really tough to leave off Miller, who was the best goalie at the 2010 Olympics and probably Team USA's overall MVP. That said, if he's not No. 1, I'm not sure how he'd handle being the backup to the backup in all likelihood.
Thomas is still in the mix since he'd be a returnee, but he's still apparently looking for work in the NHL. If he's not in the league again, as he apparently hopes to be, he won't be on the team. Still, he's worth including as an option.
The US certainly has a solid pool to choose from, which should make for a lot of tough decisions for Poile and Bylsma. There's still a good chance they can build an even better team than 2010's unit, which should really excite American hockey fans.
The 45-year-old free agent is taking things patiently as September approaches

The playoff drought might not end immediately, but something is brewing in restocked Buffa...

Former Lightning standout will be guarding the net in style in 2017-18
Devils are still in rebuilding mode, but they have reason for hope thanks to young additio...

Buffalo is in the midst of contract extension talks with Jack Eichel, and the payout could...

Los Angeles isn't rushing to sign the 45-year-old forward any time soon