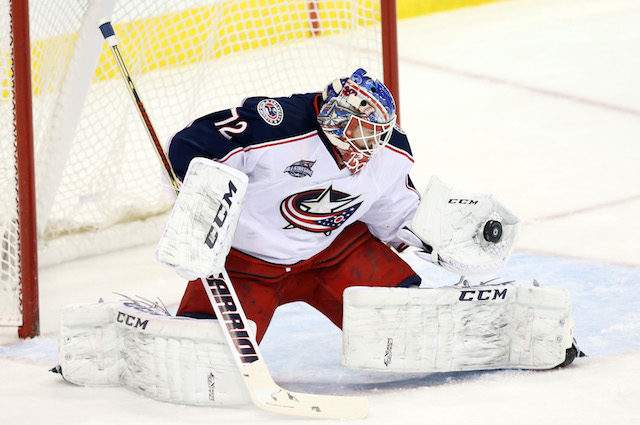 By the time the NHL All-Star Game begins Sunday in Columbus the roster is going to look quite a bit different from the initial one that was named earlier this month. Especially when it comes to the goalies.
The Blue Jackets, the host team for this year's game, announced Thursday that starting goalie Sergei Bobrovsky is going to miss the game due to a lower body injury that he suffered Wednesday night during their loss to the Winnipeg Jets. He will be replaced at the game by St. Louis Blues goalie Brian Elliott. 
At this time there is no timetable for Bobrovsky's return, according to the team.
Bobrovsky, a former Vezina Trophy winner, has a .913 save percentage and was set to play in his first All-Star Game. He is the third goalie that has had to be removed from the game, joining Detroit's Jimmy Howard (replaced by New York Islanders goalie Jaroslav Halak) and Nashville's Pekka Rinne (replaced by Pittsburgh Penguins goalie Marc-Andre Fleury). 
It was also announced Wednesday night that Pittsburgh Penguins forward Evgeni Malkin will not participate in the game due to an injury. 
The Blue Jackets will still be represented at the game by forwards Ryan Johansen and Nick Foligno. Foligno will be the captain of one of the teams. 
In 22 games for the Blues this season, Elliott has a .922 save percentage with a 13-5-2 record.