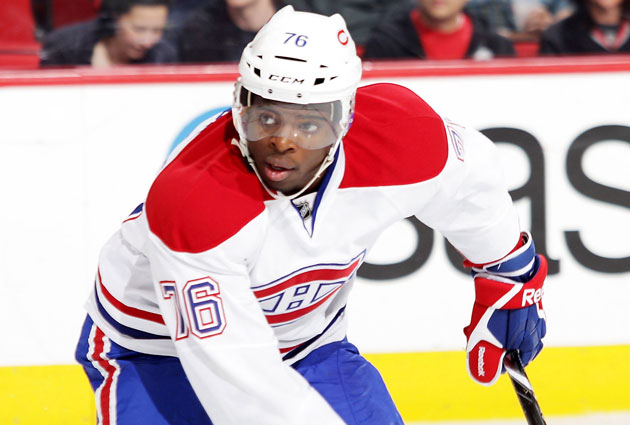 The Canadiens don't seem to understand P.K. Subban's value. (Getty Images)
More NHL: Scores | Standings | Power Rankings | Odds | Fights | Stats | Rumors
It's probably a silly question to ask, but do the Montreal Canadiens and general manager Marc Bergevin realize just how good P.K. Subban is and how important he is to their team?
They probably do. They almost have to. And if they do, it just makes this ongoing contract dispute, as well as the team's reported stance, seem even more bizarre.
And if they don't? Well, that should be very concerning if you're a Canadiens fan.
Now that Jamie Benn has reached an agreement on a five-year contract with the Dallas Stars, that leaves Subban as one of the last of the unsigned restricted free agents (Colorado's Ryan O'Reilly is also unsigned). The two sides reportedly remain very far apart not only in terms of years but also potential salary.
They met Friday, and TSN's Darren Dreger reports the Canadiens are standing firm on their two-year, $5 million offer. That offer seems quite low based on Subban's production, ability, upside and what he means to their defense. It's pretty absurd, actually (Habs Eyes On The Prize has a nice read on what his true value could look like compared to similar players around the league).
Subban recently told the Montreal Gazette that he simply wants to be paid what he's worth, which is pretty much what every athlete who has ever played professionally wants. It's obvious the two sides have very different ideas on what that value is.
It seems the Canadiens have determined Subban's current value is equal to that of Rangers defenseman Michael Del Zotto. Like Subban, Del Zotto was a restricted free agent this past summer and is a talented, offensive defenseman with similar production throughout his career.
Del Zotto signed a two-year contract worth around $5 million ($2.5 million per year) coming out of the lockout.
The only problem with that comparison from a Canadiens standpoint (or perhaps a Subban standpont) is that even with their similar point production (Del Zotto actually had more points last season), Subban is a superior player and is counted on to play a significantly bigger, more difficult role in Montreal. Especially at even strength.
Let's take a look at some numbers (all numbers via behindthenet.ca)
P.K. Subban vs. Michael Del Zotto: 2011-12 season
Player
Quality Competition
Rel Corsi
O-Zone Start %
ES mins/game
ES Points
Michael Del Zotto
0.211
-1.1
51.3%
16:51
24
P.K. Subban
1.266
+6.3
46.3%
18:11
21
(For those not aware: Rel Corsi = Corsi, a plus/minus statistic using total shot attempts instead of goals, relative to the rest of his team. O-zone Start % = Percentage of shifts that started in the offensive zone. ES mins/game = Even-strength minutes played per game)
Let's look at it another way and put some names and faces with those numbers to help make the picture even clearer. Here are the 10 forwards that Subban and Del Zotto each spent the most 5-on-5 time against last season (via stats.hockeyanalysis.com), just to give you an idea as to what each player was going up against on most nights.
Subban's most common opponents (in order of ice time): Jason Pominville, Jason Spezza, Milan Michalek, Phil Kessel, Derek Roy, John Tavares, Tyler Bozak, Steven Stamkos, Matt Moulson, Ilya Kovalchuk.
Del Zotto's most common oppnents (in order of ice time): Petr Sykora, Matt Read, Danias Zubrus, David Clarkson, Frans Nielsen, Wayne Simmonds, Michael Grabner, Patrik Elias, Shawn Matthias, Pascal Dupuis.
While their point totals were similar, Subban was doing it in a significantly tougher role playing more even-strength minutes, against tougher opponents, with more of his shifts starting in the defensive end of the ice.
The Canadiens leaned on him like a No. 1 defenseman (and he played like it).
The Rangers treated Del Zotto like a No. 4 defenseman.
(The only reason I'm making the Del Zotto comparison is because that's the comparable contract the Canadiens seem to be trying to get Subban to sign. And it's crazy.)
Among defensemen who appeared in at least 40 games last season, only 14 faced tougher competition during the regular season than Subban did. Only three of them (Nicklas Lidstrom, Shea Weber and Fedor Tyutin -- surprisingly) moved the puck up the ice (Rel. Corsi) better than him. And his teammates are better when he is on the ice with them vs. when he isn't.
There aren't many defensemen in the NHL as skilled as Subban or as productive at this age. Why the Canadiens are so determined to low-ball their top defenseman (well, I suppose that could be up for some level of debate as long as Andrei Markov stays healthy) and keep him on the sidelines is a mystery.
The other mystery here is why one of the other 29 general managers in the NHL hasn't tried to take advantage of this. Especially a team in desperate need of a young, top-pairing defenseman (looking at you, Detroit and Philadelphia). If Philadelphia was willing to break the NHL GM code and go after Weber last summer, why wouldn't its management at least consider a similar move for Subban? Weber is a better player, of course, but it's not like Subban wouldn't instantly become their best defenseman for the next six or seven years.
As James Mirtle of the Globe and Mail pointed out Saturday morning, a team could sign Subban to an offer sheet of $5 million per year and, assuming the Canadiens didn't match, would only have to give up first- and third-round picks as compensation. If that draft pick was near the back end of the first round, it would absolutely be worth it.
Hell, it might be worth it if that pick was anything outside of the top five or 10.
For more hockey news, rumors and analysis, follow @EyeOnHockey and @Agretz on Twitter and like us on Facebook. Also, subscribe to our YouTube Channel.