Handicapping the Roberto Luongo trade sweepstakes
Things have gone dead quiet on the Roberto Luongo trade front but he's still likely going somewhere before next season. Here are one amateur's odds of his potential landing spots.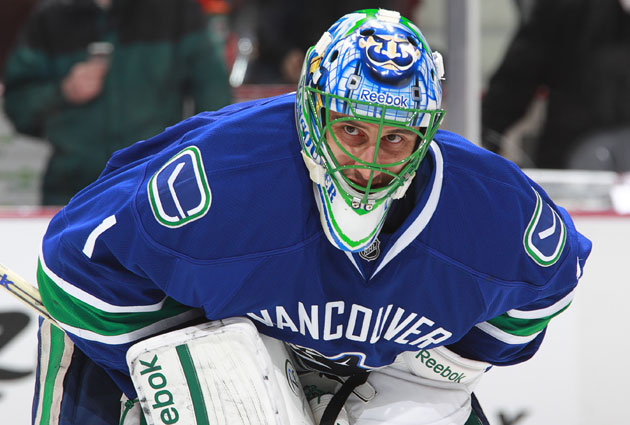 Roberto Luongo had a .919 save percentage and 2.41 GAA last season. (Getty Images)
It took a long time but Rick Nash was finally traded out of Columbus last week, heading to the New York Rangers. That left Roberto Luongo as the next in line -- or on the line -- to be traded in what appears to be an inevitability.
Even though it seems bound to happen, obviously it hasn't happened yet. Either Luongo has a good poker face (wait a second ...) or he's telling the truth in saying that he hasn't heard a thing from the Canucks and considering he has a no-trade clause, that would indicate nothing has been close.
While Canucks GM Mike Gillis has said that he is OK with the idea of Luongo still being with the team when next season begins, it feels like a bluff to give himself more leverage, something which he doesn't appear to have a lot of.
In honor of Luongo's summer of gambling it's time to play amateur oddsmaker and handicap the trade market for the former Vezina Trophy finalist.

Florida Panthers -- 3/1: Luongo has made no bones about it, he would like to return to his former stomping grounds and play for the Panthers. He tended the nets for five seasons in South Florida before going to Vancouver in a trade and he still calls Florida home during the offseason. His wife is also from Florida and never discount the power of the lady of the house.
I still question whether it makes sense for the Panthers from a personnel perspective. For as bad of a rep as the tandem of Jose Theodore and Scott Clemmensen had last season, they were a very solid duo when you look at the numbers. For the massive upgrade in price and commitment, Luongo doesn't seem to fit. However the Panthers are reportedly willing to take him onboard. Remember, it's Florida we're talking about and things such as ticket draws are a consideration. Adding Luongo would at least be a profile booster for a team that struggles to get a piece of the somewhat paltry fan pie in South Florida.
The Canucks would probably prefer to deal with Florida too as they would be sending Luongo across the continent to a place where they are unlikely to see him more than twice in any given season.
So what is the holdup in what seems to be a match made in trade heaven? The return price. The Panthers apparently don't want to give up much, and rightfully so. As mentioned, it's not a horribly big need for them, Luongo has a huge contract and they know Gillis doesn't have a lot of leverage. Kevin Allen of USA Today has the latest on the holdup between Florida and Vancouver.
The Florida Panthers are the best fit for the Vancouver Canucks goalie, but GM Dale Tallon won't give up prized prospect Nick Bjugstad to land him. The Panthers are as excited about his potential as they are about Jonathan Huberdeau.
With all that said, the Panthers still seem like a very safe bet to get Luongo.

Chicago Blackhawks -- 10/1: Is it bad that this is the one I've been hoping for from the beginning? It would just be so ... exciting. Sometimes you just have to root for the storyline.
Really though, Luongo in Chicago seems to make a lot of sense for all involved ... except the fans in Chicago perhaps. The Blackhawks need a goaltender and Luongo is still one of the better ones in the game (Blackhawks fans, he doesn't always give up six goals in a game). Despite the somewhat contentious history with the Blackhawks, Luongo has only complimented Chicago this summer, talking about it being a great place to play.
Among the rumors that have come out involving the Blackhawks was the inclusion of Dave Bolland in an offer from the Blackhawks to the Canucks. If nothing else, they showed that they are serious contenders in the Luongo talks ... or just interested in trolling Vancouver. But I can't imagine Stan Bowman would be interested in simply messing around like that. He has been relatively open about his desire to at least push incumbent starter Corey Crawford.
The biggest obstacle here though doesn't figure to be the way the Chicago faithful feel about Luongo or even his big contract but instead the history between the Canucks and Blackhawks and their standing as Western Conference rivals. With multiple run-ins in the playoffs recently, there is plenty of ill will between the two organizations despite being in different divisions. Imagine the pain for Vancouver if they did make a deal with one of their devils and Luongo ended up leading Chicago past the Canucks in the postseason.
Chicago and Vancouver have a rivalry that has been good enough in recent years to make it feel like they are division foes and how often do you see teams make blockbuster deals within the division? Despite how much sense it might make for Luongo and Chicago, I'm not sure it makes sense for Gillis in Vancouver.

Toronto Maple Leafs -- 35/1: When news came out that Luongo wanted a trade out of Vancouver, the Leafs became the immediate ideal landing spot in most people's minds. How long has it been now since the Leafs had a goaltender they could rely on? Far too long. The lack of a reliable goalie has been as big of a factor in the team's league-worst playoff drought as anything else.
But Luongo himself has never seemed too bullish on going to Toronto. He has dealt with a lot of scrutiny in Vancouver over the years, some of it appearing to weigh on him. Imagine what it would be like if he were to go to Toronto? It wouldn't exactly offer a chance for serenity now, would it?
Yet the needs seem pretty undeniable. There's little question that Luongo could come in and start right away for the Leafs. There are not a lot of teams across the league you could say that about, even with Luongo's pedigree. Obviously that's intriguing for the Leafs but that would have to be alluring for Luongo too. Remember, the biggest reason he's leaving Vancouver -- at least from what he has said publicly -- is because he would be splitting time with Cory Schneider. Other than not wanting to be part of a goalie controversy, Luongo would like to play, too.
But you never know with Brian Burke. The best fit in the world might present itself to him and for some reason he'll find a reason to pass. In Luongo's case it's probably two things: 1) That contract ... did I mention it's big? Then 2) the asking price by Gillis is too rich for Burke's blood.

Vancouver Canucks -- 50/1: I suppose it's within reason that he doesn't get traded at all, even though I wouldn't bet on it. Gillis has said it could happen but that will make for a pretty awkward situation should camp open and Luongo is still in Vancouver. He has already spoken publicly about his time in Vancouver in the past tense.
However, this has to remain a possibility for Gillis if he wants to get value in return for Luongo. Without this as a real threat then he has no power at all and other GMs know it.
The Field -- 250/1: Hey, anything's possible, right? You never can know when a deal will come out of nowhere. Even though I don't see many -- if any -- teams out there that would want Luongo, the field has to make the list. Hence the super long odds.
For more hockey news, rumors and analysis, follow @EyeOnHockey and @StubitsCBS on Twitter and like us on Facebook.
The NHL says it's only interested in expanding to Seattle, but here's a look at all the moving...

The NHL says it is only looking toward Seattle for the next expansion team

The 33-year-old defenseman hopes to help find a cure for serious head injuries in athletes
Chicago becomes the latest NHL club to earn an evaluation of $1 billion or more

The city council has approved a $600 million redevelopment project for KeyArena

Arvidsson took off his glove to reveal an engagement ring for one lucky fan