Quest for the Cup: Sharks face elimination game on home ice
For the first time this postseason, the San Jose Sharks face LA in an elimination game. But they're back on home ice, where they haven't lost.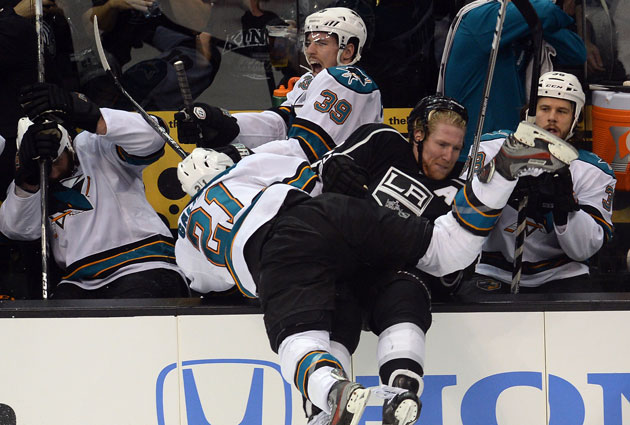 More NHL: Scores | Standings | Odds | Fight-O-Meter | League Leaders | Rumors
First star game of the day
Game 6 (3-2 LA), Los Angeles at San Jose, 8 p.m. ET (NBCSN)


Back to the series in which home ice means everything, where a Game 7 feels like a foregone conclusion before they even play Game 6 in San Jose.
Of the four second-round series, this is the only one that has not seen a road team pull out a win yet. Heck, add in their regular-season contests, and the same holds true; nobody has won on the other's ice. Why would that change now?
Well, if any team were going to win on the road in this series, it seems like it would be the Kings. The two games played so far in San Jose were each 2-1 finals, the Kings being right there -- even if Game 3 was probably a tighter score than it should have been. When you get as close as they have -- remember, LA outshot San Jose 14-2 in the third period of Game 4 when trying to tie the game -- it's easier to believe you can win on the road.
"How do you change that? It's like fixing a hole in your boat," Kings coach Darryl Sutter said in a way that he knows best. "We lost two in their place. If we would have won two in overtime, you wouldn't have been saying that. That's how close they are. There's not much difference."
Which makes the fact that home teams have been so dominant that much more interesting. Home teams have been better in every game but not head-and-shoulders better. It's easy to think the Kings are close.
What's more is that LA is coming off arguably its best game of the series. I don't bring that up to suggest some sort of momentum to carry into Game 6 but more to say that perhaps the Kings are starting to figure out what they need to do. They have played four very strong periods in a row dating back to Game 4.
Still, they are heading to the Tank, and anything gained could be lost just that fast. The important thing for the Kings -- or in reverse, to get the Sharks going again -- is staying out of the box. In the two games in San Jose, the Sharks have just one 5-on-5 goal; the other three came on the power play. San Jose's power play has been spectacular at home this postseason, scoring at a 37.5 percent clip. They have very good top-line talent.
"It comes down to our power play," Patrick Marleau said. "We've got to use it as momentum. At least get some really good looks at the net. Obviously, we want to get some goals on it as well. But, all around, I think a little bit more and we'll be OK."
The Sharks are a team up against that cliched wall, facing elimination. It just doesn't necessarily feel like it, not with the security blanket of their own building.
Snap shots
•  With Boston's win on Saturday, the Dallas Stars will now receive Boston's first-round draft pick instead of a second-rounder. (Dallas Morning News)
•  Now the Bruins get ready to play the Miami Heat, or at least that's how Milan Lucic sees the Penguins. (@HackswithHaggs)
•  The sad story about why Pens coach Dan Bylsma wears a red lapel and wristband. (Pittsburgh Tribune-Review)
•  From Brad Richards to Ryan McDonagh, some of the issues the Rangers face this offseason plus other players potentially on the move this summer from Larry Brooks. (New York Post)
•  The Caps trying to re-sign Karl Alzner could make the possibility of keeping Mike Ribeiro even tougher. (CSN Washington)
Rage is all the rage in Montreal

Buffalo's 20-year-old phenom pulls off the highlight of the night against Vancouver

The North American love affair with Edmonton's superhuman center continues to grow
The defending Western Conference champion Predators are also heating up early in the year

The Oilers' young star remains seriously unfair

David Kelly, a Toronto-born hockey analyst, has strong advice for Edmonton vs. Chicago game...