College Football Awards: Top 10 Plays of 2013
Jerry Hinnen counts down the top 10 plays of the 2013 college football season.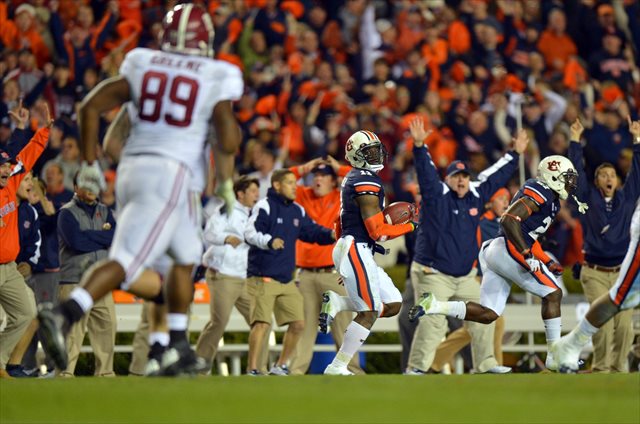 When we think back on the 2013 season, which plays are the first ones we remember? Which ones hit that sweet spot between "telling the story of the season" and simply being jaw-dropping highlights of the first order? Which ones are the ones we just want to watch again right now?
It's not possible to put together a perfect list of those plays, but here's our best guess. The top 10 plays of 2013 counted down from 10 to 1:
10. Fresno State offensive lineman scores on hook-and-ladder
Trick plays are always good for the college football fan's soul (as long as it's not your team being tricked), and trick plays designed to get a 300-pound fifth-year senior like the Bulldogs' Austin Wentworth a touchdown are even better. Sure, Wentworth's big moment came in a rout against FCS Cal Poly, but between the ingenuity of the play design and Wentworth's cool strut into the end zone, is this really a party you want to poop?
9. Garrett Gilbert and the world's wildest two-point conversion
Just like June Jones drew it up! (And oh-by-the-way, in addition to being completely insane, this play capped a 21-point fourth-quarter comeback for SMUand sent the game into overtime. The Mustangs lost to Rutgers 55-52 after three of those overtimes, but hey, Gilbert and receiver Jeremy Johnson will always have this.)
8. Arizona's tip-drill interception of Marcus Mariota
Marcus Mariota had gone 12 games without throwing an interception entering Oregon's Nov. 23 game against Arizona, and plays like this one show why streaks like that are so difficult to put together -- you never know when players like the Wildcats' Shaquille Richardson and Scooby Wright are going to come together and do something truly eye-popping. If you'd like the play in GIF form:
7. LSU receiver Jarvis Landry makes one-handed grab vs. Arkansas
You know a play is special when you watch and rewatch it, and you still don't know how it happened. Every time the Arkansas defender has himself a simple interception ... and every time Landry, somehow, comes up with it. (GIF version here.)
6. Michigan ties Northwestern with fire-drill field goal
Was Michigan 's offense really set enough to avoid a flag (and a game-ending clock runoff) on this game-tying field goal? Maybe not, but we'll allow it, because holder Drew Dileo sliding into position -- the emblem of the Wolverines' Swiss precision in pulling off the most remarkable field goal of 2013 -- is a joy to behold.
5. This Johnny Manziel completion was the Johnny Manzieliest
When Johnny Manziel throws up a prayer, he's not looking for help from the football gods; he's beseeching Loki, the Norse god of trickery, chaos, and whatever we're supposed to call Johnny Football's two seasons' worth of on-field theatrics in College Station. Though this play against Alabama was the height of his madness in 2013, he wasn't done yet, not by a long shot.
4. UCF's J.J. Worton makes the diving one-handed catch
2013 was chockful of incredible one-handed catches -- see above, see here, see here, see here -- but not only was Worton's touchdown for UCFarguably the best of the bunch, it may have meant more to his team than any other, what with it coming in the final 90 seconds of UCF's thrilling shootout win over Temple.
3. Nebraska Hail Mary to defeat Northwestern
In nearly any other year, Ron Kellogg's heave to Jordan Westerkamp likely would have been an easy call for play of the year. But even if it was eventually overshadowed somewhat by the next two plays on this list, it won't be forgotten anytime soon in Lincoln or Evanston -- or by anyone putting together a Hail Mary highlight package. Kordell Stewart, Doug Flutie, the Bluegrass Miracle ... you've got some company.
2. The Prayer at Jordan-Hare
The Nebraska Hail Mary was no less improbable than Auburn 's version featuring Nick Marshall, Ricardo Louis, and a pair of unhappy Bulldogs a few weeks later, but a handful of things set the latter apart: 1. Auburn was a top-10 team looking to keep itself in the national title conversation, and its ancient rival Georgia still had designs on the SEC East, raising the stakes; 2. the Bulldogs had furiously rallied with three consecutive touchdowns to take the lead, making the game already great before Marshall ever stepped into the throw; 3. the way Louis takes forever -- "forever" in this case meaning a fraction of a second -- to locate the ball, sustaining the play's unbearable drama all the way to the moment it settles into Louis's hands. That a play like this could be topped not only in the same season, but by the same team just two weeks later defies belief.
1. The Kick-Six
The mind sill boggles, two weeks later. It wasn't just the first walk-off field goal return in FBS history. It was a walk-off field goal return to end an Iron Bowl, surely the most bitter rivalry in major college football. It was a walk-off field goal return to end a game between the undefeated No. 1 team in the country and their top-5 challengers at the underdog's home field, with not only national championship implications but a precious SEC divisional title on the line. It was a walk-off field goal return to end Alabama's quest for a third consecutive national championship, a walk-off field goal return to deny the Tide and Nick Saban their shot at college football history.
Instead, it was Auburn and Chris Davis that wrote their names into those same history books at Alabama's expense. For Auburn fans, there will never be another game like it, another win quite so thrilling and quite so satisfying in exactly this way. And that's OK.
Honorable mention: Teddy Bridgewater's gunslingin' TD pass vs. Cincinnati; Josh Stewart's 95-yard punt return for Oklahoma State vs. TCU; Tyler Gaffney's TD run vs. USC; Myles Jack goes 66 yards for the score vs. Arizona; or your pick between this 95-yard touchdown pass (Manziel to Evans) or this 99-yard touchdown pass (McCarron to Cooper).
There are a handful of conference championship games still to be determined

SportsLine's top college football expert, on a 30-18 run, locks in his top picks for a loaded...

Haynes was 14-45 in five years with the Golden Flashes
True romance isn't dead yet

The Egg bowl will be a Thanksgiving night treat for the college football world

Mayfield disappointed a lot of people with is most recent antics, NFL scouts among them