Five Things We Learned: Targeting rule needs work; Mizzou for real
The new targeting rule's intent is admirable. The execution needs work after a weekend that saw two questionable ejections.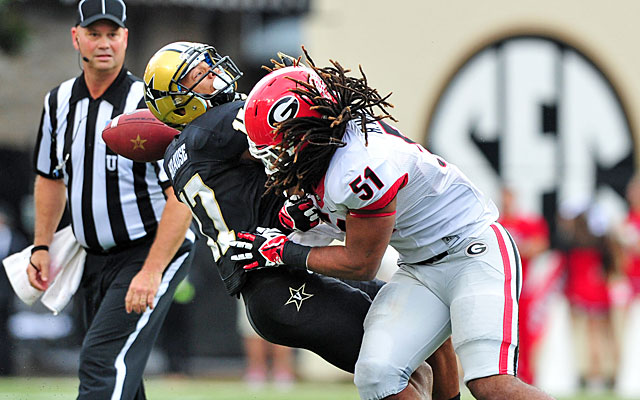 When five top-10 teams go down to defeat, we have to say that the eighth Saturday of the college football season was the wildest of the year, by far. Here are just five things we had learned by the time our head hit the pillow at Clemson in the wee hours of Sunday morning.
1. We need to have a discussion about the targeting rule: Let me say up front that I am in favor of the rule. The modification of player behavior that the rule was designed to bring about has to take place. And when the rule is called the way it should be it is having the desired results. Players are now more hesitant to launch their bodies trying to make the big hit and when they do it, they now instinctively pull back, knowing they have done something wrong.
But when the rule is not applied correctly, it is a disservice to the kids playing the game. My CBSSports.com colleague Tom Fornelli looked at two ejections for targeting that happened on Saturday. One involved Georgia's Ray Drew and the other involved Ohio State's Bradley Roby. Just look for yourself.
My instinct is to back up the officials because I understand the rationale behind the rule. Concussions are something college football must get a handle on. I will concede that both of these plays could have drawn a personal foul penalty. In the case of Drew he shoved the quarterback after the ball was released and they simply aren't going to let you do that anymore. They are determined to take that play out of the game, and it should be.
After the call, the SEC felt compelled to put out a two-paragraph release about the targeting rule. The capital letters were in the statement:
"Rule 9-1-4. No player shall target and initiate CONTACT TO THE HEAD OR NECK areas of a defenseless opponent with the helmet, forearm, hand, fist, elbow OR SHOULDER. By rule, when in question, it is a foul."
"Also note that a replay official must have indisputable video evidence that there was no such contact to overturn the call on the field."
But neither of these plays rose to the level of ejection, in my opinion.
The officials are told that when it's close, to call targeting and the official in the booth will fix it if an ejection is not warranted. Based on what I see here, the men in the booth got it wrong by not overturning the ejection.
Later in the game Georgia had another player, Ramik Wilson, ejected after a hit on a Vanderbilt player. Wilson's ejection was overturned but the 15-yard penalty stood, keeping a Vanderbilt scoring drive alive. That aspect of the rule is a discussion for another day.
I understand and applaud the intent of the rule. But however noble the intent, the rule must be balanced in terms of being fair to the other players on the field. My sense is that on Saturday the application of this rule was out of balance.
It's a tough job. It's easy for me to sit here and second-guess it way after the fact with the benefit of unlimited replays. But that's what I saw.
2. Missouri has a two-game lead on the field in the SEC East: We are looking right at an Alabama-Missouri SEC Championship Game. Yes, I did write those words. We keep trying to write off Gary Pinkel's Tigers (7-0, 3-0 SEC) and they just keep winning. They still have five SEC games left -- South Carolina, Tennessee, Kentucky, Ole Miss, Texas A&M. Three of those are at home. Since the rest of the division has already lost two or more games each, only a total collapse will keep Missouri out of the SEC title game in Atlanta.
That would be great for Missouri and great for the SEC. What that means is that its two new members, Texas A&M and Missouri, are already playing at the championship level. And how about this for an Alabama-Missouri SEC Championship Game? Bama's Nick Saban and Mizzou's Gary Pinkel played football together and were classmates at Kent State. They were both coached by the great Don James, who passed away on Sunday.
3. Jameis Winston is the real deal: You can watch these guys play on television and you kind of get an appreciation for how good they are. But just like I've written about Johnny Manziel, you can't appreciate how good Jameis Winston really is until you see him in person.
I picked Clemson to beat Florida State on Saturday night because Clemson had the home field and a fifth-year senior quarterback in Tajh Boyd. But it was Boyd who seemed rattled by his surroundings and Winston who looked cool, calm and collected while throwing for 444 yards.
When the game was over, Winston quickly got cleaned up and put on his coat and tie before coming out to meet his media obligations. He smiled, cracked jokes and insisted that what Florida State had done to Clemson was not a factor of emotion or luck, but skill and preparation.
"We are a confident football team because we are prepared," Winston said. "You really can't win football games consistently on emotion."
Folks, he is 19 years old. He has only thrown three interceptions in 157 passing attempts. Last week former FSU coach Bobby Bowden said that Winston could be the best quarterback Florida State has ever had and they've had two Heisman Trophy winners (Charlie Ward, Chris Weinke).
4. Did I say Gus Malzahn for SEC Coach of the Year? We probably should be getting on the Gus Bus for NATIONAL Coach of the Year. I said before the season started that I thought Malzahn would be the most successful of the four new head coaches in the SEC. I wrote that because after serving one year as head coach at Arkansas State, he was only one season removed from working at Auburn (2009-2011). I also knew that Auburn had players and that landing Ellis Johnson as defensive coordinator was a coup.
But now, after Saturday's stunning win at Texas A&M, Auburn (6-1, 3-1) is all alone in second place in the SEC West behind No. 1 Alabama (7-0, 4-0). And when you look at the rest of the schedule, Auburn is in position to have a very special year. The Tigers will certainly be favored in the next two games against Florida Atlantic and Arkansas. They go to improving Tennessee on Nov. 9 and that is probably a tossup. Then they close out the regular season with home games against struggling Georgia and Alabama.
He has done it with a junior college transfer at quarterback (Nick Marshall). If Auburn can get to the Alabama game on Nov. 30 with nine or 10 wins Malzahn has to be a strong candidate for national coaching honors.
5. "Shakeout Saturday" in the SEC doesn't mean the conference is overrated: It means the gap between the top and the bottom has narrowed.
It was a tough day for the blue bloods of the SEC against underdogs: Florida lost at Missouri, Georgia lost at Vanderbilt, South Carolina lost at Tennessee and Auburn beat Texas A&M in College Station.
Some pundits believe this proved once and for all that the SEC is overrated and has been surpassed by the Pac-12 and possibly the ACC.
I will grant you that the Pac-12 is putting on a furious challenge to the SEC's status as college football's best conference. And if Alabama doesn't run the table and finish 13-0, I'll concede that the SEC's streak of seven straight BCS national championships is probably in jeopardy.
A year ago the SEC was top-heavy as the top six teams dominated the bottom eight 30-0. This season Auburn is better. Tennessee is better. Missouri is a lot better. Ole Miss is better. Georgia and South Carolina aren't quite as good.
But Saturday night I had people telling me that the SEC's success was nothing but a media-created myth.
If it's important to you that somebody else has a stronger conference than the SEC, then go for it. Knock yourself out. I just happen to think the bottom half of the league is better this year and that good teams like Georgia and Florida have had a lot of injuries.
Rhoads led Iowa State to three bowl games in seven years as head coach

The Georgia middle linebacker is one of the most valuable players in college football

Explaining my 2017 Heisman Trophy ballot and Jackson's tremendous season
Mayfield is the sixth Oklahoma player to win the Heisman since its inception

The Heisman Trophy will be presented to the best college football player this season

Army topped Navy for the second straight year in an absolute thriller in Philadelphia