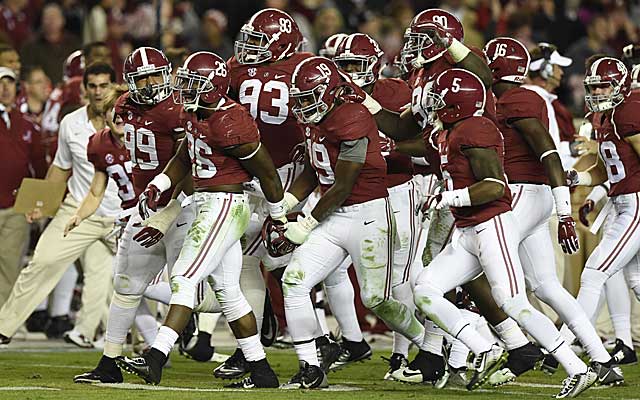 Say hello to a new term in College Football Playoff lingo: Game control.
In recent weeks, committee chairman Jeff Long cited examples of highly ranked teams controlling or not controlling their games as a reason for where they were ranked. Although there is an ESPN metric for game control, Long said there is no statistic for it listed on the team sheets committee members receive each week.
Essentially, the committee appears to be acknowledging not all scores are created equal and it's attempting to dig deeper. Nonetheless, when only four playoff spots are available and Long is commenting each week about mock selections, there's bound to be some confusion.
No. 3 Florida State, once the second-ranked team, has been knocked for not building and maintaining leads. No. 5 TCU dropped after the committee deemed it did not control its close win over Kansas. But Long also cited Alabama as the new No. 1 team because it controlled its 25-20 victory against then-No. 1 Mississippi State, yet Long later said Mississippi State remained in the top four because, "You never felt like they were out of it" against the Crimson Tide.
Long's statements created confusion, especially since Mississippi State trailed by 12 until scoring a touchdown with 15 seconds left. Can one team control a game at the same time it feels like an opponent is never out of it? Are those contradictory statements? Is the committee discussing game control when evaluating every team or just applying it in certain situations?
Long described game control as "somewhat subjective" and an evaluation of how the game was played.
"The committee looks at the game, how the game was played, how close the game was played, whether there were lead changes back and forth, or whether a team was in control from the opening kickoff, or whether they gained control say in the second half and finished out the game," Long said.
"I guess (game control is) the first new terminology introduced into the process of the playoff selection," said ACC commissioner John Swofford, who believes Florida State should be the committee's No. 1 team, although he admits he's obviously biased. "I haven't had that conversation with Jeff or any of the committee members. To me, game control is what's on the scoreboard at the end of the game more than anything else."
Game control is "absolutely not a criteria the commissioners have asked the committee to use as a differentiating factor in separating teams," Pac-12 commissioner Larry Scott said. "When push comes to shove, we've been clear about the things we think are the most important. I don't want to suggest we've limited the types of things you could look at. To the contrary. We said get whatever data you want to look at, but at the end of the day, here are the most important differentiating factors: conference title, head to head, strength of schedule, comparative outcomes of common opponents."
There's an out for the committee to discuss game control subjectively. On the committee's protocol sheet, the factors cited by Scott are supposed to come into play "when circumstances at the margins indicate that teams are comparable." The committee's ultimate task is to select "the four best teams," however that is defined.
"There are a lot of those things like game control the basketball committee draws upon," Big 12 commissioner Bob Bowlsby said. "As a committee member, one thing I looked at is how do teams play against ranked teams on the road? Each committee member probably has some of their own little things they value perhaps more than the person next to them."
This season, ESPN has published a game control statistic to evaluate teams, although Long has stressed that the committee has not and will not use the metric and told USA Today "many of us were unaware of that ESPN metric." The ESPN stat goes beyond final scores that can be misleading and examines play-by-play data to calculate a team's chances of winning on every play of every game based on the score, time remaining and other parts of the game situation, according to an ESPN.com article on Oct. 7.
"As with going from basic W-L to Strength of Record, each team's average in-game win probability gets translated to Game Control based on how hard it would be for a top team to achieve it, given the schedule," ESPN.com wrote in the article. "Game Control also ends up on a 0-to-100 scale, measuring how well a team controlled games from start to finish, accounting for the difficulty of the games it has played to date."
The top teams in ESPN's game control statistic right now: No. 1 Alabama, No. 2 Mississippi State, No. 3 Ole Miss, No. 4 Oregon, No. 5 Georgia, No. 6 Michigan State, No. 7 Baylor, No. 8 TCU, No. 9 Ohio State, No. 10 USC. Undefeated Florida State, which has often needed second-half comebacks to win, is ranked 34th in game control.
"Game control is when the whistle goes off at the end, that's the only control I'm concerned about," Fisher said on his weekly radio show this week, according to AL.com. "We'll move on from there. Everybody's got whatever they believe."
Mississippi State coach Dan Mullen also expressed confusion over the concept. "I don't exactly know what it is, but it's cool we're No. 2 in it," Mullen said, according to The Jackson (Miss.) Clarion-Ledger.
It was probably inevitable there would be confusion at some point interpreting Long's answers. Weekly rankings put Long in position to provide insight into the selection decisions, but also left him susceptible to missteps from one week to the next.
"All of the feedback I've gotten is he's done a terrific job," Scott said. "It's no easy task for the level of transparency he's trying to bring to the process. It's not easy to put yourself out there. You want to be careful about what you say so it doesn't come back to haunt you. I think he has been more open than people thought he would be. He's impressed people personally on how he's leading the group."
Now let's see if the committee can get better control of game control to articulate it to the public.