A week-long survey of the preseason favorites for the BCS championship, and what they have to overcome to get there. Today: Florida State. Previously: Alabama.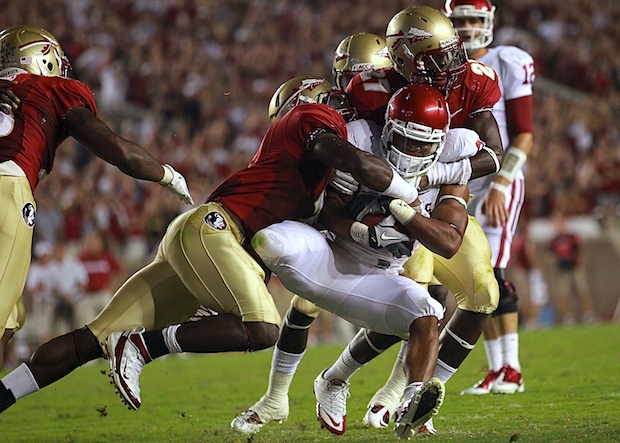 • What we know. The Seminole offense is familiar, if not prolific, surrounding senior quarterback E.J. Manuel with an assortment of veteran skill guys and seven different offensive linemen with some starting experience. The leading rusher in 2011, Devonta Freeman, and the leading receiver, Rashad Greene, were both freshmen who have barely scratched the surface of their potential. Altogether, 88 percent of last year's total offense is back in the fold. But don't doubt for a second that this bandwagon is being driven by a suddenly vintage-looking defense.
That's a triumph for its architect, Mark Stoops, only two years after he was put in charge of reassembling a unit that had just collapsed into the ACC cellar in 2009, its 26th and final season under the venerable Mickey Andrews. Statistically, Stoops' charges in 2011 were as good as any of the halcyon hordes Andrews assembled in the eighties and nineties, finishing atop the conference and among the top ten nationally in total defense, scoring defense, rush defense and sacks. Only one opponent all year, Wake Forest, exceeded its season average on the scoreboard, and none of the final eight made it to 20 points. At Florida, the Gators would have been better off if the offense had spent three hours kneeling out the clock, or just stayed in the locker room.
Athletically, the 2012 edition stacks up to old-school FSU defenses with former five-star recruits and future NFL draft picks on all three levels. Depending on health, the front line alone could conceivably juggle as many as nine guys in the regular rotation – count 'em: Brandon Jenkins, Bjoern Werner, Timmy Jernigan, Everett Dawkins, Anthony McCloud, Jacobbi McDaniel, Tank Carradine, Demonte McAllister and Nile Lawrence-Stample – without much sacrifice. Oh, and that's before you account for incoming freshmen Mario Edwards and Eddie Goldman, arguably the two most coveted defensive linemen in the entire 2012 recruiting class. If you haven't heard from them by Thanksgiving, just consider them temporary casualties of the queue.
• What we don't. The youth movement on offense was largely by default: Between injuries and lack of production, the huddle remained in such perpetual flux that only one player on that side, senior tackle Zebrie Sanders, was in the starting lineup for all 13 games. Only a handful of others (mostly wide receivers) even played in all 13 games.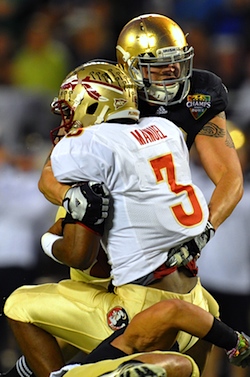 With Sanders' graduation, the offensive line, especially, remains a work in progress – or, more accurately, a patchwork. Besides allowing more sacks than any other front in the conference, the line was so besieged by inconsistency and injuries that it was finally forced to conscript four true freshmen into the starting lineup for the bowl game, none of whom is certain to remain there as a sophomore. The all-important left tackle spot was won in the spring (at least temporarily) by a fresh convert from the defense, sophomore Cameron Erving.
The skill positions have been no less of a revolving door. Devonta Freeman and Rashad Greene were encouraging in their debuts, but hardly revelatory enough to peg either as an emerging star in an offense that has had astonishingly few of them over the last decade: FSU hasn't produced a 1,000-yard receiver since Anquan Boldin in 2002, or a 1,000-yard rusher since Warrick Dunn in 1996.
• Where it can all go wrong. The schedule is about as inviting as it could be without also inviting skepticism over the absence of any heavy hitters. The toughest dates, against Clemson and Florida, are both in Tallahassee, and the only significant road test on paper will come at Virginia Tech in November. In fact, that's one of only three times all year they'll leave the state; outside of the finale against Florida, the non-conference slate consists of a pair of FCS patsies to open the season, Murray State and Savannah State, and an in-state trip to South Florida. For once, even the trip to Miami doesn't look particularly daunting. But we should know by now that for Florida State, every game is a potential land mine.
The underachieving trend is well-established. Since their last ACC championship in 2005 – an upset in itself – the 'Noles have dropped at least two games to unranked opponents (based on the final polls) in six consecutive seasons:
  2006: Clemson, N.C. State, Maryland.
  2007: Wake Forest, Miami, Kentucky.
  2008: Wake Forest, Boston College.
  2009: South Florida, Boston College.
  2010: N.C. State, North Carolina.
  2011: Wake Forest, Virginia.
In the last three years, they've dropped four games as double-digit favorites, including last year's stumbles against Wake and UVa. Both losses were tight, down-to-the-wire affairs, and the former came with E.J. Manuel clearly struggling with the shoulder injury that had kept him out of a loss at Clemson two weeks before. But neither is excusable for a team with championship ambitions in the ACC, much less the BCS, and together they suggest the inconsistency and dysfunction that defined the end of the Bobby Bowden era has not been entirely expunged.
• Visions of champions past. Jimbo Fisher was on hand for Bowden's final three, tumultuous seasons at FSU – his status as Bowden's university-imposed heir apparent played no small part in the tumult – and prior to that spent his formative years as a player and assistant for another Bowden, Terry, over the course of Terry's rise and fall as head coach of Salem (W.V.) College, Samford University and Auburn. But one look at the team Fisher has assembled since assuming the top job in 2010 gives him away as a confirmed Sabanite: The deep, relentless defense and balanced, conservative offense come directly from the blueprint Fisher absorbed during five years as Nick Saban's offensive coordinator at LSU, the same blueprint Saban has since applied to the construction of a fully operational Death Star at Alabama. Florida State has been intentionally remodeled in the same image.
For Fisher, the most relevant precedent for an aspiring champion is the best team he's ever been a part of, the 2003 LSU Tigers, which rode the Saban plan to the school's first national championship in 45 years. That was Saban's fourth season in Baton Rouge; in Fisher's third season, Florida State boasts a defense with comparable talent and arguably better depth than the group that led the nation in yards and points allowed in 2003. Fisher's offense that season didn't feature any transcendent stars, either, but it did feature a steady fifth-year senior at quarterback, Matt Mauck.
Not that E.J. Manuel ever thought while growing up in Virginia, in the shadow of local legends Allen Iverson, Michael Vick, Ronald Curry and Tyrod Taylor, "I wanna be the next Matt Mauck." Opposite this defense, though, if he finishes with a 2-to-1 touchdown-to-interception ratio for an attack that averages 420 yards and 34 points per game, Seminole fans will never forget him.
• Crystal ball says… As always, Florida State is a blue-chip stock with plenty of early buyers waiting to cash in. And as always, the best advice is caveat emptor. There is a distinct aura of "fool me twice, shame on me" surrounding a program that has consistently underperformed expectations for more than a decade. In this case, preseason polls have been fooled by the 'Noles' potential and pedigree in eight of the last ten years.
If this is the team that finally turns the corner, it won't be because of infrastructure, talent or pedigree – there's never been a shortage of any of the above – but because of a much more elusive virtue, consistency, of which there has been none since the conference expanded in 2004. The pieces have always been there. Why should we believe this is the year they come together until we see it?


 out of five.