2014 team preview: Boston Red Sox
As we continue our look at each of the 30 teams for the 2014 season, our latest installment is the defending World Series champions: The Boston Red Sox.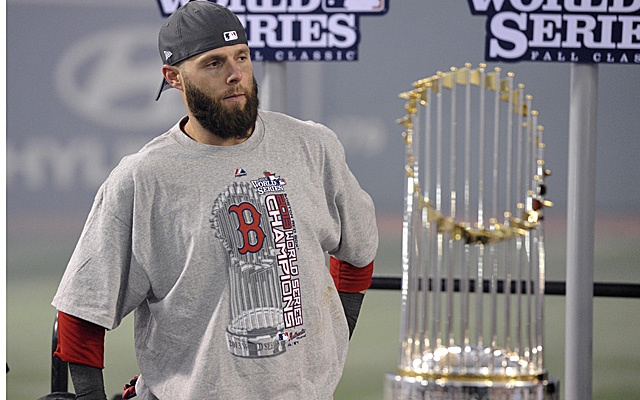 More: Team Previews | Spring Training 
More Red Sox: Likes, dislikes | Over/unders
Not much more needs to be said about the 2013 Boston Red Sox than what has already been mentioned. They went from worst to first and won their third World Series in the past decade. Nothing major was done with the roster this offseason, though there are definitely some differences. Will this version be good enough to earn an encore championship parade?
Probable lineup
1. Shane Victorino, RF
2. Daniel Nava, LF
3. Dustin Pedroia, 2B
4. David Ortiz, DH
5. Mike Napoli, 1B
6. Xander Bogaerts, SS
7. A.J. Pierzynski, C
8. Will Middlebrooks, 3B
9. Jackie Bradley, CF
Bench:  C David Ross, 1B/OF Mike Carp, OF Jonny Gomes, IF Jonathan Herrera ... OF Grady Sizemore?
The 853 runs produced last season topped the majors by a healthy margin, but the combination of Bradley and Sizemore likely can't come close to replacing the output of Jacoby Ellsbury. Pierzynski is probably capable of replacing the production of Jarrod Saltalamacchia, though he is getting up there in age at 37 years old. Is Bogaerts ready to perform as well as Stephen Drew did last season? Can Middlebrooks hit more like 2012 than '13? There are certainly some questions to be answered here.
Probable rotation
1. Jon Lester
2. John Lackey
3. Clay Buchholz
4. Jake Peavy
5. Felix Doubront
Red Sox starters were 67-42 with a 3.84 ERA last season and the rotation is similar. Getting a full season from Buchholz -- he only managed 16 regular-season starts last year -- should provide a boost and it's reasonable to believe Peavy will pitch better than Ryan Dempster did last year. Assuming Lester, Lackey and Doubront are similar to last season, the rotation should be slightly better.
Probable bullpen
Closer: Koji Uehara
Setup men: Junichi Tazawa, Edward Mujica, Craig Breslow
Middle men: Andrew Miller, Burke Badenhop
Long man: Chris Capuano
Can Uehara repeat last season's magic? It's doubtful he can be that great, but he's certainly a good bet to be an effective closer. The bridge to the ninth appears strong, too.
Under-the-radar offseason transaction
Can the champs from Boston actually do anything under the radar? It's tough to say yes. And I'm actually going with something that isn't a transaction but is instead something the Red Sox did not do. My pick is leaving Shane Victorino in right field.
Once Ellsbury left via free agency, it might have been tempting for the Red Sox to move Victorino to center and sign a corner outfielder or even just use both Nava and Gomes at the corners with Carp as a backup option. Victorino belongs in right these days, though. Most advanced metrics bear this out.
We'll use defensive runs saved here because it's my favorite and I'm writing this (perks!). In 2011 in center, Victorino saved one run. In 2012, he ended up at minus-3, which means he allowed three more runs to score due to his defense than an average defensive center fielder. Last season in center -- in only 108 innings -- he rated out at minus-1. In right field, though, Victorino saved 24 runs, an outstanding figure, best in the AL by far. He has an arm good enough to play in right and his range is far above average among right fielders. Move him to center and his value is severely diminished, so it was a good move to leave him at the corner.
Fantasy bust: Jake Peavy
"At a time when starting pitching is back on the rise, you have to wonder if Peavy still even measures up. He certainly has the name value and showed as recently as 2012 that he's capable of being a Fantasy asset, but is the reward enough to justify the risk? That 2012 season was an outlier not only in terms of health -- it was his first with at least 180 innings, much less 200, since 2007 -- but also production. And it's not like it earned him a bunch of Cy Young votes. Even counting that season, the last time Peavy averaged a strikeout per inning was 2009. His 7.8 strikeouts per nine innings in four years since would have ranked 33rd among qualifying pitchers last year, and his 1.17 WHIP during that same stretch would have ranked 28th. So realistically, he has the upside of about a top-20 starting pitcher, but with less chance of reaching it than others you could draft in the same range, such as Kris Medlen, Zack Wheeler or even John Lackey." - Scott White [Full Red Sox fantasy team preview]
Biggest strength
The Boston nucleus. Dustin Pedroia, David Ortiz and Jon Lester have been a major part of the ballclub for a long time and they continue to comprise the heart and soul of this team. The three will likely again play at an All-Star-caliber level this season. There are many reasons to like the Red Sox and it all starts with these three mainstays.
Biggest weakness
The reliance on question marks as starters. Bogaerts and Bradley are highly touted prospects who have some big-league experience, but we still have no idea how they'll pan out or how quickly they'll develop their talent as everyday starters. In Bradley's case, if he flops, the Red Sox must hope Sizemore stays healthy or move Victorino to center -- and we already covered the problem with that. If Bogaerts doesn't perform well, the Red Sox don't really have a good option at short.
And then there's Middlebrooks. He was dreadful last season before a minor-league demotion and then hit pretty well after his return. Still, the year as a whole was bad and he's right now hitting .254/.294/.462 in 660 career plate appearances.
It's possible that all three come through with a good year and make the Red Sox look like geniuses for not spending money on free agents in these spots, but it seems pretty unlikely that at least one of them won't flop for this coming season.
Outlook
As is bound to happen when a club wins 97 games and the World Series, the Red Sox had an awful lot break right for them in 2013. Generally speaking, it's hard to have that happen two years in a row. There are age concerns for some, durability concerns for others and it appears right now that two unproven youngsters will be everyday starters.
Still, this is a very talented and relatively well-rounded ballclub. And if we talk about how so much went right, we also have to discuss things that didn't go right, such as Buchholz's injury, Middlebrooks tanking at third and the closer issues until Uehara settled in.
It's not difficult to foresee 90-plus wins and another trip to the postseason. I believe I'll be predicting them to make the playoffs, but it's far from a foregone conclusion and I would bet my last dollar they'll win fewer games than last season. I'll say a win total in the high-80s or low-90s is the most likely scenario.
---
Coming Tuesday: Previewing the Baltimore Orioles
A beardless Wilson says that he tried to outrun the police on the second day he had his driver's...

The Diamondbacks outfielder was not impaired, he was just going way too fast

MLB can unilaterally implement rule changes, which will also include limits on mound visit...
If the MLBPA wants to repair MLB's salary structure, it should push for more money for young...

Fans aren't happy Gerrit Cole and Andrew McCutchen have been traded away

Acuna is arguably the best prospect in baseball