Angels can move Morales now, but will Rays still be interested?
The Rays were interested in trading for Kendrys Morales in July, but the Angels didn't really want to move him then. Now the Angels do want to trade Morales, and the question is how interested the Rays will be in getting him.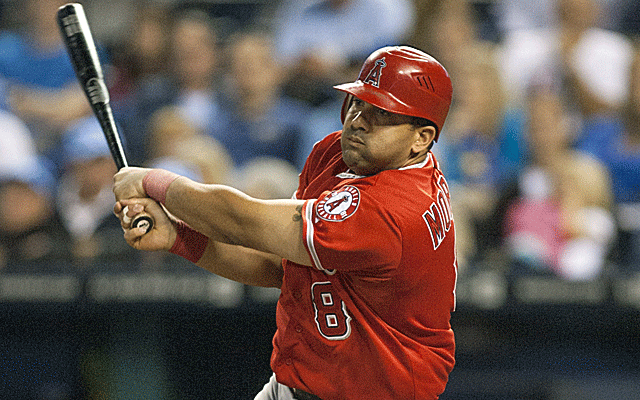 Kendrys Morales is much more available now than he was in July, when the Angels rebuffed the Rays.
(Getty)
Five months ago, the Rays seemed willing to give up a starting pitcher if they could trade for Kendrys Morales.

Would they do the same today?

Morales is much more available now than he was in July, when sources say the Rays asked for him and the Angels said no.

The Angels are in a different spot now, after their surprise signing of Josh Hamilton left them with an outfield surplus. While that could mean they trade Peter Bourjos or Mark Trumbo, their preference is to move Morales and/or Vernon Wells, according to sources. Moving Morales would allow Trumbo to become the designated hitter, opening up the outfield for Bourjos to join Hamilton and Mike Trout.

The problem is that the Angels could really use another starting pitcher. Their rotation, as of now, consists of Jered Weaver, C.J. Wilson, Tommy Hanson, Joe Blanton and either Garrett Richards or Jerome Williams.

Obviously, trading Bourjos or Trumbo would give the Angels the best chance of landing someone who can significantly improve that group.

It's hard to imagine Wells could bring them a solid starter, even with the Angels eating almost all of the remaining $42 million on his contract. But what about Morales?

The Rays still have some starting pitching depth, but not nearly as much as they did in July, after trading James Shields and Wade Davis to the Royals. Their need for a hitter like Morales, however, is still strong.

Even after the big move with the Royals, the Rays were still searching for a designated hitter. The 29-year-old Morales hit 22 home runs in 484 at-bats in 2012, after missing 2011 because of an ankle injury.

The Astros and Indians had also been mentioned as fits for Morales, but Houston filled its DH opening Monday by agreeing to terms with Carlos Pena. The Indians, at the moment, seem more focused on trying to sign free-agent outfielder Nick Swisher.
The Nats will host the All-Star Game in 2018

The Orioles are looking to trade Machado heading into his walk year

The Cardinals have been linked for a while to the Baltimore star
Gallardo spent the first eight years of his career in Milwaukee

MLB revenues are at a record high right now, but teams aren't spending it on players

Chicago added Tyler Chatwood earlier this offseason but might not be done adding to the ro...