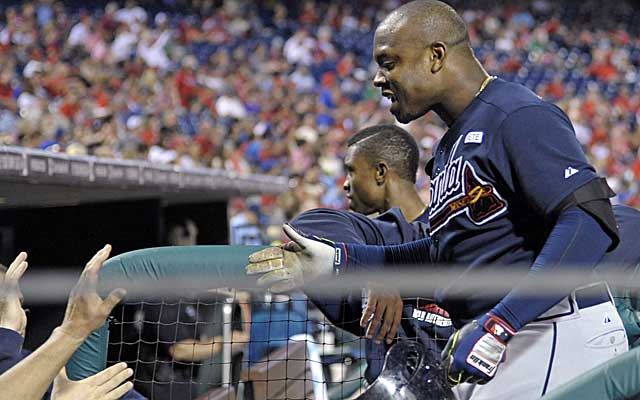 Justin Upton's trade market is said to be hot, no surprise considering his talent and power, and also the law of supply and demand. With about 12 teams looking for an outfielder, and at least that many seeking that rarest of commodities, right-handed power, Upton is a marked man these days.
Word is, the Braves have been hit hard with Upton trade interest, and he could wind up with one of about a dozen other teams, assuming he is dealt (and that appears to be a likelihood now). But even though there is understandable interest from many quarters, it isn't impossible a trade at some point could hang up on the same question as it did for a while two years ago: Would the Mariners relinquish talented right-hander Taijuan Walker for Upton?
The Braves already have received a number of offers for Upton but they are in no rush and will hold out for a score that makes sense. Just like two years ago, Walker would seem to make sense.
The Mariners are one of a handful of teams linked so far to Upton, although quite a long list could potentially be in the outfield market (Giants, Padres, Rangers, Astros, Royals, Orioles, Phillies, Reds, Blue Jays, Tigers and A's, to name a few). The thing is, though, the Mariners are also one of a few with the type of pitcher that could interest the Braves. Walker is young (22), hard throwing, has a little major-league experience (2-3, 2.61 in 2014) and is still under control for six more seasons.
Walker is quite a valuable chip indeed. But so is Upton.
At a time where power is at a premium, Upton is coming off a season in which he had 29 home runs and 102 RBI (the RBI total is especially impressive considering how bad Atlanta's offense was last year). He's still only 27, and while the Braves probably don't have the wherewithal or inclination to pony up a $100-million deal before his free agency comes after the year, someone else might do it for the two-time All-Star who just turned 27.
The Braves could still hold Upton, but Walker is the type of a young, controllable pitcher that could well entice them. The Braves are seeking a better return than they received for Jason Heyward (Shelby Miller), as Joel Sherman of the New York Post first reported, and several young pitchers could fit that requirement. But Walker, while he has had some ups and downs, including a seemingly relatively minor shoulder issue, is one who could move them.
Walker may be more valuable than Miller, but consider that he has eight starts in the bigs while Miller has 26 wins. And Miller hasn't missed any time due to arm trouble. Consider also the premium on power today.
Walker, as a younger, harder thrower than Miller, though, is one who should fit the bill -- just as he did two winters ago. At that time, the Mariners declined to trade Walker to the Diamondbacks for Upton for several weeks before finally giving in, agreeing to a trade that was reported to be Upton plus Nick Franklin, Charlie Furbush and Stephen Pryor in a package for Upton.
But of course, several things have changed since then. Walker is a couple years older and Upton is a couple years closer to free agency, and the Mariners are in a much different spot, too: While they were an also-ran back then, they finished only a game out of the playoffs in 2014, a year in which two wild-card teams faced off in the World Series.
The Mariners are said to be reluctant to part with either of their two prized young pitchers -- Walker or left-hander James Paxton. But at this point, Paxton is everyone's darling, and out of reach on this deal, and probably also every other one. But in this environment, where power pitchers can be had but power hitters can't, maybe this trade Walker works yet again.
That swap ultimately made sense two years ago. But alas, the deal was killed when Upton invoked his no-trade clause to veto it.  One other difference this time is that Mariners are no longer on Upton's no-trade list.
The Mariners are also more determined than ever to acquire a right-handed power hitter. They absolutely need one to bat behind star Robinson Cano, and were said here to be considering free agent Nelson Cruz plus trade targets Upton, Evan Gattis, Yoenis Cespedes and Matt Kemp.
The Mariners seem to have a few options there. But Cruz would cost a lot of money, Kemp would cost even more money, and the other two players aren't the consistent power source that Upton is.