Brewers have decision to make on Yovani Gallardo as July looms
As the July 31 non-waivers trade deadline comes into focus, rivals are watching the Brewers closely in hopes they will make ace Yovani Gallardo available.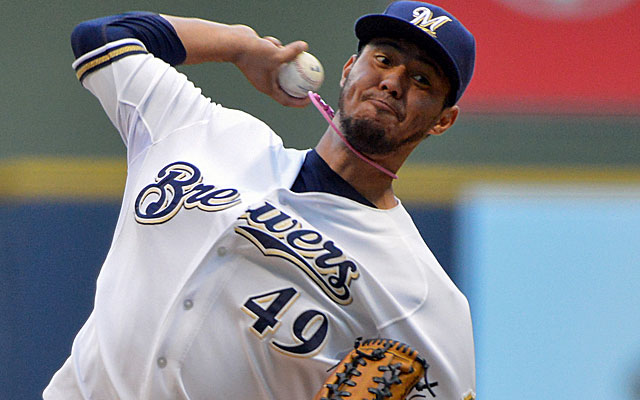 MILWAUKEE -- Word is out that the Miami Marlins are working to deal Ricky Nolasco sooner rather than later, and everyone knows the Chicago Cubs want to trade Matt Garza .
But as more than a dozen scouts converged on Miller Park on the eve of Garza's start here Thursday, there's another name that has folks highly intrigued.
Yovani Gallardo started Tuesday night for the Milwaukee Brewers , and the biggest guessing game in the industry right now is whether Milwaukee will pull the trigger and deal its ace during a disappointing season.
"One day I hear yes, they will, and one day I hear no, they won't," one NL scout said Tuesday. "He's pretty darn good. And he's starting to throw well again."
That changed, if only for one night, on Tuesday. Against the Cubs, Gallardo walked four and fanned five over only four innings, surrendering five runs -- three earned -- and eight hits. He was betrayed by his own wildness as well as errors by second baseman Rickie Weeks and left fielder Caleb Gindl .
Still, entering that debacle, he had not surrendered an earned run in 21 consecutive innings.
Gallardo, 27, is younger than both Garza (29) and Nolasco (30). He's also signed through 2014 ($11.25 million) with a club option for 2015 ($13 million). Garza and Nolasco both are free agents this winter. And Garza surely would have been dealt last July had he been healthy.
Gallardo is 6-6 with a 4.09 ERA this season, and entering Tuesday he was 2-1 with a 1.67 ERA in June.
"It's tough, especially for Milwaukee, to trade a talent like that," the scout said. "Because you're going to have to draft and develop to replace him. Nobody is going to trade you young talent like that that's close to major-league ready."
Another scout with an AL club who is not enamored with Garza thinks Gallardo is more desirable as the July 31 trade deadline begins to come into focus.
"He can turn a race," the scout said of Gallardo.
The Brewers are willing to listen on Gallardo, sources tell CBSSports.com colleague Danny Knobler, but the two players they really want to move are third baseman Aramis Ramirez and erstwhile closer John Axford .
One scout categorized the odds of moving Gallardo as, "depends on the haul. If they can get a Greinke-type return for him, I think they will."
The Brewers squeezed three minor-leaguers out of the Los Angeles Angels last summer for Zack Greinke . The prize so far: shortstop Jean Segura , who led the NL in hits Tuesday (100), ranked fourth in total bases (158) and fourth in batting average (.334).
A second player from that deal, right-hander Johnny Hellwig, was recalled from Triple-A Nashville on Wednesday and will make his major-league debut Friday, starting against the Pittsburgh Pirates ' Gerrit Cole .
Baseball America ranked the three players the Brewers acquired in the Greinke deal No. 2 (Segura), No. 4 (Hellwig) and No. 9 (right-hander Ariel Pena) in the Angels' system at the time.
The club made the announcement on Friday

It's a full slate of MLB night games, so keep it locked right here

The Rockies are clinging to the second NL wild card spot at the moment
Plus Matt Olson and Kevin Kiermaier heroics, a look at Zack Greinke's dominance and more

Plus the Indians are now 27-1 in their last 28 games. Here is everything you need to know from...

The soon-to-be 43-year-old Dickey said he wants to spend more time with his family