Cautious Nationals give Bryce Harper a day off -- until the 9th
For the first time since being called up to the majors, Bryce Harper got a day off on Sunday. The 19-year-old has a "tender" back, manager Davey Johnson said.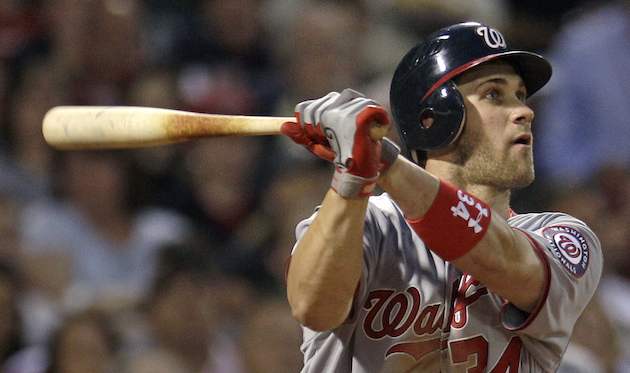 Bryce Harper
wasn't in the
Nationals
' lineup for Sunday's series finale at
Boston
's Fenway Park because of what manager Davey Johnson called a "tender" back. Harper, though, wasn't happy about playing.
When asked by reporters how he felt, Harper said he felt good and didn't see an off day coming.
"[Jon] Lester's on the mound, I was pretty excited to face him. I like lefties," Harper said (
via the Washington Times
). "Whatever. Whatever they want to do. Nothing I can do."
Based on everything we've seen from Harper in his rookie season, it's hardly a surprise he'd want to play. Johnson, though, made the right choice to sit the rookie for the greater good. Harper had played in all but a half-inning of the team's 37 games since being called up on April 28.
"This is nothing other than just being precautionary. Give him a day. I anticipate he'll be in the lineup [Monday]," Johnson told reporters (
via the Washington Times
). "When a coach vocally says his back's bothering him and the trainers say the same thing, normally I don't have coaches and trainers saying that about players. Anybody that has a little something going on, nip it in the bud and be on the safe side, give him a day."
Johnson added, "I went and asked 'The Franchise' how he's doing. He didn't talk to me" (again,
from the Times
).
Harper dove for a triple in Thursday's game against the
Mets
and was slow getting up, but stayed in the game. Harper has been getting treatment on his back for a while, according to reports, with the play against the Mets aggravating the injury a bit.
Harper did take batting practice before Sunday's game and was available to pinch hit.
Xavier Nady
started in right field for the Nationals.
Harper got his chance in the ninth inning of a tie game -- and predictable came through. After wakling with one out, he scored the go-ahead run on Roger Bernadina's double.
For more baseball news, rumors and analysis, follow @EyeOnBaseball on Twitter, subscribe to the RSS feed and "like" us on Facebook.
Does the Jackson signing mean the Giants are out on Lorenzo Cain?

Acuna edged out Shohei Ohtani and Vladimir Guerrero Jr.

There's no reason to run over the cases for and against Bonds, so let's have fun instead
The coveted right-hander would certainly be a fit in Milwaukee

We rate the best mustaches from random baseball cards because, why not?

Colon wants to break a Dennis Martinez record