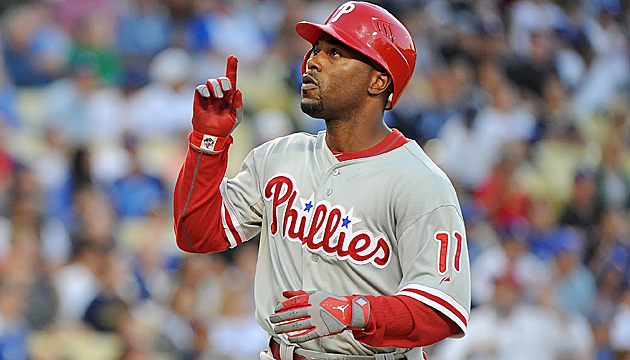 Rollins looks like a long shot to land in L.A., considering positional needs. (Getty Images)
The Dodgers -- with a richer, better owner, a desperate need for offense and a slightly-less desperate need for a starting pitcher -- look like they could be the most active, interesting buyer this July. Heck, they have a wish list that looks like an All-Star lineup.
We all know they've talked to the Cubs about pitchers Ryan Dempster (a "favorite'' for Dempster, one rival GM said) and Matt Garza, and have even asked about Cole Hamels (they may have to wait until the winter on that one), but here goes a litany of many of the fine hitters they've checked in on lately: Jimmy Rollins, Shane Victorino, Josh Willingham, Michael Cuddyer, Corey Hart, Aramis Ramirez and Chase Headley.
More on Dodgers
Related links
One person who spoke to the Dodgers said they seem to have "50 or 60'' things going on. That could be an exaggeration, though maybe not by much.
Of course, the Dodgers aren't getting all the guys on their list, but at least one certainly would help a lineup that has struggled the past few weeks, and the last couple in particular (they've scored three runs or fewer in seven of nine games, which also happens to be seven of nine losses). The Dodgers are only 1 1/2 games out in the wild card race at 49-44, superstar Matt Kemp is back, very good sidekick Andre Ethier is healthy again and so is valuable No. 2 hitter Mark Ellis. But one more hitter to go with those first two could go a long way. They want to get back to being baseball's hottest team, which they were at one point, and with a couple alterations could become a real threat.
And yes, as Danny Knobler reported here a few days ago, they do have an interest in Rollins, and in fact, have actually asked about him. "The Dodgers are definitely considering Rollins,'' one person familair with their thinking said.
However, considering their positional needs, consider Rollins at the bottom of the list for now. A corner outfielder, third baseman and first baseman are more likely areas for improvement than shortstop for L.A.
Rollins is an interesting case, though. He looks pretty decent lately and is hitting .258 with nine home runs and 14 stolen bases, though a few things would have to happen for a Rollins-to-the-Dodgers deal to occur. First, the Dodgers would have to convince themselves that years two and three of his just-signed $33-million, three-year deal will be fine. And second, the Phillies would have to decide they're a seller and also decide they're willing to trade a very popular player.
Some people outside the Phillies organization seem to believe they have misgivings about the three-year deal for Rollins. But it still wouldn't be easy trading such a well-liked player, especially if they wind up trading Hamels and Victorino, too.
So far the Phillies and Brewers aren't even sellers, and the Twins and Rockies are showing no inclination to want to trade Willingham or Cuddyer. So it's a good thing the Dodgers have such a long list.
The Padres are drawing so much interest in Headley, there's a very real possibility he will go somewhere (but not necessarily to the Dodgers). The Indians, Orioles, Diamondbacks and others could fit for Headley, but while San Diego and Arizona may have trouble completing an in-division deal due to past squabbles at the ownership level, there is no such restriction with the geographically closer Dodgers and Padres. So the Dodgers have that going for them.
In any case, it should be a fascinating next 12 days for the Dodgers.