Does Bryce Harper play too hard?
Nationals outfielder Bryce Harper received 11 stitches after crashing into the wall on Monday night. Does he need to turn things down a notch?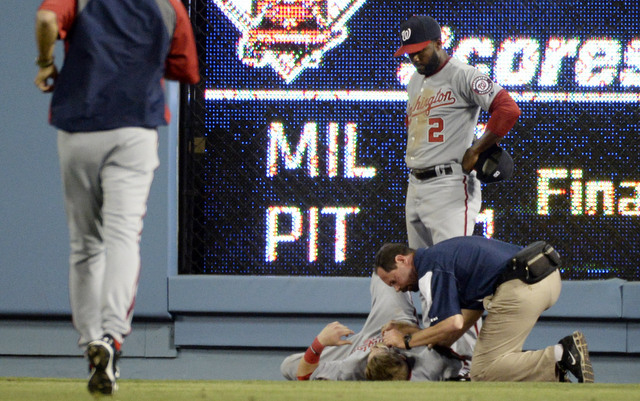 More MLB: Scoreboard | Standings | Probable Pitchers | Sortable Stats | Odds
On Monday night, Nationals cornerstone Bryce Harper received 11 stitches to his chin after running face-first into the Dodger Stadium outfield wall. He managed to avoid a concussion, and GM Mike Rizzo confirmed to Adam Kilgore of the Washington Post that X-rays have since come back negative. Harper actually tried to talk manager Davey Johnson into staying in the game following the incident.
The 20-year-old Harper is no stranger to wall-crashing. He suffered a minor back injury crashing into that same Dodger Stadium wall during his second big-league game last year, though he didn't miss any time. Earlier this year, he suffered a rib-cage injury crashing into the wall in Atlanta, an injury that sidelined him for a few days. Harper's teammates are no longer surprised by such plays.
"We're used to it," said Ryan Zimmerman to Amanda Comak of the Washington Times following Monday's game. "I would rather him not go all-out into the wall, ever. But that's the way Bryce plays. That's the way he's always played, and I think some people look at it as a bad thing, maybe, and that's why people boo or don't like him. As a player and as someone who plays the game, if you play that hard every day, there's something to be said about that. And that's what Bryce does."
Despite his immense talent, the thing that stands out the most when watching Harper is his all-out style of play. He runs out every ground ball like it's Game 7 of the World Series and, as we saw on Monday, he'll give up his body to make plays in the outfield. His meter is set to 11 at all times, his pedal firmly on the metal. Just a few hours after crashing into the wall, Harper made sure to tell everyone that he won't ease up his game:
I will keep playing this game hard for the rest of my life even if it kills me! Ill never stop! #RespectTheGame

— Bryce Harper (@Bharper3407) May 14, 2013
Playing the game hard is a good thing, a very good thing, in fact. Playing hard is one of those things that should go without saying, but that isn't always the case. There are always going to be players who dog it. It comes with the territory.
There is also a self-preservation aspect to baseball. The 162-game schedule -- not to mention another 30-something spring training games plus potentially the postseason -- doesn't really lend itself to an all-out, wall-crashing style of play, at least not over the long haul. Playing that way at age 20 is fine, but the toll will have to be paid eventually.
"He'll learn," added Zimmerman on Monday. "Tonight he was just going after a fly ball. That could happen to anyone. But he's going to play this game for a long time, and to do that you have to start taking care of your body and that means not injuring it yourself. ... As he grows, he'll learn what to do and what not to do."
Harper's intensity has led to a handful of injuries in his young big-league career -- in addition to the wall-crashing, he also opened a big gash over his left eye last year after slamming a bat in frustration -- and therein lies the problem. As great as it is that he plays hard, he's ultimately doing a disservice to himself and the team with the self-inflicted injuries. So far, they've all been minor. But it feels like it's only a matter of time before something serious happens.
That said, I don't think the Nationals can ask Harper to turn things down a notch. I think he has to find the balance between playing hard and playing smart on his own. Needing a hard-nosed player to turn things down is definitely preferable to having a lazy player who needs to crank it up. The Nationals just have to hope Harper finds that balance before an injury costs him weeks instead of days.
The Red Sox and Cardinals are expected to make trade offers next

The free agent first baseman may be a fit in St. Louis

The front office changes in Atlanta continue
The Marlins are more likely than you think on our list

Judge finished a distant second in the balloting and he paid respect to the winner

Stanton just won the 2017 NL MVP award but could wind up being dealt this offseason