Eye on Baseball Weekly Predictions: Pirates right ship, eventually
It's time to once again make predictions, so you can tell us we're stupid! Fun times.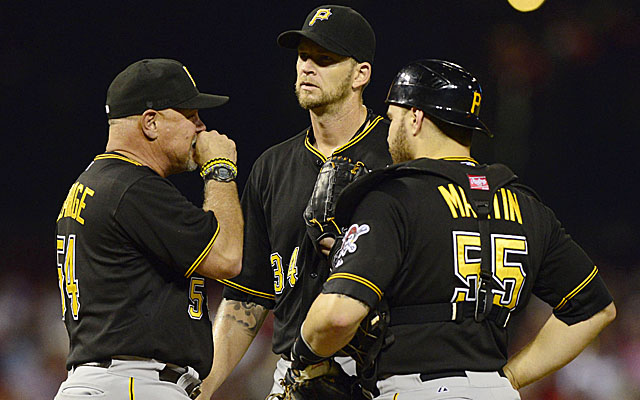 More MLB: Scoreboard | Standings | Probable Pitchers | Sortable Stats | Odds
Welcome back to Eye on Baseball Weekly Predictions, where we, um, predict things. Because it's fun for you to point and laugh when we're wrong and we definitely enjoy making you happy. Let's dive in!
1. The Pirates will end the week on a roll.
Much has been made of the Pirates' recent skid because of the number of wins they have. That is, they haven't had a winning record since 1992 and have lost four straight games stuck on exactly 81 wins. No, they aren't going to lose out -- it would be a 24-game losing streak to end the season -- and the end of this week is going to be good for the Bucs. The Pirates face a tough three-game road series in Texas, but I'm calling them to win No. 82 against the Rangers. The Pirates then return home to face the Cubs for four games. I'm gonna go with the Pirates going at least 4-3 this week.
2. Chris Davis sets Orioles' record for homers in a season.
The man they call Crush has 48 homers right now. The record for home runs in a season by an Oriole is 50, which was set by the immortal Brady Anderson in 1996. With the Orioles set to face the Yankees four times and Blue Jays three times this week, Davis has a chance to feast on some homer-friendly pitching. I have him hitting at least three longballs.
3. Max Scherzer gets 20th win.
Much ado has been made about Max Scherzer's record this season, due to him having such an absurd winning percentage. Last week, he actually lost a game, making him 19-2 on the season. This week, he'll have no problem getting his 20th victory, whether it's against the White Sox Monday or Royals Sunday.
4. Braves, Dodgers get hot again.
The first-place Braves and Dodgers have each lost four straight games, though many haven't noticed due to each having such imposing leads in their respective division. Both teams are going to post a winning week and put the losing streaks in the rearview. The Braves have four against the Marlins and then return home for a three-game series against the Padres. That's a 5-2 week. The Dodgers are returning home for three games against the Diamondbacks and four against the Giants. Again, that's 5-2.
EOB Predictions Tally: Fightin' Mike Axisa went 1-for-4 last week, bringing out season batting average to .446 (33-for-74). I can assure you our on-base percentage -- which is important -- is way higher, too.
The lefty starter is coming off a terrible season

After acquiring Ian Kinsler and Zack Cozart in recent days, the Angels are trending upward

Cozart's coming off a big season as the Reds' shortstop
The veteran slugger spent the last eight seasons with Cleveland

The Padres may be poised for an active winter

Yes, Bryce Harper is going to make a lot of money next winter