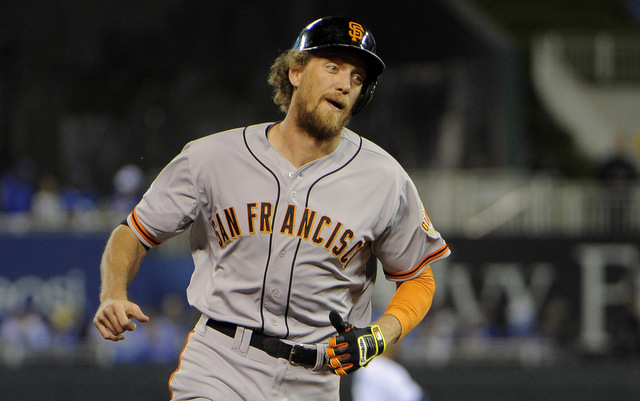 KANSAS CITY, Mo. -- The Giants thumped the Royals in Game 1 of the 2014 World Series by a score of 7-1 (box score). Now let's take a closer look ... 
Hero: Hunter Pence. Pence's two-run bomb in the first helped stake Madison Bumgarner to an early 3-0 lead. Witness the unshakable focus ... 
Pence also doubled in the fourth (and took third on a wild pitch and scored the Giants' fourth run of the game) and worked walks in the seventh and ninth. For those counting, that's four times on base and six total bases. As well, Pence's perfect angle on Mike Moustakas' double off the wall in the third helped keep the Royals off the board. Nice game indeed by the Giants' undisputed warrior-poet. 
Obviously, Mr. Bumgarner would be a very justifiable choice for hero honors. He pitched very well and was scoreless for 6 2/3. However, he also benefitted from some good luck, in that a number of well-struck baseballs were hit right at fielders. So call it Pence by a nose. 
Related ...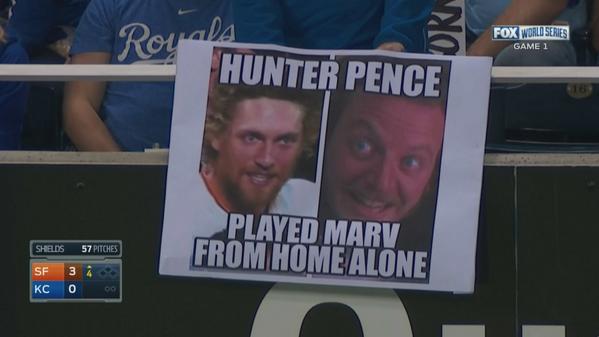 Goat: James Shields. Let's sum up his very rough Game 1 with this tweet ... 
James Shields is done after 3.0 IP. Shortest WS game 1 outing since Roger Clemens in 2005 (2.0 IP).

— Kazuto Yamazaki (@Kazuto_Yamazaki) October 22, 2014
Not optimal, to say the least. In those three innings of work, Shields allowed five runs, all earned, on seven hits, and he struck out one and walked one. Of his 70 pitches, just 39 went for strikes. 
Early, Shields struggled badly with his command, particularly with his changeup. His missed high with the change in the first inning, and then he started over-throwing it in an effort to get it down. Maybe it was the extra rest (Shields has a career ERA of 4.66 on six or more days of rest), or maybe it was just one of those nights. Whatever the cause, Shields didn't have it on Tuesday. 
Turning point: The host Royals made some noise in the bottom of the third when an E6 and a double put runners on first and third with no outs. However, Bumgarner regrouped, struck out two and walked the bases loaded before retiring Eric Hosmer on a routine 4-3 grounder. Threat neutralized. 
Here's how the win probability graph saw it ... 

Source: FanGraphs
As you can see, Moustakas' double yielded a spike, but by the time Hosmer grounded out, the Royals' chances of winning had dropped by roughly 20 percent. 
Oh, and speaking of Bumgarner's making timely pitches, witness this saw-job delievered to Salvador Perez in the second ... 
That's a 1-4-3 double play to end the frame. That's also a heck of a pitch. 
Consoling image for Royals fans: This one, obviously ...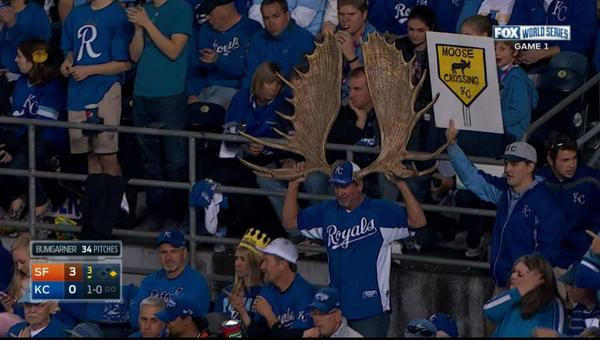 Next: Wednesday's Game 2 at Kauffman Stadium starts at 8:07 pm EST. Jake Peavy goes for the Giants opposite the Royals' Yordano Ventura.