Greinke not quite sharp enough in debut, but looks at home with Angels
Zack Greinke's Angels debut goes according to script ... but it was Tampa Bay's script. Loser of a well-pitched, 2-0 decision, Greinke says he already feels comfortable in his new surroundings. ...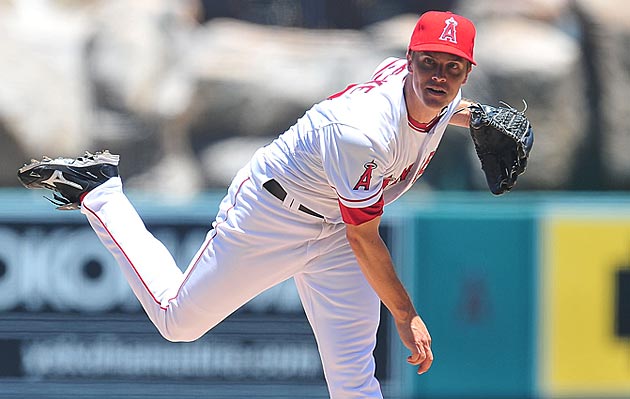 Zack Greinke loses his home winning streak, but gains admirers among his new teammates. (US Presswire)
ANAHEIM, Calif. -- Home sweet home for Zack Greinke ? Not quite. Not exactly.
Not yet.

It was paint-by-numbers easy to tell, too: Tampa Bay tagged Greinke with the 'L' -- a well-pitched 'L', but an 'L' nevertheless -- in a 2-0 Tampa Bay Rays getaway day takeaway Sunday.


If Anaheim really and truly was home for Greinke in his break-the-wrapping Los Angeles Angels debut Sunday ... well, he wouldn't have lost now, would he?

Tucked into all of the baggage Greinke hauled west with him following Friday's blockbuster trade was this little nugget, straight from baseball's Quirky Stats Headquarters: He entered the game with 19 consecutive victories at home, tied for the third-longest streak since the 1919 season of the Black Sox.

He hadn't lost a decision at home since July 31, 2010, going all the way back past Milwaukee Brewers , to his Kansas City days.

"It was a pretty lucky streak, though," Greinke said, noting that some strange things happened that were, at times, beyond his control on the mound.

Still bakery-fresh in an Angels uniform, Greinke wound up losing at home here pretty much before he actually began to feel at home.

Still. ...

"It felt pretty good," Greinke said.

Looked pretty darned good, too ... and familiar. In holding the other guys to two earned runs over seven innings with eight strikeouts and one walk while his own team needed a GPS to locate a rally, it had the aura of another one of his Milwaukee outings this summer.

But once Greinke is backed by a few hitters who weren't in Sunday's lineup -- notably, Mike Trout (bruised knee) and Torii Hunter (day off) -- it's hard to imagine him not racking up a string of wins with outings like Sunday's.

"Zack pitched a terrific ballgame," Angels manager Mike Scioscia said, adding, "good cutter, good curve, great poise."

"He's got a great game plan," Angels pitching coach Mike Butcher said. "He's very prepared. He understands what he wants to do and he sticks with it."

He was given the choice during a phone call with Scioscia immediately after Friday's trade: Was his preference to start Sunday on his normal schedule, or did he need an extra day or two before his next start following the trade?

Greinke told Scioscia if it was just the same, he'd prefer to stay on his regular day. At that point, though, he hadn't even had a chance to look at the Angels' schedule.

"I thought we were playing Texas" this weekend, he said.

In the end, it probably was a wise decision, certainly easier to fly from Milwaukee to Los Angeles and pitch Sunday instead of flying from Milwaukee to Los Angeles and then on to Texas before making his first start for the Angels.

He threw 111 pitches over seven innings, 70 of those for strikes. He changed speeds methodically, following his familiar 93 mph heater with sliders at 86 and 87 and mixing in his two curveballs, the harder one that clocks in at around 80, 81 and the back-bending slow curve that checks in at 74, 75.

"Like an eephus pitch," Hunter said. "He used to throw that to me all the time when he was in Kansas City and I was in Minnesota.

"I hated it."

Weapons like those are why the Angels are ecstatic he's with them under the Big A halo. And though runs from the home dugout didn't accompany his repertoire Sunday, they will in time.

The Rays didn't score until the sixth. Greinke had retired 10 batters in a row from the second through the fifth, but on a one-out bouncer back to the mound in the sixth, Sam Fuld made it to second while Elliot Johnson was engaging Greinke, Maicer Izturis and Alberto Callaspo in a rundown.

He moved to third on Ben Zobrist 's single and scored when Matt Joyce drilled a first-pitch fastball into right field for a base hit. Greinke said the pitch was supposed to be down-and-away, but instead it was middle-away and Joyce got it.

That pitch was a prime example of Greinke's post-game, self-assessment that his fastball command was a little off all afternoon, and of Scioscia's feeling that his new right-hander had to work hard for everything in each inning.

Greinke jumped out to several 1-2 and 0-2 counts, but Tampa Bay hitters frequently worked their way back into counts.

Work, though, will be the operative term for most opposing hitters against this newly constructed Angels rotation that now features five All-Stars: Jered Weaver (three All-Star selections), Dan Haren (three), C.J. Wilson (two), Ervin Santana (one) and Greinke (one).

"It's been fun so far," Greinke said. "I like this clubhouse. I've always liked the stadium.

"It's early, but I feel pretty comfortable so far. Hopefully, we win a bunch of games and it becomes a fun season."

Especially, maybe, once he returns to his winning ways at home. Before Sunday, Greinke was 0-1 despite a 1.02 ERA in three career appearances (two starts) at Angel Stadium.

"I think in one of them Weaver struck out 15 guys," Greinke said of a 2010 duel in which Weaver actually fanned 11.

From a couple of lockers over, slyly listening in, Weaver quipped, "My bad," causing both Greinke and the flock of reporters surrounding him to laugh big.

Yep, this place will be home to Greinke in no time.