Harvey on middle finger pic: 'I'm not going to apologize for being myself'
Mets righty Matt Harvey is not going to apologize for tweeting a photo of himself giving the middle finger before his Tommy John surgery.
More MLB: Power Rankings | Expert Picks | Latest news & notes | Fantasy news
Mets right-hander Matt Harvey got into a little bit of hot water on Tuesday, when he celebrated the six-month anniversary of his Tommy John surgery by tweeting a photo of himself flipping the bird from the hospital bed. Here is it for those who missed it: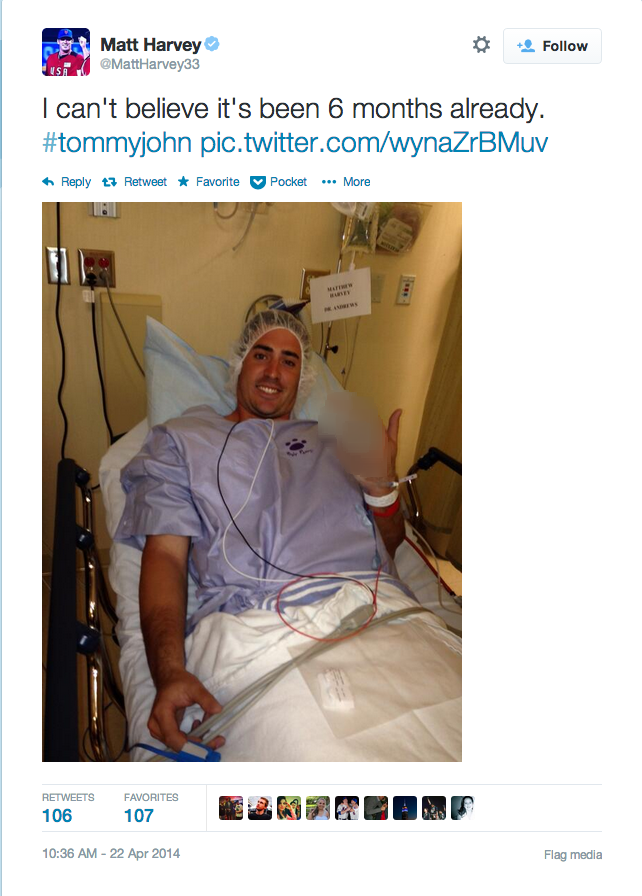 The uncensorsed version is right here.
Needless to say, the photo did not go over well with the Mets, who asked Harvey to remove the photo. He did one better and deleted his entire Twitter account. After the Twitter incident and before the Mets' game against the Cardinals on Tuesday night, Harvey spoke to reporters about the photo. From CBS New York:
"I guess that was how I felt going into surgery, realizing that it was going to be a pretty long process ahead of me. So it was all fun and games," Harvey said in the dugout before the Mets played the St. Louis Cardinals. "I guess that was my way of saying that I was going to try and beat the process."

"I'm not going to apologize for being myself and, you know, having a good laugh at a funny little picture," he said. "But I've kind of had enough with Twitter and I guess not being able to show your personal side, and I'll keep those pictures to myself."

"Honestly, I didn't think there was anything officially wrong with it," he said. "I know you listen to the radio and you hear a lot of rap music, and (it has) things that are a lot worse than what I was showing — a genuine excitement and a little bit of laughter towards a picture that I was looking at this morning. But I guess to stop the controversy deleting the Twitter was an easy out of not worrying about it anymore."

"It wasn't me trying to bring bad press to the New York Mets or anything like that. You know, it was my account. I felt like it was a funny picture, but obviously it was taken the wrong way so I took it down," Harvey said.

"I guess after so many times you get of not being able to show some fun or some laughs and things I thought were funny, and people who do know me and know that I 90 percent of the time are probably joking around when it comes to stuff like that, I felt like it was time to shut her down," he added. "I think when you can't really have fun anymore on a social media account, I think it comes time to get rid of it and, you know, I'll have my fun with my friends and teammates who do know me for who I am."
Good for Harvey for not apologizing. The picture wasn't obscene, offensive, pornographic or anything like that. It was just a guy and his middle finger in a hospital bed. I don't see why that would require an apology.
I do, however, understand why the Mets would want him to remove the photo. They want him to represent the organization in the best possible way and that isn't the way to do it. It was no big deal and a big deal at the same time. It's a shame. All the fun is being sucked out of baseball.
Neither Josh Donaldson nor Brian Dozier have talked about a new contract extension

Francisco leads the Dominican Winter League with seven home runs

Thome deserves enshrinement and here's why the case against him does not hold up
The Twins have already fortified the bullpen with Addison Reed, and now they want to address...

The Orioles likely want pitching, and the Indians have plenty of it

Halladay died in a November plane crash off the coast of Florida