King Felix, in no hurry to extend deal, likely seeks 6 extra years, not 4
Star pitcher Felix Hernandez loves Seattle and the Mariners but he's not expected to be enticed by any suggestion of a four-year extension, which is the term of bid the club is reportedly at least considering making.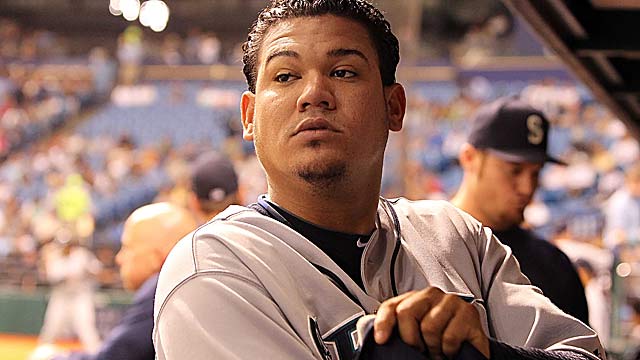 Staying in Seattle is not the issue for Felix Hernandez; it's likely the length of the deal.
(US Presswire)
While the Seattle Mariners are said to have tried to start contract talks with superstar pitcher Felix Hernandez, there are no serious talks taking place at the moment, sources familiar with the situation tell CBSSports.com. And if the Mariners are interested in a four-year extension to the two years left on Hernandez's current contract, as was reported this week, that's not likely to kick-start talks.
Hernandez has stated many times in his career he'd prefer to stay in Seattle, but word is he'd seek at least a six-year extension. Such a deal would surely make him baseball's best-paid pitcher, at least in terms of total dollars.
As for current talks, there's been no exchange of offers and "no traction,'' according to people with knowledge of the situation.
Hernandez has made clear in several interviews over the last year that he loves Seattle and the Mariners, but thus far he hasn't signaled he's in any hurry to sign an extension – especially not a team-friendly one. Foxsports.com reported a few days ago that the Mariners were thinking about a four-year extension for $25 million a year, and while it's not known whether such an offer has been made or even suggested yet, indications from people familiar with the discussions are that such a proposal would be a non-starter for the starter generally considered one of the best two or three in the game.
The years are likely going to be the far bigger question when it comes to deals for baseball's top pitchers, as the contracts of CC Sabathia, Cole Hamels and Zack Greinke have set a fine baseline in the $23 million-$25 million range, and while Hernandez, plus Justin Verlander and Clayton Kershaw, could look to crack the $25 million mark, the term is seen by management people as the bigger issue for elite pitchers.
Hernandez, only 26, understands he has a chance to become the best-paid pitcher in the game when his current contract runs out in two years. If he were to agree to a $100-million, four-year extension now, over the next six years he'd be guaranteed fewer dollars than Cole Hamels and Zack Greinke, who in recent months signed contracts at that length for $144 million and $147 million, respectively.
Hernandez, generally regarded along with Verlander and Kershaw as one of the top three pitchers in the game, has $39.5 million remaining over the final two years of his $78 million, five-year contract. So a $100 million extension would put him at $139.5 million over the six years, below both Hamels and Greinke. CC Sabathia's $161 million, seven-year contract is the biggest ever given a pitcher.
Though technically the $25 million annual salary on the reported potential extension would be the highest ever on a per-year basis (for those four years, anyway), Hernandez surely knows that if he waits until free agency he could become baseball's best-paid pitcher, depending on what happens with Verlander and Kershaw. Hernandez was 13-9 with a 3.06 ERA last season when he threw a perfect game, had 12 outings of at least eight innings in which he allowed zero or one run and finished fourth in the Cy Young voting.
Verlander, who also has two years left before free agency, is three years older than Hernandez at 29, and while Kershaw is two years younger at 24, Kershaw has three years to go before free agency. Recent reports have suggested that neither Verlander nor Kershaw is in active contract dialogue with the Tigers or Dodgers, respectively.
Mariners general manager Jack Zduriencik declined to comment on the King Felix situation, as he has consistently, except to reiterate that the club has every intention to keep Hernandez long-term and none whatsoever to trade him. Alan Nero, the chief of the Octagon agency's baseball division, declined to comment.
The Mariners have had difficulty signing free agents this winter, and while their targets have mainly been hitters, they'd surely likely to reinforce the message that Seattle is a fine place to play with a long King Felix deal. They offered Josh Hamilton a deal said to be for a guaranteed four years (plus two option years) for something short of $100 million, sources said, before he signed with the Angels for $125 million over five years.
The Mariners also were rejected by Justin Upton, who enforced his no-trade provision after the Mariners and Diamondbacks had agreed on a trade, and have been engaged in talks with free agent Michael Bourn. The two free agents Seattle have signed this winter are Raul Ibanez, 40, and Jason Bay, a Seattle resident who hit .165 this season.
CBS Sports HQ Daily Newsletter
Get the best highlights and stories - yeah, just the good stuff handpicked by our team to start your day.
Please check the opt-in box to acknowledge that you would like to subscribe.
Thanks for signing up!
Keep an eye on your inbox for the latest sports news.
Sorry!
There was an error processing your subscription.
Everything you need to know about this season's All-Star Game

The right-hander obviously wants the Mets to pick a lane with regard to his future

All the information you need to tune into this year's slugfest
Here are the starting lineups for the 2018 Midsummer Classic

Watch the baseballs fly on Monday night in the nation's capital

The Home Run Derby is on Monday, July 16 in Nationals Park