Mariners righty options may include Byrd, Willingham, Rios and Lake
Seattle is interested in a righthanded-hitting outfielder.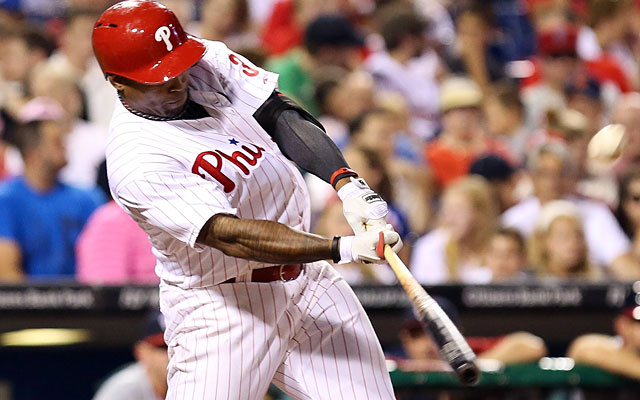 More MLB: Power Rankings | Expert Picks | Latest news & notes | Fantasy news
Marlon Byrd has emerged as a possible option for the Mariners, who are looking to enhance their righthanded hitting production, but if Byrd can't be acquired, the fairly thin market still may offer Josh Willingham, Alex Rios and perhaps turnaround candidates like Junior Lake or Dayan Viciedo.
The Mariners recently scouted Byrd, who is having a strong second straight season following a year in which he played abysmally and was suspended for steroids and is becoming a hot commodity on the market. However, he has a four-team no-trade list, and recently told Jim Salisbury of Comcast Philadelphia that Seattle was one of the four and he intended to retire in Philadelphia.
Seattle may prefer a player on an expiring contract anyway, and Willingham is a free agent after the year and Rios a team option for a reasonable $12 million. Willingham is expected to hit the market after the All-Star Game in Minnesota, and Rios could be part of a selloff by star-crossed Texas, which has been decimated by injuries. However, with that team option and an expectation to contend next year, Texas may be reluctant to part with Rios.
Lake is another righty-swinging outfielder the Mariners and other teams have scouted, and he may need a change of scenery. He is caught in a 1-for-32 slump, and may soon be caught in a logjam of young positional talent in Chicago.
Viciedo is yet another young player with potential who hasn't lived up to expectations whom the Mariners also have scouted. Jerry Crasnick of espn.com first reported the Mariners had scouted Byrd.
The Mariners have needed righthanded hitting from the start, as Robinson Cano suggested here in a spring interview, and now that they are in a playoff race they seem intent on acquiring it. They tried for switch hitter Kendrys Morales, who starred for them last year, before he signed with the Twins.
The report also says that Jeter had outgoing president David Samson do the firing

This wasn't a traditional hidden ball trick, but the Blue Jays pulled it off

The Tigers essentially fired Brad Ausmus on Friday, but things are going to be ugly for a...
The club made the announcement on Friday

Plus the Tigers will make a change in the dugout and all of Friday's action

The Rockies are clinging to the second NL wild card spot at the moment