Matt Kemp wants to play CF, even if it means being traded
Dodgers outfielder Matt Kemp reportedly isn't averse to a trade, so long as it gets him back to center field.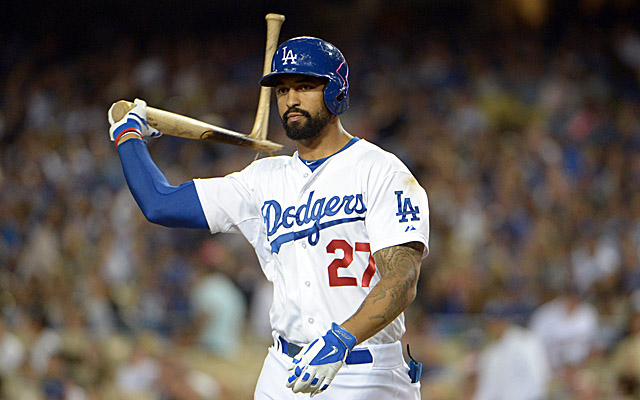 More MLB: Power Rankings | Expert Picks | Latest news & notes | Fantasy news
As has been well-documented, with Carl Crawford off the DL, the Dodgers have an outfield logjam. Yasiel Puig is a fixture in right, which leaves Crawford, Matt Kemp, Andre Ethier and Scott Van Slyke for center and left.
Kemp hasn't played a full game in center since May 22 and apparently that isn't sitting too well with him. His agent, former big-leaguer Dave Stewart, said the following to Ken Rosenthal of Fox Sports:
"Whatever they want to do we're favorable to, as long as it gives him an opportunity to play every day. He'd like to eventually go back to center field. He's not opposed to right or left. But his hope at some point is to get back to center."
Rosenthal reports that Kemp isn't asking to be traded, but also isn't opposed to the idea, either, should it get him back to center.
Kemp, 29, is hitting .269/.330/.430 (114 OPS+) with 21 doubles, eight homers and 35 RBI this season. His eight-year, $160 million deal runs through 2019 and with that, those numbers and his recent injury history, it surely makes him a tough guy to trade.
And now we have to factor in the desire to return to center, because every single metric with a range component attached to it says he's awful there. In only 325 innings, he's at negative-12 in defensive runs saved and -8.6 in Fangraphs.com's ultimate zone rating. His defensive WAR on baseball-reference.com is -2.4. His range factor is below league average. He's even at a .950 fielding percentage in center, against a league average of .987.
It's also worth mentioning that the Dodgers top position-playing prospect is Joc Pederson, who is known as a good defensive center fielder -- and is crushing the ball for Triple-A Albuquerque.
Maybe someone will trade for Kemp, assuming the Dodgers eat a ton of salary, and put him in center. It's possible, but it just doesn't seem very advisable.