Padres, Braves, Giants among clubs after Cuban slugger Yasmany Tomas
Cuban power hitter Yasmany Tomas will have many, many good choices.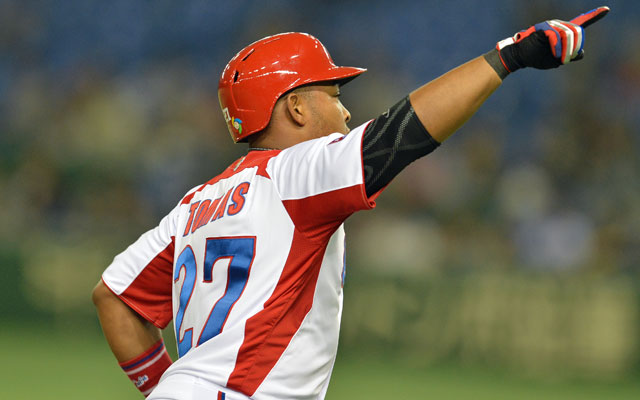 The Padres just made a big push for Cuban slugger Yasmany Tomas, the Braves are on their way to the Dominican Republic to view Tomas and now the Giants, who have always been involved, have extra reason to make a bigger push for Tomas since Pablo Sandoval is going to Boston.
Tomas, who has been impressing folks with some prodigious home runs in repeated workouts for teams, appears in position to make a big score. With offense at a premium -- and Hanley Ramirez and Sandoval about to come off the board -- Tomas may become more attractive to some teams. He was aiming to beat Rusney Castillo's Cuban record $72.5 million deal with the Red Sox.
While the Giants have an opening at third base now, they are believed to view Tomas as more of an outfielder than infielder. Someone familiar with their thinking suggested it's quite possible they spend the extra money on an outfielder rather than a third baseman, though free agent Chase Headley remains available at third base.
The Braves already traded Jason Heyward, so there's room for the 24-year-old Tomas, who they like as a young power source. John Hart, the Braves' new president of baseball operations, is known to be a big proponent of power. Atlanta is, however, listening on its own power hitters, Justin Upton and Evan Gattis as it retools and looks to the future.
Upton, a free agent after the year, is a more likely trade possibility than Gattis, though he won't come cheap. As Joel Sherman of the New York Post reported, Upton's price tag is higher than that of Heyward, and understandably so.
The Padres, who are losing out on Sandoval as well, are said to be pursuing these star hitters very "aggressively" and are right in the middle of the Tomas talks, too.
>> Looking for more on free agents? Free agency tracker
Get 15 percent off any order of more than $75 at CBS Sports Shop

Get your sports fans something that they'll wear all year

No, you're not imagining things. This MLB offseason has been very slow compared to the last...
Francesa will retire from radio next month, so he'll have plenty of free time next summer

The Twins need help in the rotation, and they may look to the trade market to find arms

Here are the bullet-points of what went down Tuesday regarding MLB and the Braves' punishm...