Pen, young hitters are winning games for O's, but they seek an ace
Baltimore would love to add a top-of-the-rotation starter, but Kevin Gausman and Dylan Bundy remain untouchable.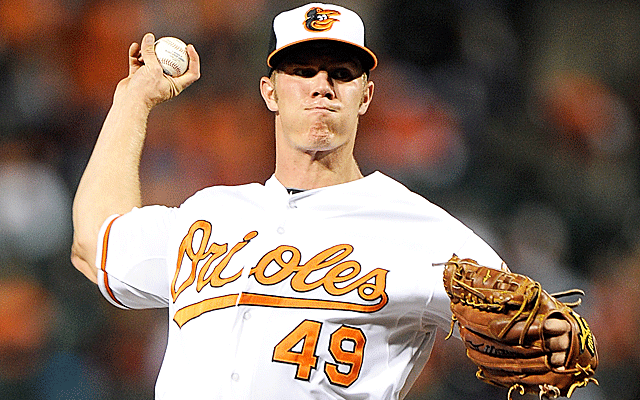 For now, the Orioles are piecing together their banged-up rotation, figuring it out as they go.
But ultimately the Orioles, whose rotation ERA of 4.70 is better than only seven teams (and not one with a winning record), will be seeking a top-of-the-rotation starting pitcher to join a long but mostly umproven collection of starting hopefuls -- no easy task since they are telling teams that top Orioles pitching prospects Kevin Gausman and Dylan Bundy are absolutely and understandably untouchable.
The Orioles are patching things up for now, and doing a nice job of it considering they are 23-15 and only trailing the surprise A.L.-East-leading Yankees by one game. Jair Jurrjens will be tabbed by the Orioles to start in place of the injured Wei-Yin Chen, likely on Saturday. Steve Johnson will go against the Yankees if Miguel Gonzalez can't make it back from blister difficulty.
But in the long run, they figure they need to improve their starting pitching, whether the answers come from within or not.
"We've got to find some decent starting pitching,'' general manager Dan Duquette said by phone. "If you're going to be in the hunt, you're going to need better-than-average starters.''
The Orioles miraculously won a wild-card berth without a top-of-the-rotation starter last season but apparently would feel a whole lot better if they can acquire one, possibly from their minor-league ranks but more likely via trade. There's no guarantee any top starters will become available via trade, as even the early speculation surrounds pitching stars who aren't free agents after the year, such as R.A. Dickey, Cliff Lee, David Price and Jake Peavy, meaning there's nothing that would necessarily compel their current teams to trade them.
The Orioles, according to sources, showed considerable interest in Dickey last winter. But while he's off to a rough start in Toronto, the Jays have him on a reasonable three-year deal for $30 million, so he may not be available.
Among the most talented pitchers who are free-agents-to-be, the Orioles are said to have little if any interest in Matt Garza, who's still working his way back from injury. There are several mid-rotation types (i.e. Ricky Nolasco, Edinson Volquez, Jason Vargas) who could possibly work for them, but before they'd rush into any second-tier choices, they might look at their in-house candidates.
Tsuyoshi Wada, a Japanese import, is said to be "on the horizon'' after rehabbing an elbow injury. The kids also have a lot of ability.
Gausman is showing his superb talent at Double-A Bowie (39 strikeous, four walks) but is said not to be ready yet, and Bundy is on the disabled list. Jake Arrieta, who some say is among the most talented pitchers in the minors, has frustrated club decision-makers with his inconsistent pitching and strike throwing.
"We need somebody to stick their head up from the group at Triple A,'' Duquette said.
Chen could be back in two to three weeks with his oblique injury, or that's the hope. Gonzalez should be back fairly soon.
In the meantime, the Orioles are benefiting from some excellent play from their young hitters (as for some who are starting to compare Manny Machado with Mike Trout, though, Duquette said, "Just let him play a little while'') and especially their bullpen, which has been superb once again. The Orioles' pen has a 2.62 ERA, second-best in baseball to the World Chamipon Giants.
Can the Orioles keep winning without an ace starter?
"It's possible," Duquette said. "They only have to pitch six good innings because our bullpen is so good. We ought to be able to find guys who can get it to our good bullpen.''
For now, that's Duquette's challenge -- finding the starting pitchers to do just that.
The coveted right-hander would certainly be a fit in Milwaukee

We rate the best mustaches from random baseball cards because, why not?

Colon wants to break a Dennis Martinez record
The Twins have been rumored to be interested in Darvish all winter

Rolen is one of the best third basemen of all time, but you wouldn't know it based on this...

Neither Josh Donaldson nor Brian Dozier have talked about a new contract extension