Pirates' Marte is a Star(ling), but is he as good as McCutchen?
Starling Marte's .667 on-base percentage leading off the first inning is amazing, but Marte is quickly convincing people he's amazing, too.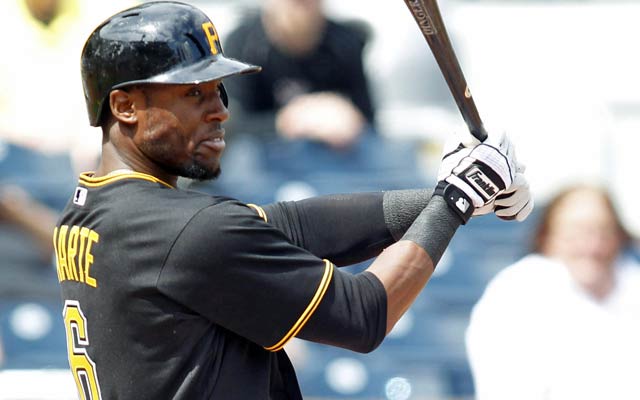 NEW YORK -- This conversation actually happened, not on sports-talk radio, but among people who work in baseball.
The question on the floor was this: If the Pirates could keep either Andrew McCutchen or Starling Marte, but not both, which one do they keep?
Serious question, and it was asked with no disrespect to McCutchen, a two-time All-Star who finished third in National League MVP voting last year.
No, this was all about Marte, a 24-year-old left fielder who began the season as something of an unknown but has quickly convinced people that he's an emerging star.
"You watch him, and you go, 'Wow!'" said one scout who saw the Pirates recently. "He can run. He can hit. We talk about all these young star players on the rise. He's got to be mentioned with them. He might even be at the top."
And yet, in this world where prospects are ranked and debated over, and then ranked and debated over again, Starling Marte barely got a notice. With a name like that, you'd remember if he did.
He spent six years in the minor leagues with the Pirates, and only once made it onto Baseball America's list of the game's top 100 prospects. Even then, going into the 2012 season, he only ranked 73rd.
Now he's being compared to the best players in the game.
"He's a mini-Cespedes," said Brandon Inge, who played with Yoenis Cespedes last year with the A's. "I'm telling you, they're very similar, tool for tool, talent for talent. He has thoroughly impressed me -- baseball instincts, skills, everything."
Already this year, Marte has shown power (five home runs) and speed (10 steals). He's shown that he can play left field at PNC Park, which can be difficult because of the angles.
More than that, he's shown that he's a player you can't take your eyes off of, an exciting player.
The Pirates players know that. They also know that Marte has an incredible .607 batting average and .667 on-base percentage leading off the first inning.
"Nobody wants to miss the first at-bat of the game," manager Clint Hurdle said. "That part of it is incredible. I've never seen anything like this, hitting .600 on the first at-bat of the game as long as he has."
Hurdle sees self-confidence that he thinks came from Marte's success last winter in the Dominican Republic, where he was the MVP of the final series. He sees a maturity that he attributes in part to Marte getting married and starting a family.
"The kid's committing to some things," he said.
The Pirates committed to Marte as a leadoff hitter, even though they knew he was never going to walk a lot. While they've long wanted him to become more selective at the plate, Hurdle has tried not to force the issue.
"We wanted to give him a chance to do it his way," Hurdle said.
Why not? The Pirates were 27th in baseball in on-base percentage from the leadoff spot last year. They weren't going on the free-agent market to find a leadoff man (and there weren't many available there, anyway).
They gave it to Marte, and for the first six weeks of the season he's been one of the best in the game. He's helped change a team that needed an offensive boost.
"To have that guy at the top, there's a better vibe," Hurdle said.
To have that guy at the top doesn't mean that the Pirates can win the division. It doesn't mean they'll necessarily avoid the late-season collapses that have haunted them the last two summers.
It only means that after a couple of years of hoping they'd have a second star emerge to pair with McCutchen -- and hoping it would be Pedro Alvarez or Jose Tabata or Neil Walker -- they seem to have found someone who might even be as good as McCutchen.
The nice part is that they don't have to choose between the two.
They can have both.