This Week in Overreactions: The Red Sox are selling
The Red Sox are in last place and ready to sell off some players at the trade deadline ... or are they?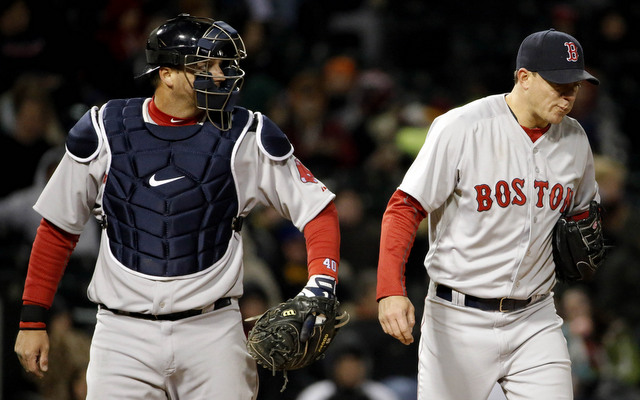 More MLB: Power Rankings | Expert Picks | Latest news & notes | Fantasy news
It's time for another installment of "The Week in Overreactions" -- the idea that was stolen borrowed with approval from our friends at Eye on Football. To the narrative machine!
The Red Sox are throwing in the towel and selling
Before their walk-off win over the White Sox on Wednesday night (recap), the defending World Series champion Red Sox lost four straight games and seven of eight to fall into last place in the AL East. Every time they get that big win that looks like it could be a turning point for the season, they've fallen flat on their face.
According to Baseball Prospectus, the Red Sox currently have a 2.4 percent chance to qualify for the postseason. They are 9½ games back in the AL East and nine games back of the second wild-card spot with eight teams ahead of them. Impossible? No. Really, really unlikely? Yup.
So, given the team's struggles, it's not surprising right-hander Jake Peavy has come up in trade talk and A.J. Pierzynski was cut loose this week. Bad teams tend to sell off spare parts before the trade deadline, and selling off spare parts early is something of a market inefficiency right now. Get out ahead of the market and you might be able to fetch a better return.
What the Red Sox are doing is not selling, however, mostly because selling involves trading away good players. Out of 95 qualified pitchers, Peavy currently ranks 85th with a 4.64 ERA and 92nd with a 4.81 FIP. He has legitimately been one of the 10 worst regular starting pitchers in baseball this season. Pierzynski was hitting .254/.286/.354 (76 OPS+) and had thrown out only 19 percent of attempted base-stealers.
Moving them isn't about selling, it's about getting rid of unproductive players and replacing them with better internal options. Heck, they didn't even trade Pierzynski, they just designated him for assignment. The likely trade return for Peavy will be so insignificant (salary relief?) that it will barely register as a blip on the radar.
No, the Red Sox are dumping these two because they have better and younger players in house. Rubby De La Rosa has a 2.89 ERA in six spot starts this season and is forcing the team to keep him in the rotation. Others clubs would love to have a Brandon Workman or an Allen Webster stashed in Triple-A, but Boston can't find room for them. The odds are in favor of at least one of those three being better the rest of the season than Peavy.
As for Pierzynski, I mean, he was pretty terrible and Rob Bradford of WEEI.com reports he "had become such a negative influence on the team that players approached both the Sox coaches and front office to address the problem." It's not the first time Pierzynski has worn out his welcome. The Red Sox had defensive whiz Christian Vazquez sitting in Triple-A and Pierzynski gave them a reason to make the move.
Here's what manager John Farrell and GM Ben Cherington told reporters following the decision to dump Pierzynski and replace him with Vazquez on Wednesday (via the Providence Journal):
"It's an opportunity for us to invest in players we feel are going to be here beyond 2014," manager John Farrell said. "While there may be other decisions forthcoming, we felt like the place we were going to start with was behind the plate."

"If the team's record were different, we may not have done something like this right now," said general manager Ben Cherington. "But we are where we are, so we need to start looking at things a little bit differently. This is one part of that."
Cutting ties with Pierzynski and the seemingly inevitable Peavy trade do not qualify as "selling." Those are moves any team would make when it has better internal options like the Red Sox do.
The Sox are not out shopping Jon Lester before his free agency and they're not out trying to peddle Mike Napoli to a contender in need of a first-base bat like the Mariners or Brewers. Koji Uehara and Andrew Miller are not on the block. Those are the players who would bring back an actual quality return.
Trading those types of players would qualify as selling, and hey, that might happen later in the summer. That is not the case right now though. The Red Sox have (or soon will have) simply replaced two unproductive veterans with younger players who might actually have a future with the team. That's not selling. That's common sense.