Celtics plan to re-sign Jeff Green
The Celtics have made it clear they intend to re-sign Jeff Green in free agency, bring most of the 2012 team back.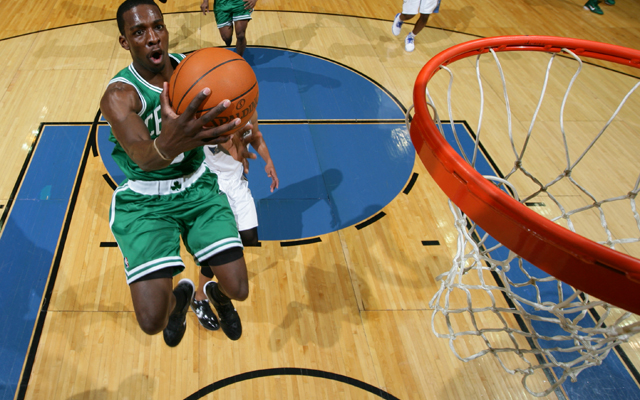 The Celtics plan to bring back Jeff Green.
(Getty Images)
Jeff Green was supposed to be the new centerpiece for the Celtics -- the athletic wing with range who could give Boston the boost of youth and provide versatility. But instead, he could have lost his life. A heart condition was discovered and required surgery. He lost the entire season, and the Celtics lost to LeBron James (not really the Heat, just LeBron), who Green would have been invaluable against defensively. 
But Green's back to good health according to his agent, and is a free agent. Could he be headed for a fresh start? Not in Danny Ainge's mind. Ainge told reporters at the press conference to introduce Boston's rookies on Monday the Celtics intend to get Green back in the fold and get the plan back on track. 
#Celtics president Danny Ainge: We intend to have Jeff Green back. We are looking to enter a contract at the end of the moratorium.

— Scott Souza (@scott_souza) July 2, 2012
The question will be what kind of contract he pulls in and whether the Celtics can afford him. They already gave Kevin Garnett a sizeable contract. They're planning on offering Ray Allen $12 millon over two years. They have money committed to Paul Pierce. They want Brandon Bass back. But it appears that Green's at the top of the list:
When asked what his top priority was, Ainge sounded like he was assuming Green was a done deal, mentioning Ray Allen and Brandon Bass as Boston's top targets.

"Those are the two guys we would like to see back," said Ainge. "We're working toward that."

Ainge also said that he intends to work on deals with role players such as Mickael Pietrus and Keyon Dooling, but that his priorities are with front-of-the-rotation players for now.

"You have to work on your best five to seven players first," said Ainge.
via Ainge confident on Jeff Green, calls Ray Allen and Brandon Bass top priorities -Celtics blog - Boston Globe basketball news.
If Green commands a large contract, with reports indicating north of $9 million, that could really lock the Celtics in. They're looking at committing to the same team that came up short last season and is only getting older and has holes on it for the next four to five years. That has to be of some concern. 
But Green would have been a difference maker for the Celtics in the playoffs. They believe that they can pull the player he never was in Oklahoma City out of him, and have him be the versatile forward of the future. 
On the TNT broadcast, even Shaq finally admitted that he likes Joel Embiid's game

The Warriors new Nike classic uniforms will be revealed Thursday

Joel Embiid doesn't want to call what the 76ers are doing a minutes restriction
The Mavs played a tribute video to the American flag prior to their opening game on Wednes...

The Suns stink, but this was cool!

Melo makes it clear on Twitter that playing his ex-team is much more than just a regular game...