If Linsanity is over in New York, it signals sanity on the part of the Knicks
NEW YORK -- Faced with a poisonous offer sheet from the Houston Rockets for Jeremy Lin, the New York Knicks took a step that strongly signals they won't match by acquiring point guard Raymond Felton from the Portland Trail Blazers in a sign-and-trade deal Saturday night, league sources confirmed.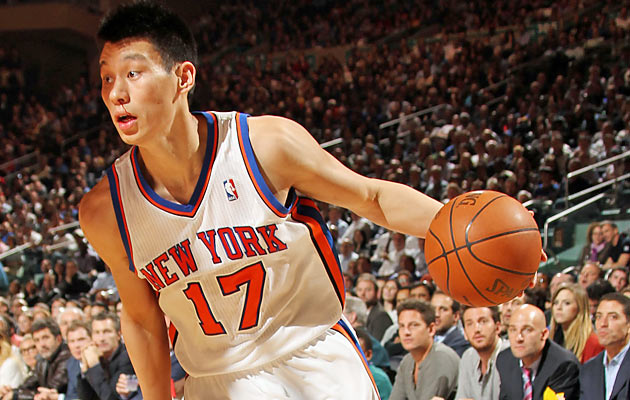 Lin made for a nice surprise last season, but the Knicks will be wise if they avoid the pricey long-term investment. (Getty)
NEW YORK -- The Knicks acquired another point guard Saturday night. His name wasn't Jeremy Lin, whose brief reign as the king of New York could well be over.
Faced with a poisonous offer sheet for Lin, the Knicks took a step that strongly signals they won't match by acquiring point guard Raymond Felton from the Trail Blazers in a sign-and-trade deal, league sources confirmed. With Felton and future Hall of Famer Jason Kidd on the roster, you don't have to be a soothsayer to figure out what comes next.
It's highly unlikely the Knicks match Houston's three-year, $25.1 million offer sheet for Lin, who appears headed to the Rockets. There has been no official or unofficial word from the Knicks about their intentions, not even to the Rockets. But their actions Saturday night spoke volumes. 
More on Jeremy Lin
Related links
Houston's offer sheet for Lin, who has started 25 career games, would pay him $5 million next season, $5.225 million in 2013-14 and $14.9 million in '13-14. Under the Gilbert Arenas rule adopted in the 2005 collective bargaining agreement, that is how Lin will be paid whether he's in Houston or New York. But the rule calls for the Rockets' cap hit to be the yearly average of the deal, approximately $8 million annually. If the Knicks matched, Lin would count against the cap the amount that he actually is paid each year.
The rule was intended to prevent teams that didn't have cap room from losing restricted free agents to teams that did, the way the Warriors lost Arenas to the Wizards in 2003. But now, with more punitive luxury tax provisions coming into play with the start of the '13-'14 season, the back-loaded nature of Lin's offer sheet evidently is making even the endless-revenue Knicks pause.
New York already has $65 million committed to four players in '14-'15: Carmelo Anthony, Amar'e Stoudemire, Tyson Chandler and Iman Shumpert. If they matched the Lin offer sheet, that would put their payroll at approximately $80 million for five players.
Look at it this way: Even if the league did unspeakably well in the next two seasons and the luxury tax line rose from its current level of $70.3 million to $80 million in '14-'15, every player the Knicks added beyond those five would count multiples of their salaries with the tax. Even if the Knicks could add seven more players at a total salary of $10 million -- not likely -- the total cost for those players would be $25.3 million with the new tax rates factored in.
In other words, unless Madison Square Garden chairman James Dolan wants to pay 2 1-2 times what players are worth -- something not even Isiah Thomas would do -- then Lin's time in New York almost certainly is over.
And if that's what they do -- if they let Lin walk -- then they will have done the right thing.
With a top-heavy payroll in a soon-to-be tax-heavy world, the Knicks have a very small window of time to compete for a championship. They are in win-now mode, and they can't worry about anything other than putting the most competitive team possible on the floor. Despite his instant success last season, Lin remains a work in progress. With their top three players making $54 million next season on a team that couldn't get out of the first round the past two seasons, the Knicks don't have time for that.
And not even the Knicks, apparently, will have the money to pay a player who may or may not be a permanent starter -- much less an All-Star -- $15 million three years from now, when Anthony will be 30 years old and making $24.4 million.
The fact that Lin thrived primarily due to his seamless fit with the offense run by former coach Mike D'Antoni makes it even more sensible that the Knicks let him go. And if the combination of a CBA designed to rein in the top-spending teams and a rare period of sustained sound management from the Knicks is what we're witnessing, then I applaud both.
In Felton, the Knicks get a point guard who thrived for them two years ago before he was traded to Denver in the mammoth Anthony deal. True, Felton also thrived under D'Antoni, and has been a shadow of himself since he left New York. But he has chemistry with Stoudemire, who the Knicks desperately need to return to an All-Star level.
Oh, and Felton has playoff experience, too. Plus, he's cheap; the sign-and-trade arrangement likely netted him a three-year deal in the $9 million range. The deal sent Felton and Kurt Thomas to New York for the non-guaranteed contract of Dan Gadzuric and a signed-and-traded Jared Jeffries, who will get a three-year deal under league rules with only the first fully guaranteed. Portland also gets a 2016 second-round pick, and there are reports of European draft rights being exchanged.
Whatever the case, rarely has a more mundane NBA trade meant more. Monday, the deadline for the Knicks to match Houston's offer sheet for Lin, could mark the end of Linsanity as we knew it. Also, it could signal something even more important: Garden variety sanity when it comes to the decision-making at Madison Square Garden.
Giannis skipped EuroBasket last summer, and has missed four games this season with knee so...

Some of the best and worst from the league as we head into the home stretch of the season

Cuban acknowledged that tanking is 'brutal' and that he will no longer do that after this...
Cho has been the GM in Charlotte since 2011

Fergie: 'I'm a risk taker artistically, but clearly this rendition didn't strike the intended...

Victor Oladipo had a successful R&B album over the offseason and Jamie Foxx is a fan