Lakers' Jordan Clarkson looks to build on impressive rookie debut
Lakers guard Jordan Clarkson had a better rookie season than just about anyone could have imagined. Heading into his sophomore year, he wants to top that.
• 9 min read
LAS VEGAS -- Jordan Clarkson thinks about the number 46 a lot. The Los Angeles Lakers guard will never forget slipping into the second half of the second round in the 2014 NBA Draft. In the last 13 months he's already made most of the league regret passing on him, earned first-team All-Rookie honors and become a major part of the Lakers' future. Asked what he remembers about the night he became a pro, he spoke succinctly.
"Sitting there and waiting forever to get my name called," Clarkson said. "That was it."
Most second-round picks would tell you they use that memory as motivation. Few of them mean it like Clarkson, who re-watched the draft around 10 times over the course of his rookie season.
Los Angeles went just 21-61 last year, but Clarkson was the bright spot. After the All-Star break, he averaged 16.7 points, 5.4 assists and 4.6 rebounds per game, shooting 48 percent from the field. This month at Summer League, he almost always looked like the best player on the floor. Lakers general manager Mitch Kupchak told SiriusXM that he sees Clarkson and No. 2 pick D'Angelo Russell, whose presence is the season's only other silver lining, being backcourt partners for the next 10-12 years. 
"Anytime you get a player at that number, 46, you don't expect a whole lot," Los Angeles head coach Byron Scott said. "But once you get him in the gym and you see what he can do -- and we had a chance to see Jordan on a day-to-day basis and his work ethic and how much he wanted to be a good basketball player -- we could tell we had something special, we had a diamond in the rough. It's our job now to just continue to nurture that, to continue to push him to be the very best that he can be."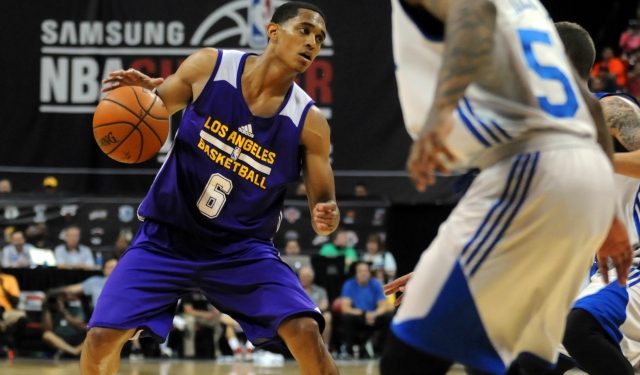 When the Lakers push, they are unlikely to encounter any resistance. Tim Fuller, the former Missouri assistant coach who recruited him, recalled promising Clarkson's parents that he'd be dedicated to their son's development. Clarkson was transferring from Tulsa after his sophomore season, and Fuller -- just like Scott a couple of years later -- didn't know exactly what he was getting. Then they got in the gym. 
"The first thing I realized is man, this dude never gets tired," Fuller said. "He had this unbelievable level of endurance. No matter whatever you threw at him, he was going to compete his way through it. When other dudes would be grabbing their knees, he was always like, 'C'mon, man, gimme more, gimme more.'"
In that respect, Fuller said the only player he's worked with at Clarkson's level is Chris Paul. Frank Haith, Mizzou's head coach at the time, raved the same way. Haith's first impression of Clarkson was that he was polite and pleasant, taking after his father who works in the Air Force. He soon found out that behind all the yes sirs and no sirs, Clarkson was more driven than just about anybody. 
"We spent a lot of time in the gym experimenting," Fuller said. "[I'd say,] 'Hey, try this, try that. Hey, I'm going to lob it off the backboard, I want you to go up, catch it, 360 and put it off the backboard soft. I want you to dribble full court, suicide 3s -- how many can you make in a minute?' Just literally trying to break through his threshold to see what was going to get him to the point where he said, 'Man, I can't take it anymore.' Nothing ever did that."
Clarkson had to redshirt his first season as Missouri. The team's plan was to use that time to turn the 6-foot-5 wing into a point guard. He treated his practices as his games, which meant making things hard on the 5-11 Phil Pressey, who recently signed with the Portland Trail Blazers. "There were many days where coach Haith would stop practice because he was killing the other team so much," Fuller said. After every pre-game meal, Clarkson put in a 40-minute workout with Fuller.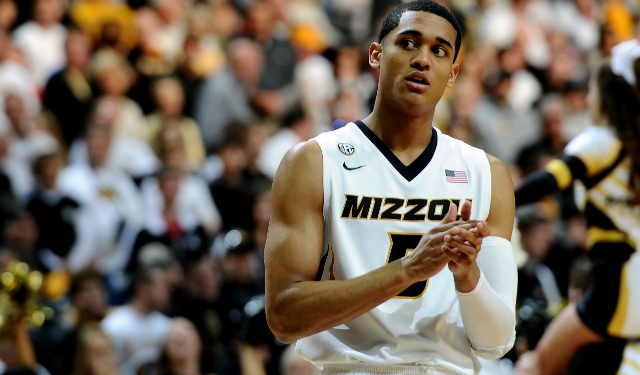 When he was finally able to suit up for the Tigers in 2013-14, Clarkson's playmaking had evolved since his days at Tulsa. In the Braggin' Rights game against Illinois at the end of December, he had a 25-8-6 line and stunned even Haith with a coast-to-coast layup where he glided in from behind the 3-point line.
After scoring 28 points against Kentucky at the beginning of February, Clarkson had a conversation at his apartment with his father, Mike, and his stepmother, Janie. They told him that Mike had a rare form of cancer in his lower back. Clarkson and Missouri didn't want to publicize this, but everyone close to him knew he was struggling. Both Mike and Janie have since said that he wondered if he should just give up on basketball.
"It affected him, it really did," Haith said. "Jordan may not say it did, but it did. He wasn't the same player he was up until that point. His father kept telling him, 'Hey I'm going to be fine, I'm great,' but his game wasn't the same as it was before that."
Clarkson knew that after the NBA trade deadline in mid-February, there would be more front-office types coming to see him play. Unfortunately and understandably, that's when Clarkson was distracted. Haith and Fuller told teams that he was definitely a first-round talent, and tried to explain what was behind his shooting percentage dropping and his turnovers rising. 
"They just didn't want to buy into that stock," Fuller said. "So he went 46."
Fuller texted Washington Wizards vice president Tommy Sheppard his congratulations after the pick was made. Sheppard informed him that they were actually trading Clarkson to the Lakers. Fuller didn't know what to think at first, but he knew how Scott operated because they'd both worked with Chris Paul.
"I told Jordan that coach Scott isn't a guy that gives a lot of leeway to rookies," Fuller said. "But if you show him that you're a hard worker and that you're going to embrace his philosophy, and if you're tough and hard-nosed, then he'll eventually turn you loose."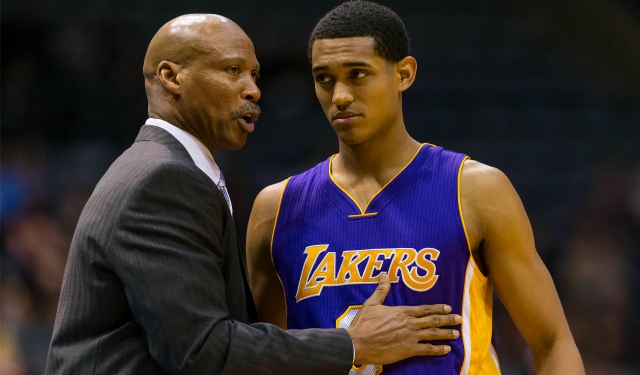 For Clarkson's first few months in Los Angeles, his minutes were inconsistent. Even though the team was losing, he was usually stuck on the end of the bench. On Christmas Day, he finally got some attention because of a memorable play on national television -- he missed a wide-open layup on a fast break.
The DNP-CDs continued coming in the new year. On Jan. 21, though, Kobe Bryant tore his rotator cuff in New Orleans. Two days later in his hometown of San Antonio, Clarkson started at point guard. He kept that position for the rest of the season, having earned Scott's trust behind the scenes. All along, he'd been doing what he did in his redshirt season, quietly getting extra work done. Some of that was done in weekly sessions with Steve Nash.
"He's one of those guys that he'll do whatever you ask him to do," Scott said. "He'll spend 24 hours a day in the gym if you ask him to. I just love his work ethic. He's such a great kid. I just want all the best for him."
Clarkson put what he learned from Nash to good use. His style is nothing like Nash's, but he was comfortable when the ball was suddenly in his hands on almost every possession. In the last few months of the season, he had the poise of a much more experienced player, able to get to the rim or get his shot off cleanly while rarely turning the ball over out of the pick-and-roll. Clarkson said that once he started getting minutes, he felt like he was improving every time he took the court.
In his last 13 games, Clarkson averaged 20.2 points, 6.5 assists, 4.8 rebounds and 1.6 steals per game with a true shooting percentage of 56.8 percent. At Los Angeles' final home game, the organization chose him to address the fans before tipoff. The next day, he told reporters that he was grateful for the opportunity to play, but he wasn't satisfied in the slightest. 
Just before going to Summer League, Clarkson flew to New York to work out with Nash. When he and a horde of Lakers fans arrived in Las Vegas, there were Clarkson jerseys everywhere. In his first game, he dropped an easy 23 points, looking like he didn't need to be there. In his last, he threw down the dunk of the summer over a helpless Jack Cooley of the Utah Jazz. Clarkson said he always had confidence, but he took it to another level after everything he'd learned from his first season and the time he'd put in afterward.
"I thought he was really impressive," Scott said. "He's shown that he's grown tremendously and that the season that he had last year wasn't a fluke, that he's continued to work to get better. And we're looking for big things from Jordan."
The Lakers will also be looking for different things from him. With Russell in the picture, Bryant back from injury and Lou Williams coming off the bench, Clarkson is no longer going to be able to dominate the ball. He's been preparing accordingly -- he's raised his release point on his jumper with the goal of knocking down 3-pointers consistently. "NBA personnel don't respect good players on bad teams," Fuller said he told him. Adapting to his new role, handling increased expectations and becoming a better defender will be his challenges as a sophomore.
Clarkson, for his part, sees himself as a work in progress. He grew up a track star, not playing organized basketball until junior high. "I've got a lot of room to grow," he said, preferring not to say much about what he's already accomplished. He thinks he and Russell will complement each other and be fun to watch. While he clearly believes in himself, he'd rather let others talk him up. Despite everything that has changed this year, he can easily transport himself back to Barclays Center, where he heard his name called after 45 other prospects. 
"Just trying to prove people wrong," Clarkson said. "That's all that ran through my mind. But I'm still trying to do the same thing. I feel like people still sleep, so I'm just trying to wake 'em up."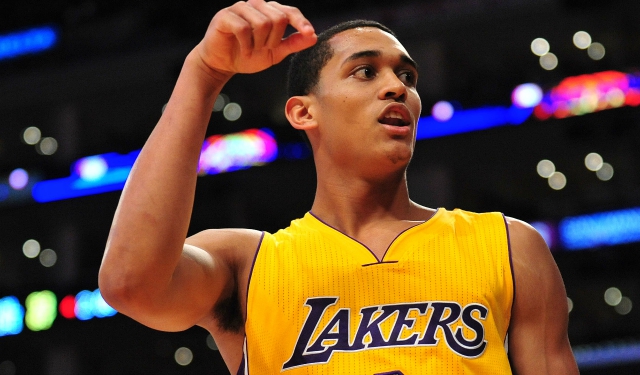 We've got all the scores, top plays and news from Friday's NBA games

Rivers was not happy with the free throw discrepancy on Thursday night against the Rockets...

As the Cavs continue to struggle, James can't wait to get Love back on the court
The Last Two Minute Report has created an ongoing rift between the league and their offici...

Golden State will be down yet another star for a substantial amount of time.

Schroder says Howard tends to play great against his former teams, and that's about it